The Ways of White Folks: Stories (Vintage Classics) (Paperback)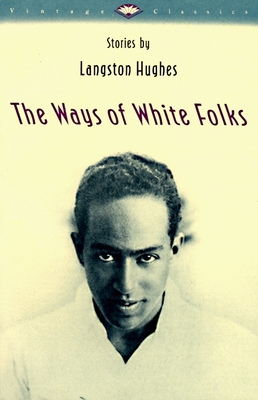 $17.00

Not In Stock - Usually Available in 1-5 Days
Description
---
A collection of vibrant and incisive short stories depicting the sometimes humorous, but more often tragic interactions between Black people and white people in America in the 1920s and '30s.

One of the most important writers to emerge from the Harlem Renaissance, Langston Hughes may be best known as a poet, but these stories showcase his talent as a lively storyteller. His work blends elements of blues and jazz, speech and song, into a triumphant and wholly original idiom.

Stories included in this collection:
"Cora Unashamed"
"Slave on the Block"
"Home"
"Passing"
"A Good Job Gone"
"Rejuvenation Through Joy"
"The Blues I'm Playing"
"Red-Headed Baby"
"Poor Little Black Fellow"
"Little Dog"
"Berry"
"Mother and Child"
"One Christmas Eve"
"Father and Son"
About the Author
---
LANGSTON HUGHES was born in Joplin, Missouri, in 1902. After graduation from high school, he spent a year in Mexico with his father, then a year studying at Columbia University. His first poem published in a nationally known magazine was "The Negro Speaks of Rivers," which appeared in Crisis in 1921. In 1925, he was awarded the First Prize for Poetry from the magazine Opportunity for "The Weary Blues," which gave its title to his first book of poems, published in 1926. Hughes received his B.A. from Lincoln University in Pennsylvania in 1929. In 1943, he was awarded an honorary Litt.D. by his alma mater; during his lifetime, he was also awarded a Guggenheim Fellowship (1935), a Rosenwald Fellowship (1940), and an American Academy of Arts and Letters Grant (1947). From 1926 until his death in 1967, Hughes devoted his time to writing and lecturing. He wrote poetry, short stories, autobiography, song lyrics, essays, humor, and plays. A cross section of his work was published in 1958 as The Langston Hughes Reader; a Selected Poems first appeared in 1959 and a Collected Poems in 1994. Today, his many works and his contribution to American letters continue to be cherished and celebrated around the world.
Praise For…
---
"Some of the best stories that have appeared in this country in years." – Herschel Brickell, North American Review

"Powerful, polemical pieces." – David Herbert Donald, The New York Times