Bay Of Souls: A Novel (Paperback)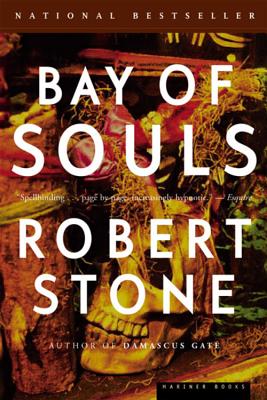 Description
---
Robert Stone's remarkable novel is a psychological thriller of razor-sharp intensity: mysterious, erotic, and deeply readable.

Michael Ahearn, a professor at a rural college, sheds his comfortable assumptions when he becomes obsessed with a new faculty member from the Caribbean, Lara Purcell. An expert in Third World politics, Lara is seductive, dangerous — and in thrall, she claims, to a voodoo spirit who has taken possession of her soul.
Impassioned and determined, Michael pursues Lara to her native island of St. Trinity, heedless of the political upheaval there. Together they desperately attempt to reclaim all that Lara has lost. Yet island intrigue ensnares them. Lara sacrifices herself to ritual and superstition. Michael is caught unawares in a high-stakes smuggling scheme. In his feverish state of mind, the world becomes an ever-shifting phantasmagoria. He is, himself, possessed.

In Bay of Souls, readers will recognize the trademarks of Stone's greatest fiction: the American embroiled in Third World corruption, the diplomats and covert operatives, the idealists and opportunists. Yet here the author's sights are set inward, to a place where politics is superfluous, experience unreliable. Never before has Stone probed so powerfully the psychological depths of one man's mind. What he finds there defies expectations.
About the Author
---
ROBERT STONE (1937–2015) was the acclaimed author of eight novels and two story collections, including Dog Soldiers, winner of the National Book Award, and Bear and His Daughter, a finalist for the Pulitzer Prize. His memoir, Prime Green, was published in 2007.
Praise For…
---
Faulknerian intensity and a narrative economy reminiscent of Hemingway distinguish Stone's bloodcurdling seventh outing... A small masterpiece, possessed of a relentless lucidity that recalls Conrad and Graham Greene at their peeks. Stone's best yet.
Kirkus Reviews, Starred

A tight brillianty observed tale.... A novel of bold prose and subtle perceptions, a small, hard gem from a master writer.
Publishers Weekly, Starred

Stone is at his best here, and that's very, very good.
Library Journal Starred

It's "must" reading in the way everything Stone writes is.
The Nation

Every so often, a novel comes along so electrically charged with atmosphere and eroticism that the reader has to consume it in small morsels, stopping from time to time to digest what has been read.... Robert Stone's latest, BAY OF SOULS, is such a novel. Bookpage

The latest addition to Robert Stone's dark canon. It's a fascinating addition. Unusual (for Stone) in its brevity, this is a highly concentrated work.... Stone gives us another wild ride, one that leaves the reader rather dazed, shaken up and moved....
The New York Times Book Review

In Stone's intense, intricate story, moments as minor as a flashlight dropped in the water or a frustrated hunter trying to carry his kill in an unwieldy wheelbarrow are miniatures of the grotesque episodes in which Michael will later find himself.
The Seattle Times

Robert Stone's BAY OF SOULS shows the author in a stylistic languor as narcotic as the Caribbean island on which the story takes place....more fun than vacationing with your family.
Playboy

Hypnotic.... BAY OF SOULS takes all of this important writer's motifs to a new and unanticipated level of scrutiny.
The Chicago Tribune

Stone just keeps getting better.
Star Ledger

Readers who go along with Stone on this voyage won't be disappointed. USA Today

A stunning work, a profound and profoundly moving meditation tethered to a runaway train. ... Bay of Souls is a triumph. The San Diego Union-Tribune

Bottom line: Big bad voodoo dandy.
People Magazine

Here as elsewhere [Stone] orchestrates the bottomless complexity of political corruption with the subtlety of a jazz composer. The Washington Post

[Stone's] action scenes are taut, polished gems .... and his gift for conveying a building sense of dread is unmatched.
Outside

As always, Stone dares to probe the territory of personal salvation--the courage needed to find it and the consequences of not having what it takes--with unflinching steadiness.
Pittsburg Post Gazette

With steely prose, Stone cuts through to the heart of darkness lurking not in some exotic, far-flung locale, but beating insistently inside any sensitive man.
San Antonio Express-News

Beautifull written.... a gripping book filled with profound portraits of longing and distress.
The Detroit Free Press

The real action of BAY OF SOULS takes place in the heart of the protagonist, and Stone handles this drama masterfully.
Columbus Dispatch

Succeeds splendidly...delicate, even beautiful.
Jerusalem Post —