The House Across the Lake: A Novel (Hardcover)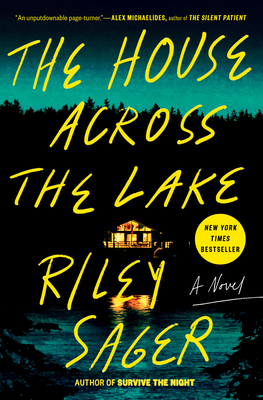 $27.00

Not In Stock - Usually Available in 1-5 Days
Staff Reviews
---
The House Across the Lake was one of my most anticipated reads of 2022 and it did not disappoint! For fans of the "Rear Window" trope, we meet troubled actress Casey, a recent window, who befriends famous model Katherine after saving her from drowning outside their luxurious lakeside homes. But as they become friends, Casey becomes nosy with her binoculars and realizes Katherine's life and marriage are less than perfect. If you love twists in your thrillers, this is the one for you! At no point in this book could I predict what would happen next, and I loved every second!! I can't wait to see what Sager comes up with next, he's a true master of the thriller genre!
— Rachele
Description
---
THE INSTANT NEW YORK TIMES BESTSELLER

Named a most-anticipated summer book by USA Today, People, E! News, Cosmopolitan, PureWow, CNN.com, New York Post, CrimeReads, POPSUGAR, and more 

The bestselling author of Final Girls and Survive the Night is back with his "best plot twist yet." (People, "Best Summer Books")

Be careful what you watch for . . .

Casey Fletcher, a recently widowed actress trying to escape a streak of bad press, has retreated to the peace and quiet of her family's lake house in Vermont. Armed with a pair of binoculars and several bottles of bourbon, she passes the time watching Tom and Katherine Royce, the glamorous couple living in the house across the lake. They make for good viewing—a tech innovator, Tom is powerful; and a former model, Katherine is gorgeous.

One day on the lake, Casey saves Katherine from drowning, and the two strike up a budding friendship. But the more they get to know each other—and the longer Casey watches—it becomes clear that Katherine and Tom's marriage isn't as perfect as it appears. When Katherine suddenly vanishes, Casey immediately suspects Tom of foul play. What she doesn't realize is that there's more to the story than meets the eye—and that shocking secrets can lurk beneath the most placid of surfaces.
 
Packed with sharp characters, psychological suspense, and gasp-worthy plot twists, Riley Sager's The House Across the Lake is the ultimate escapist read . . . no lake house required.
About the Author
---
Riley Sager is the New York Times bestselling author of six novels, most recently Home Before Dark and Survive the Night. A native of Pennsylvania, he now lives in Princeton, New Jersey.
Praise For…
---
"Sager's best plot twist yet."
—People, "Best Summer Books"

"Pure escape . . . A voyeuristic page-turner. After I read it, I dove for more Sager: luckily he has five others, bestsellers all."
—The Boston Globe, "Ten Thrillers to Read on Your Summer Vacation"

"The tale takes a series of weird turns, morphing into a cross between Silence of the Lambs and The Exorcist. . . . As with Sager's first five thrillers, the characters are well drawn and the prose is first rate."
—Associated Press

"It's a familiar psychological thriller structure--until everything changes. . . . A page-turning climax."
—USA Today

"The thrills and chills are all present and accounted for in this tale."
—E! News

"The House Across the Lake reads like a psychological thriller version of The Great Gatsby, featuring binoculars for more accurate across-the-lake spying, smaller gatherings for a shorter list of suspects, and a truly bat**** twist for more satisfying consumption. So basically The Great Gatsby, but better. I know, them's fightin' words."
—CrimeReads

"A suspense novel brimming with twists and turns."
—PureWow

"Riley Sager is a master of the art of the thriller."
—Shondaland, "The Best Books for June 2022"

"A classic tale brimming with Hitchcockian suspense."
—BookTrib, "Put These 12 Summer Reads in Your Beach Bag"

"Highly entertaining . . . Sager keeps the Rear Window-esque plot of The House Across the Lake focused keenly on believable characters who may not always be likable but who readers will care deeply about. . . . Deliciously eerie plot."
—South Florida SunSentinel

"The House Across the Lake is the work of a master storyteller. A Hitchcockian premise is given an exciting new spin, as voyeurism, murder, and the lies we tell ourselves about our nearest and dearest spiral out of control in this gripping mystery, where nothing is what it seems. I had a thrilling time reading this. An unputdownable page-turner."
—Alex Michaelides, #1 New York Times bestselling author of The Silent Patient and The Maidens

"Riley Sager is an auto-buy for me, and his latest propulsive thriller, The House Across the Lake, may just be my favorite of his yet. With his characteristic mix of dynamic characters and riveting plot twists, Sager will keep you turning the pages in his foray into secrets, grief, revenge, and love." 
—Laura Dave, #1 New York Times bestselling author of The Last Thing He Told Me

"The House Across the Lake pulls you under on the first page and doesn't let you come up for air. With fascinating characters, a suffocating setting, and an intriguing premise, Riley Sager relentlessly turns up the tension on every page. Good luck putting this book down."
—Simone St. James, New York Times bestselling author of The Book of Cold Cases

"For a fresh and twisty take on Rear Window, just add water: The House Across the Lake is a propulsive, tautly plotted, and atmospheric thriller with a vividly drawn cast of compelling characters and a final what-just-happened twist that will have you reeling. Loved it!"
—Ellery Lloyd, internationally bestselling author of The Club

"[An] outstanding novel of suspense . . . Sager brilliantly misdirects readers while playing fair with them. Newcomers and fans both will be eager to see what he pulls off in his next book."
—Publishers Weekly (starred)

"Sager is the literary equivalent of a master chef, using a deft hand to configure tasty ingredients . . . then adding a generous pinch of pulp and a delicious surprise at the end. The result is an addictive beach read that fans will devour in one sitting and leave feeling thoroughly sated."
—BookPage (starred) 

"A highly entertaining read."
—Kirkus Reviews

"Sager is terrific at creating suspense within a confined, sometimes claustrophobic setting. . . . Fans of stories that keep the heart pounding and the mind engaged will enjoy this one. . . . One of the genre's most entertaining authors."
—Booklist

"The atmosphere Sager writes is delightfully claustrophobic and the twists surprising while still being plausible."
—BookRiot

"Casey as the unreliable narrator mixed with suspicious neighbors, supernatural undertones, and multiple blindsiding twists, means Sager (Survive the Night) has written another winner."
—Library Journal

"Go into the book blind for a full experience. The clues are definitely there for you to piece together but I was still surprised. You will be questioning everyone and everything, making this book such a fun read."
—Mystery and Suspense

"Sager (Final Girls) offers consistent twists and turns—including one very surprising one—that'll keep you flipping pages until the end."
—New Jersey Monthly

"This relentless thriller pulls you in and never lets go before leaving your head spinning with some jaw-dropping revelations and plot twists that only a master of the genre can conceive."
—Bookreporter

"Reader . . . before you think you know what's going on, know that you're wrong. The thing you think that happened? It didn't. Your second guess? Also wrong. Your third will be wrong as well."
—The Big Thrill

"Rear Window gets a jaw-dropping twist in this tense, daring, and utterly propulsive thriller. If you're not already reading Riley Sager, you're missing out."
—Catherine Ryan Howard, #1 Irish bestselling author of 56 Days

"Brilliantly written with a dark and clever twist on a well-worn trope, and as for that ending . . . ?! What a fun book. I devoured it!"
—Susi Holliday, author of The Last Resort

"The plot is packed with twists." 
—First For Women