The Roommate (The Shameless Series #1) (Paperback)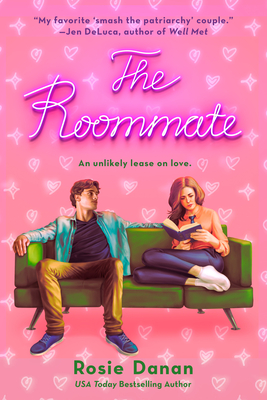 Other Books in Series
This is book number 1 in the The Shameless Series series.
Staff Reviews
---
This was such a fun and light-hearted romance! I loved getting to know the characters, and the many wacky situations that they got themselves into. I enjoyed watching them going from unlikely friend, to even more unlikely coworkers, to much more than that. This was a super cute, feel good book!
— Anna
The Roommate is one of the best romances I read last year! Clara is forced into a sticky situation when she moves in with Josh, a popular adult movie star. This uptight socialite is caught off-guard when she is roped into learning more about his world, and begins to have feelings for him, an improper match! For fans of guys with golden-retriever energy and falling first, and a strong but stubborn female character, you won't regret picking this one up!
— Rachele
Description
---
"Warmly funny and gorgeously sexy."—New York Times Book Review

A LibraryReads Pick

House Rules:
Do your own dishes
Knock before entering the bathroom
Never look up your roommate online
 
The Wheatons are infamous among the east coast elite for their lack of impulse control, except for their daughter Clara. She's the consummate socialite: over-achieving, well-mannered, predictable. But every Wheaton has their weakness. When Clara's childhood crush invites her to move cross-country, the offer is too tempting to resist. Unfortunately, it's also too good to be true.

After a bait-and-switch, Clara finds herself sharing a lease with a charming stranger. Josh might be a bit too perceptive—not to mention handsome—for comfort, but there's a good chance he and Clara could have survived sharing a summer sublet if she hadn't looked him up on the Internet...
 
Once she learns how Josh has made a name for himself, Clara realizes living with him might make her the Wheaton's most scandalous story yet. His professional prowess inspires her to take tackling the stigma against female desire into her own hands. They may not agree on much, but Josh and Clara both believe women deserve better sex. What they decide to do about it will change both of their lives, and if they're lucky, they'll help everyone else get lucky too.
About the Author
---
Rosie Danan writes steamy, bighearted books about the trials and triumphs of modern love. When not writing, she enjoys jogging slowly to fast music, petting other people's dogs, and competing against herself in rounds of Chopped using the miscellaneous ingredients occupying her fridge. As an American expat living in London, Rosie regularly finds herself borrowing slang that doesn't belong to her.
Praise For…
---
A LibraryReads Pick

"One of the steamiest romances of the year... a downright revolutionary story about modern women owning their desire."—PopSugar

"Rosie Danan's The Roommate is seriously sexy, seriously smart."—Helen Hoang, USA Today bestselling author 

"Genuinely swoonily romantic."—Rachel Hawkins, New York Times bestselling author

"What an incredible debut! Danan gives us strangers to annoyed-roommates to kinda-friends to angsty-pining to finally-lovers with humor, wit, and just a hint of pathos. Josh and Clara are easily my favorite 'smash the patriarchy' couple, and The Roommate is easily one of my top romance reads of 2020!"—Jen DeLuca, author of Well Met

"Rosie Danan not only created characters who you'll think about long after you're finished reading, but she wrote a powerful, feminist book, that makes you laugh as hard as you cheer. The Roommate is sunshine in the form of a book. I can't wait to see what Danan brings us next!"—Alexa Martin, author of Snapped

"The Roommate is laugh-out-loud funny, bananas sexy, and deeply romantic.  Danan's voice is fresh and sharp, and the romance between Clara and Josh is both sizzling hot and heartwarming. Everything I want in a romance."—Andie J. Christopher, USA Today bestselling author

"Nuanced, funny, super steamy and surprisingly tender, The Roommate raises the bar for rom coms in 2020 - a smashing debut, and I can't wait for more by Rosie Danan!"—Evie Dunmore, author of Bringing Down the Duke

"The Roommate is unapologetically sexy as hell. Danan's writing, like her characters, is funny, seductive, and full of heart. You're gonna love this book."—Meryl Wilsner, author of Something to Talk About

"The Roommate is both hilarious and earnest, with off-the-charts tension and a sparkling, vibrant voice. Clara and Josh captured my heart from their first interaction. I loved every word of this steamy, empowering romance."—Rachel Lynn Solomon, author of Today, Tonight, Tomorrow

"Fresh and different, a special, superbly written slow-burn."—Sarah Hogle, author of You Deserve Each Other

"A deliciously fresh romance with strong characters and feminist themes."—Kirkus (starred review)

"Red hot and fiercely feminist."—Publishers Weekly (starred review)

"With humor and style reminiscent of Christie Craig or Susan Elizabeth Phillips, newcomer Danan is definitely an author to keep tabs on."—Booklist

"Incredibly sweet and romantic, The Roommate serves up a passionate but buoyant love story between two slightly lost people who figure out they have more to offer the world than they ever thought."—Shelf Awareness