Harry Potter and the Sorcerer's Stone (Harry Potter, Book 1) (Paperback)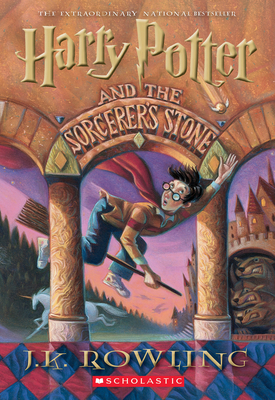 Email or call for price.
Out of Print - Please Call for Used Copy Availability
(This book cannot be returned.)
Other Books in Series
This is book number 1 in the Harry Potter series.
Staff Reviews
---
If you're like me and completely and utterly obsessed with all things Harry Potter, this is for you. The complete retelling of the classic story, but with beautifully added illustrations that any collector or lover of the series needs to have on their shelf. An amazing gift for the Harry Potter lover in your life, or an even better gift for yourself; these illustrated editions are not to be missed.
— Jaclyn
Description
---
Harry Potter has never been the star of a Quidditch team, scoring points while riding a broom far above the ground. He knows no spells, has never helped to hatch a dragon, and has never worn a cloak of invisibility.All he knows is a miserable life with the Dursleys, his horrible aunt and uncle, and their abominable son, Dudley - a great big swollen spoiled bully. Harry's room is a tiny closet at the foot of the stairs, and he hasn't had a birthday party in eleven years.But all that is about to change when a mysterious letter arrives by owl messenger: a letter with an invitation to an incredible place that Harry - and anyone who reads about him - will find unforgettable.For it's there that he finds not only friends, aerial sports, and magic in everything from classes to meals, but a great destiny that's been waiting for him... if Harry can survive the encounter.
About the Author
---
J.K. ROWLING is the author of the enduringly popular, era-defining Harry Potter seven-book series, which have sold over 600 million copies in 85 languages, been listened to as audiobooks for over one billion hours and made into eight smash hit movies. To accompany the series, she wrote three short companion volumes for charity, including Fantastic Beasts and Where to Find Them, which went on to inspire a new series of films featuring Magizoologist Newt Scamander. Harry's story as a grown-up was continued in a stage play, Harry Potter and the Cursed Child, which J.K. Rowling wrote with playwright Jack Thorne and director John Tiffany.
In 2020, she returned to publishing for younger children with the fairy tale The Ickabog, the royalties for which she donated to her charitable trust, Volant, to help charities working to alleviate the social effects of the Covid 19 pandemic. Her latest children's novel, The Christmas Pig, was published in 2021.
J.K. Rowling has received many awards and honours for her writing, including for her detective series written under the name Robert Galbraith. She supports a wide number of humanitarian causes through Volant, and is the founder of the international children's care reform charity Lumos. J.K. Rowling lives in Scotland with her family.
Praise For…
---
* "Readers are in for a delightful romp with this award-winning debut from a British author who dances in the footsteps of P.L. Travers and Roald Dahl."*Publishers Weekly, starred review* "Rowling's wonderful ability to put a fantastic spin on sports, student rivalry, and eccentric faculty contributes to the humor, charm, and, well, delight of her utterly captivating story."*Booklist, starred review* "Harry himself is the perfect confused and unassuming hero, whom trouble follows like a wizard's familiar. After reading this entrancing fantasy, readers will be convinced that they, too, could take the train to Hogwarts School, if only they could find Platform Nine and Three Quarters at the King's Cross Station." *School Library Journal, starred review

* "Readers are in for a delightful romp with this award-winning debut from a British author who dances in the footsteps of P.L. Travers and Roald Dahl."*Publishers Weekly, starred review* "Rowling's wonderful ability to put a fantastic spin on sports, student rivalry, and eccentric faculty contributes to the humor, charm, and, well, delight of her utterly captivating story."*Booklist, starred review* "Harry himself is the perfect confused and unassuming hero, whom trouble follows like a wizard's familiar. After reading this entrancing fantasy, readers will be convinced that they, too, could take the train to Hogwarts School, if only they could find Platform Nine and Three Quarters at the King's Cross Station." *School Library Journal, starred review