The Conjurers #1: Rise of the Shadow (Hardcover)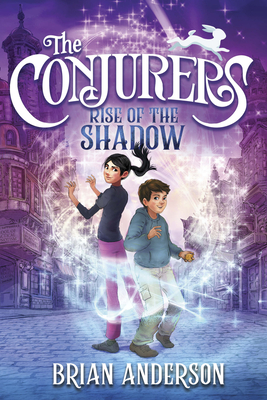 Other Books in Series
This is book number 1 in the The Conjurers series.
Staff Reviews
---
A fantastic start to a brand new fantasy series, THE CONJURERS: RISE OF THE SHADOW is a magical family middle-grade adventure that anyone will love no matter their age. Told from both Emma and Alex's perspectives is a joy to read and it creates a very realistic brother-sister relationship. The tone of the storytelling and the beautiful illustrations give an air of adventure reminiscent of the How to Train your Dragon book series which will draw you in to this amazing world even more. Truly a wonderful story, that will leave you eagerly anticipating the next book in the series!
— Marielle
Description
---
Siblings Emma and Alex tumble into a secret world where magic is real and skilled illusionists can perform actual tricks--for better or worse. Perfect for fans of the Magic Misfits and the Land of Stories series.

After their parents vanished, Alex and Emma are sent to live with strict Uncle Mordo. Only Emma's pet rabbit, Pimawa, keeps them company. But when flying skeletons called Rag-o-Rocs storm their once-quiet home, the kids escape just in time with Pimawa leading the way.

The rabbit takes the siblings to the Conjurian, a land where magic exists and Pimawa can talk. But the Conjurian is in trouble. Magic has been disappearing, and the Shadow Conjurer, the most mysterious sorcerer of all, is on the hunt for the Eye of Dedi, an object so powerful it could destroy the Conjurian and human worlds. The battle to control all magic has begun. There's only one problem: Alex and Emma don't have any!

Masterful storytelling and dozens of captivating illustrations fill author-illustrator Brian Anderson's world with charm and intrigue. Fall under the spell of the Conjurers.
About the Author
---
Brian Anderson is the creator of the syndicated comic strip Dog Eat Doug, which enjoys an international fan base both online and off-line. He is an optioned screenwriter and the author of several children's books, including Nighty Night, Sleepy Sleeps; The Prince's New Pet; and Monster Chefs. Brian's uncle was a charter member of the Magic Castle and taught him his first card trick in second grade. He has been practicing magic ever since.

@dogeatdoug
theconjurers.com
Praise For…
---
"Part A Series of Unfortunate Events, part Tony Abbott's The Copernicus Legacy, this adventure has impressive tricks up its sleeve." –Booklist

"Middle grade fans of magical mysteries will enjoy this exciting and well-paced series debut." –School Library Journal