The Widow's Strike (Hardcover)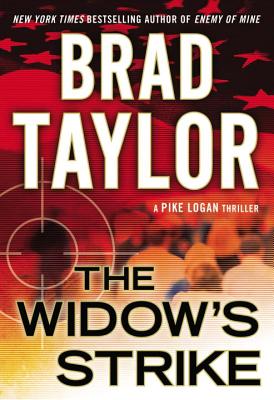 Description
---
In the fourth thriller in Brad Taylor's New York Times bestselling Pike Logan series, the Taskforce must stop a suicide bomber intent on triggering a global epidemic.
Invented by nature but genetically manipulated by man, a mutation of a deadly virus has fallen into the wrong hands. Angered by sanctions placed against its nuclear program, a rogue state is determined to release it. Their chosen method: one of the Black Widows female suicide terrorists of Chechen descent with a deadly reputation for slaughter that rivals any other group.
The only thing standing in the Black Widow's way is the Taskforce, an extra-legal counterterrorism unit. Racing against time to prevent a global pandemic, Taskforce operator Pike Logan and his partner Jennifer Cahill follow the trail across Southeast Asia to the United States, only to learn that the enemy they face may not be the enemy they should fear.
The Widow's Strike ties together government-sanctioned terrorist activities, nefarious multinational conglomerates, and frighteningly plausible science. Infused with authenticity from Brad Taylor's decades of service as a Delta Force commander, it's an explosive ride alongside America's counterterrorism operators that will leave readers breathless.

About the Author
---
BRAD TAYLOR is the author of the New York Timesbestselling Pike Logan series. He served for more than twenty years in the U.S. Army, including eight years in 1st Special Forces Operational Detachment Delta, commonly known as Delta Force. He retired as a Special Forces lieutenant colonel and now lives in Charleston, South Carolina."
Praise For…
---
Praise for Enemy of Mine

"[T]hose who prize authentic military action will be rewarded."
— Publishers Weekly

"Satisfies from start to finish."
— Kirkus Reviews

"Readers of novels set in the world of Special Forces have many choices, but Taylor is one of the best. His obvious insider knowledge, combined with a well-constructed narrative, make all his work—and this novel, in particular—a delight for fans of the subgenre."
— Booklist
 

Praise for THE WIDOW'S STRIKE

"Clever plotting and solid prose set this above many similar military action novels." - Publishers Weekly

"The fourth novel in the Pike Logan series starts with an intense mission, and the relentless pace does not let up until the end...Get this one into the hands of Vince Flynn fans." - Booklist

"Taylor writes a tight, exciting script...plenty of solid military and scientific tech and a ton of action here." - Library Journal 

"Taylor's The Widow's Strike is the perfect book for summer reading. It's fast-paced, authentic, and thrilling." - Townhall.com

Praise for All Necessary Force:

"Fresh plot, great action, and Taylor clearly knows what he is writing about...When it comes to tactics and hardware he is spot-on."
-Vince Flynn on All Necessary Force
"The high violence level and authentic military action put Taylor, a retired Delta Force officer, solidly in the ranks of such authors as Brad Thor and Vince Flynn." — Publishers Weekly on All Necessary Force
  "Well written, edgy, and a damn good yarn." —Kirkus Reviews

"Brad Taylor has been at the absolute tip of the American military spear and has lived to write about it. All Necessary Force is one of the best international thrillers I have read." —BlackFive magazine

"Fill your lungs before you start All Necessary Force because it will leave you breathless." —Suspense Magazine