In the Valley: Stories and a Novella Based on SERENA (Paperback)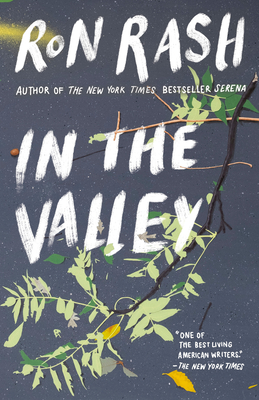 Description
---
From the New York Times bestselling, award-winning writer of Serena

"One of the great American authors at work today" (The New York Times) gives us a short story collection of haunting allegories about the times we live in—from the perils of capitalism to the extraordinary acts of decency and heroism that exist within them—and the return of the villainess who propelled Rash's famed Serena to national acclaim.

Ron Rash has long been a revered presence in the landscape of American letters. A virtuosic novelist, poet, and story writer, he evokes the beauty and brutality of the land, the relentless tension between past and present, and the unquenchable human desire to be a little bit better than circumstances would seem to allow.

In these ten stories, Rash, "a gorgeous, brutal writer" (Richard Price) working at the height of his powers, has created a mesmerizing look at the imperfect world around us, from the severing of ties to the natural world in the relentless hunt for profit to the destruction of body and soul with pills meant to mute our pain.

Rash's stories are unforgettable—"Baptism" was chosen by Roxane Gay for inclusion in The Best American Short Stories 2018, and "Neighbors" was selected by Jonathan Lethem for The Best American Mystery Stories 2019. And in revisiting Serena Pemberton, Rash updates his bestselling parable of greed run amok as his deliciously vindictive heroine returns to the North Carolina wilderness she left scarred and desecrated to make one final effort to kill the child that threatens all she has accomplished.

About the Author
---
RON RASH is the author of the PEN/Faulkner finalist and New York Times bestselling novel Serena, in addition to the critically acclaimed novels The Risen, Above the Waterfall, The Cove, One Foot in Eden, Saints at the River, and The World Made Straight; four collections of poems; and six collections of stories, among them Burning Bright, which won the 2010 Frank O'Connor International Short Story Award, Nothing Gold Can Stay, a New York Times bestseller, and Chemistry and Other Stories, which was a finalist for the 2007 PEN/Faulkner Award. Twice the recipient of the O. Henry Prize and winner of the 2019 Sidney Lanier Prize for Southern Literature, he is the Parris Distinguished Professor in Appalachian Cultural Studies at Western Carolina University and lives in Clemson, SC.
Praise For…
---
*Named a Garden & Gun and Atlanta Journal Constitution best book of the year*
*Winner of the 2020 Thomas Robinson Prize for Southern Literature*

"Mesmerizing...In the Valley takes Serena to such a fever pitch of destruction that in a lesser writer's hands it might seem overheated. But Rash maintains the deep keel that has always distinguished him...He's one of the best living American writers, and his laconic understatement is much more powerful than excess…Haunting and darkly funny."
—Janet Maslin, New York Times Book Review

"The power of Rash's stories lies in [the] small moments of connection amid all the noise of rupture and heartbreak. Rash writes with a direct precision that puts the reader at ease. Here is a storyteller who not only knows his characters, but knows all the details around them a well."
—Rion Amilcar Scott, New York Times Book Review

"One of the great American authors at work today."
—The New York Times

"As good as any contemporary American novelist I've read."
—The Wall Street Journal

"A riveting storyteller."
—Washington Post

"Rash's spectacular stories may originate in the peculiar soil of Appalachia, but their reach and their rewards are vast."
—NPR's Fresh Air

"Complex tales of human failings and triumphs...Sacrifice, revenge, redemption and small acts of humanity play out to heart-wrenching effects in his hands. [The collection] promises a small glimmer of hope for humanity, and that's something we could use a dose of right now."
—Atlanta Journal-Constitution

"Pure craft...An accomplished book by a grounded, unsentimental master."
—Highbrow Magazine

"A gift for his legions of fans [that] could also usher in a new crop of Rash readers and serve as a fitting intro to his work...Rash's prose [is] economical and by turns tense, tender, and unsentimentally searing."
—WNC Magazine

"Rash's best genre...Rash is expert at revealing the sword of vengeance's double edge—how honed it is, how it cuts whomever wields it...A brace of strong stories, and the [title] novella's a fine, suspenseful contribution to the thriving genre of Appalachian mayhem."
—Kirkus (starred review)

"Rash's lyrical, atmospheric collection, with its strong sense of place, will appeal to readers of Rick Bragg and Jesmyn Ward."
—Booklist (starred review)

"Revelatory...In simple but eloquent prose, Rash describes the vulnerabilities, fears, and desires of his characters and shows how often they unite persons from vastly different walks of life and social strata. The skillful craftsmanship of these tales and their subtle but powerful climaxes make for profoundly moving reading."
—Publishers Weekly (starred review)

"Haunting...Rash profoundly immerses readers in the Appalachia he calls home. His latest collection is highly recommended not only for readers who value protecting our environment but also for anyone who enjoys well-told stories of justice and revenge." 
—BookPage

"At turns dark, craggy, and heart-wrenching, Rash's writing is never easy, but it is also lovely, moving, and rich in history and culture, just like the Appalachian region it so beautiful captures."
—Library Journal