Cribsheet: A Data-Driven Guide to Better, More Relaxed Parenting, from Birth to Preschool (The ParentData Series #2) (Hardcover)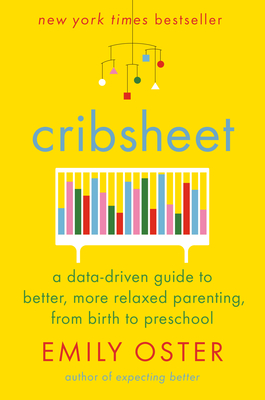 $28.00

Not In Stock - Usually Available in 1-5 Days
Other Books in Series
This is book number 2 in the The ParentData Series series.
Description
---
From the author of Expecting Better and The Family Firm, an economist's guide to the early years of parenting.

"Both refreshing and useful. With so many parenting theories driving us all a bit batty, this is the type of book that we need to help calm things down." —LA Times

"The book is jampacked with information, but it's also a delightful read because Oster is such a good writer." —NPR

With Expecting Better, award-winning economist Emily Oster spotted a need in the pregnancy market for advice that gave women the information they needed to make the best decision for their own pregnancies. By digging into the data, Oster found that much of the conventional pregnancy wisdom was wrong. In Cribsheet, she now tackles an even greater challenge: decision-making in the early years of parenting. 

As any new parent knows, there is an abundance of often-conflicting advice hurled at you from doctors, family, friends, and strangers on the internet. From the earliest days, parents get the message that they must make certain choices around feeding, sleep, and schedule or all will be lost. There's a rule—or three—for everything. But the benefits of these choices can be overstated, and the trade-offs can be profound. How do you make your own best decision? 

Armed with the data, Oster finds that the conventional wisdom doesn't always hold up. She debunks myths around breastfeeding (not a panacea), sleep training (not so bad!), potty training (wait until they're ready or possibly bribe with M&Ms), language acquisition (early talkers aren't necessarily geniuses), and many other topics. She also shows parents how to think through freighted questions like if and how to go back to work, how to think about toddler discipline, and how to have a relationship and parent at the same time. 

Economics is the science of decision-making, and Cribsheet is a thinking parent's guide to the chaos and frequent misinformation of the early years. Emily Oster is a trained expert—and mom of two—who can empower us to make better, less fraught decisions—and stay sane in the years before preschool.
About the Author
---
Emily Oster is a professor of economics at Brown University and the author of Expecting Better, Cribsheet, and The Family Firm. She writes the newsletter ParentData and her work has been featured in The New York Times, The Wall Street Journal, The Washington Post, The Atlantic, and Bloomberg. She has two children.
Praise For…
---
"Cribsheet, a new book by Emily Oster of Brown University, shows that in the hectic haze of parenthood an economist's perspective can prove surprisingly clarifying . . . Parenting can be fraught. Cribsheet aims to help parents do better." —The Economist

"Both refreshing and useful. With so many parenting theories driving us all a bit batty, this is the type of book that we need to help calm things down." —LA Times

"The book is jampacked with information, but it's also a delightful read because Oster is such a good writer." —NPR

"Many parents will likely find reading it a huge relief from the scare stories that seem to pop up everywhere these days. The author, economist Emily Oster, burst into the parent-lit world with her 2013 hit Expecting Better which remains required reading for a certain set of pregnant parents. Oster repeats her ingeniously simple formula with Cribsheet: taking conventional wisdom and diving into the research behind it, often showing that "the studies" are thin or nonexistent, or their findings that have been overstated . . . Cribsheet is not another call for the end of helicopter parenting or snowplow parenting or whatever kind of parenting is lighting up social media today, and it's not a call to overthrow medical wisdom; it's a call for parenting with context, and it's freeing." —The Washington Post

"The perfect read for anybody worried about the myriad of decisions that surround raising young kids. Oster, an economics professor whose work focuses on health, analyzes the data on issues such as breastfeeding, sleep training, allergies, and daycare to bust myths and, ultimately, dispel the guilt many new parents are prone to feeling. Why we love it: it offers the reassurance to parent in a way that suits *you* (and not the mom next door)." —Motherwell.com

"In my household, [Emily Oster] is the all-knowing Aunt we have never met. Parenting would be a lot more stressful without these books." —Adam Ozimek, Forbes

"Emily Oster, an economist at Brown University who focuses on health economics, has set out to make these decisions a little easier for parents by arming them with data and a healthy understanding of the principles of economics-driven decision-making. Her 2013 book, Expecting Better: Why the Conventional Pregnancy Wisdom is Wrong and What You Really Need to Know, has become something like a bible that gets tattered as it's passed from friend to pregnant friend. In it, she offers digestible conclusions from reliable research and debunks myths on everything from alcohol and caffeine consumption to exercise and bed rest. Her new book, Cribsheet: A Data-Driven Guide to Better, More Relaxed Parenting, From Birth to Preschool, takes a similar approach with the first three years following birth. Oster's aim is not to provide the answer to parents' questions about breastfeeding, circumcision, sleep and childcare. Instead, she argues that there is often more than one right answer, and it falls somewhere in between what the data says and what works for each family's unique circumstances." —Time 
 
"'This book will not tell you what decisions to make for your kids,' Oster writes in Cribsheet. 'Instead, I'll try to give you the necessary inputs and a bit of a decision framework. The data is the same for us all, but the decisions are yours alone.' Smart, relatable, and funny, Oster makes good on that promise while drawing on her own experience for anecdotes. She tackles all the major issues, including circumcision, potty training, marital health with kids, and when to conceive your next child. Clearly defined chapters make it easy to pick up the book and cram about any issue." —Bloomberg.com
 
"After reading Cribsheet, parents will come away feeling much more informed and less likely to turn to Google, friends and family only to receive conflicting advice." —CNBC

"With practical and useful advice backed with expert references, this book will give you the tools you need to tackle some of the biggest decisions you'll make when raising your child from birth to preschool." —Minnesota Monthly

"Parents new and old will find reassurance in this commonsense approach." —Publishers Weekly
 
"Parents who find comfort in statistics, and especially those who enjoy Malcolm Gladwell's works, will appreciate [Cribsheet]." —Booklist
Coverage from NPR