Eternal (Hardcover)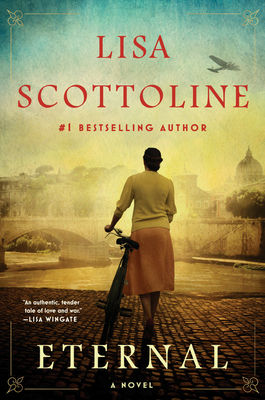 Staff Reviews
---
This story had me crying at the end it was so heartbreakingly beautiful. A well-written saga of friendship, family, love, and the cruelest hardships of war, Lisa Scottoline makes her historical fiction debut with a glorious whopper of a tale everyone will want to read and no one will forget. Taking a look at the Italian people's experience during WWII and delivering a powerful message of how love transcends everything, ETERNAL is a story that will break your heart and make you smile with hope in your eyes. A can't miss read!
— Marielle
April 2021 Indie Next List
---
"Eternal is an exhilarating, sweeping novel from the beloved Lisa Scottoline. Fans of The Nightingale and All the Light We Cannot See will instantly fall in love with this beautiful WWII novel. With a dash of everything you want in your next favorite read plus everything we have ever loved about Scottoline's writing, Eternal will without a doubt be at the top of every must-read list for 2021."
— Amanda Zirn Hudson, Bethany Beach Books, Bethany Beach, DE
Description
---
NEW YORK TIMES BESTSELLER

#1 bestselling author Lisa Scottoline offers a sweeping and shattering epic of historical fiction fueled by shocking true events, the tale of a love triangle that unfolds in the heart of Rome...in the creeping shadow of fascism.

What war destroys, only love can heal.

Elisabetta, Marco, and Sandro grow up as the best of friends despite their differences. Elisabetta is a feisty beauty who dreams of becoming a novelist; Marco the brash and athletic son in a family of professional cyclists; and Sandro a Jewish mathematics prodigy, kind-hearted and thoughtful, the son of a lawyer and a doctor. Their friendship blossoms to love, with both Sandro and Marco hoping to win Elisabetta's heart. But in the autumn of 1937, all of that begins to change as Mussolini asserts his power, aligning Italy's Fascists with Hitler's Nazis and altering the very laws that govern Rome. In time, everything that the three hold dear--their families, their homes, and their connection to one another--is tested in ways they never could have imagined.

As anti-Semitism takes legal root and World War II erupts, the threesome realizes that Mussolini was only the beginning. The Nazis invade Rome, and with their occupation come new atrocities against the city's Jews, culminating in a final, horrific betrayal. Against this backdrop, the intertwined fates of Elisabetta, Marco, Sandro, and their families will be decided, in a heartbreaking story of both the best and the worst that the world has to offer.

Unfolding over decades, Eternal is a tale of loyalty and loss, family and food, love and war--all set in one of the world's most beautiful cities at its darkest moment. This moving novel will be forever etched in the hearts and minds of readers.
About the Author
---
Lisa Scottoline is the New York Times-bestselling author of thirty-two novels. She has thirty million copies of her books in print in the United States and has been published in thirty-five countries. Scottoline also writes a weekly column with her daughter for The Philadelphia Inquirer. Lisa has served as President of Mystery Writers of America and has taught a course she developed, "Justice in Fiction" at the University of Pennsylvania Law School, her alma mater. She lives in the Philadelphia area.
Praise For…
---
"An accomplished historical novel that is both steeped in period detail and full of relatable characters.... Scottoline is a master at ramping up the suspense."--Washington Post

"In this book of her heart, Lisa Scottoline delivers what her readers expect and so much more, fast-paced intrigue, but also an authentic, tender coming of age tale of three best friends navigating the complexities of fascism, war, political and family strife and romantic competition."--Lisa Wingate, author of Before We Were Yours and The Book Of Lost Friends

"Eternal feels so real you can almost taste the cappelletti, as you get lost in the pages on your glorious and heart-wrenching trip to Italy."--Martha Hall Kelly, author of Lilac Girls and Sunflower Sisters

"Powerful and absorbing…at the heart of the novel is an enduring message, that what's perhaps most heroic in any life is to love fiercely and completely, in spite of loss and betrayal, and even beyond death."--Paula McLain, author of The Paris Wife and When the Stars Go Dark

"With characters who change and grow and enough twists and turns to keep you guessing, Eternal is a blockbuster with cinematic intensity."--Christina Baker Kline, author of Orphan Train and The Exiles

"Make a plate of fettuccine, pour a glass of red wine, and settle in with this captivating tale. You will cry tears of sadness and joy. Scottoline's Italian heritage combined with all her diligent research will keep this story in readers' hearts."--Library Journal (starred review)

"A beautiful, heartbreaking, wrenching love story set in the Second World War. It's alive with characters I cared about deeply - including the remarkable city of Rome, itself - and their courage in the face of Fascism."--Chris Bohjalian, author of Midwives and The Flight Attendant 

"This nuanced take on WWII Italy offers a variety of perspectives, but at its heart, this is a love story, with heroes lost being warmly remembered and love conquering all….Best-selling crime writer Scottoline successfully changes course in a coming-of-age WWII love story that will entrance fans and newcomers alike."--Booklist

"Scottoline's admirable foray into historical fiction…expertly brings historical events to life. Fans of WWII fiction will be drawn to this immersive, emotional novel."--Publishers Weekly

"Quite a change from Scottoline's bestselling contemporary thrillers: an ambitious, deeply researched historical account of three Roman families caught in the meltdown of Fascist Italy...Heartfelt."--Kirkus Reviews

"A powerfully moving story of loss, loyalty, family and love."--Woman's World

"As Americans go through huge growing pains (hopefully leading to something positive) in terms of their own racist pasts, Eternal offers us hope. Somehow love really can save the day--romantic love, brotherhood, spiritual love, love for a good nation and the democratic process. May the scholarship and literary invention of this extraordinary novel find a home in the hearts of readers everywhere."--Bookreporter.com

"I absolutely loved this page-turning novel. The writing is superb, and the historical research is outstanding. Eternal is an important book about the Holocaust and fascist Italy, and tells a story that needs to be told. As a Holocaust educator and a Child Refugee Survivor of the Holocaust, I strongly recommend everyone read this book."--Dr. Miriam Klein Kassenoff, Director, The Holocaust Teacher Institute, University of Miami

"Eternal is remarkable historical fiction that brings to life Rome in the years leading up to and during WWII on the shoulders of unforgettable characters caught up on all sides of terrible events spinning beyond their control. Scottoline's research is impeccable, her storytelling is propulsive, and the emotional times she describes are deep, moving, and yes, eternal." --Mark Sullivan, bestselling author of Beneath a Scarlet Sky

"The master storyteller Lisa Scottoline is at the height of her powers with Eternal. This magnificent epic is the story of  three childhood friends who come of age during World War II Italy. You are with them in the worst of times as they navigate their lost dreams. You will root for their survival as they find redemption in a post-war world they must build with hope. Love. Faith. Friendship. Courage. It's all here and it is essential reading."--Adriana Trigiani, bestselling author of Lucia, Lucia and The Shoemaker's Wife

"In Eternal, Lisa Scottoline expands her formidable talents to World War II Italy and the heartwarming tale of three families whose intersecting worlds are torn apart. Scottoline captures the tragic beauty of wartime Rome through the eyes of unforgettable characters with whom readers will hope and mourn and cheer. A passionate story of friendship, loyalty, and unbridled heroism."--Pam Jenoff, bestselling author of The Lost Girls of Paris

"Eternal is a gripping story of suffering and survival.  It unspools at a heart-stopping pace,  yet each page resonates with emotions: fear, hope, sorrow, yearning, love, empathy, sympathy, and, ultimately, joy.  The book lives up to its title.  It will echo in the minds of readers for a long time."--Sandra Brown

"What Elena Ferrante did with her Neapolitan Quartet, Scottoline does for war-time Rome: brings it to life as the city is ripped apart by men in power and barely held together by the courage and decency of those who stand against them. Eternal is a must read."--Lorenzo Carcaterra

"At its heart, Eternal is a beautiful, heartbreaking, yet ultimately uplifting love story. Meticulously researched, this riveting World War II-era novel explores what happens when beautiful Elisabetta must choose between lifelong best friends Sandro and Marco. As they get caught up in the madness that overtakes Italy when it becomes a satellite of Hitler and the Third Reich, each must make a gut-wrenching choice that determines the course of the rest of their lives. Action-packed and haunting, Eternal will stay with you for a long time after you finish reading it. I loved this book!"--Karen Robards, author of The Black Swan of Paris

"Lisa Scottoline is a magnificent storyteller. Eternal is a triangular story of first love, told against the backdrop of WWII in Rome, that is both terrifying and magical; three young people at one of the worst times in history are filled with love, hate, fear, rage, and at the end, survival and hope. Eternal is brilliantly written. Scottoline hits new heights in this spellbinding tale of decades-old family secrets and rips apart the fragility of first loves. I was pulled in from the first page by the lives of Scottoline's characters as they tried to make their way through events beyond their control in this richly detailed story that makes you feel like you're right alongside them." --Andrew Mayne, author of The Naturalist and The Girl Beneath the Sea