I've Been Thinking . . .: Reflections, Prayers, and Meditations for a Meaningful Life (Hardcover)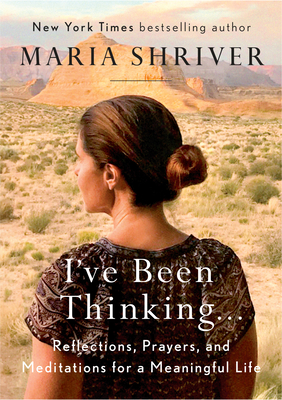 $21.00

Not In Stock - Usually Available in 1-5 Days
Staff Reviews
---
Kindness is the language which the deaf can hear and the blind can see (Mark Twain). This is one example of a powerful quote/saying you will find within this book. Each chapter begins with a "pearl of wisdom" which is followed by a short essay explaining its significance. I enjoyed reading this motivational book and found it to be a source of comfort during this uncertain time.
— Pam
Description
---
INSTANT #1 NEW YORK TIMES BESTSELLER

"[I've Been Thinking…] is beautiful...I felt your soul on these pages." –Oprah Winfrey

"If you are feeling stuck, lost, or you just need a pick-me-up, this is the book for you. Shriver's wisdom will fill you up." —Hoda Kotb, coanchor, The Today Show

The ideal book for those seeking wisdom, guidance, encouragement, and inspiration on the road to a meaningful life.

As a prominent woman juggling many roles, Maria Shriver knows just how surprising, unpredictable, and stressful everyday life can be.

In this moving and powerful book, she shares inspiring quotes, prayers, and reflections designed to get readers thinking, get them feeling, get them laughing, and help them in their journey to what she calls The Open Field--a place of acceptance, purpose, and passion--a place of joy.

I've Been Thinking . . . is ideal for anyone at any point in her life. Whether you feel like you've got it all together or like it's all falling apart--whether you're taking stock of your life or simply looking to recharge, this is the book you will turn to again and again. Spend the weekend reading it cover to cover, or keep it on your nightstand to flip to the chapter you need most. Like talking with a close friend, it's the perfect daily companion—an exceptional gift for someone looking to move forward in life with hope and grace.
About the Author
---
Maria Shriver is the mother of four, a Peabody Award-winning and Emmy Award-winning journalist and producer, the author of seven New York Times bestselling books and a bestselling coloring book, an NBC News Special Anchor, and founder of The Women's Alzheimer's Movement. When she's not thinking or writing, she can be found hanging with her kids.
Praise For…
---
"This book is full of hope, inspiration, wisdom--from a woman [who] embodies all that she writes. Such a wonderful read." —People

"Shriver tackles motherhood, faith, acceptance, and more in her search for how we can all live a more meaningful life. With quotes, prayers, and personal anecdotes, this book feels like a long walk with a close friend." —PopSugar

"An uplifting collection. . . intimate and thought-provoking." —goop

"Sometimes, we could all use a read that makes us feel good and inspired. . . .  a collection of moving quotes and reflections from Maria Shriver designed to get you through whatever journey you're on." –Hello Giggles

"The honesty of this uplifting book will please Shriver's established readership as well as new readers looking for inspiration." –Publishers Weekly 

"Maria Shriver is a beacon of compassion and understanding—a life force." —Tom Brokaw
 
"This book is superb. Shriver teaches all of us in the graduate program of life to seek meaning through the joy of following your heart. Just the kind of advice a heart surgeon cherishes." —Mehmet Oz, MD
 
"In I've Been Thinking . . . Shriver serves up golden nuggets of wisdom, honesty, and inspiration that take us out of our individual worlds and connects us to what's important, true, and meaningful in the journey of being human." —Mark Hyman, MD; director, Cleveland Clinic Center for Functional Medicine 
 
"Maria Shriver is a person of unusual compassion, intelligence, and honor. If you want to feel uplifted, inspired, and comforted, read it. This book, like its author, is a precious gift to the world." —Martha Beck
 
"Thought-provoking, spirited, a deep and personal message to help one discover a meaningful and joyful life." —Deepak Chopra
 
"If you are feeling stuck, lost, or you just need a pick-me-up, this is the book for you. Shriver's wisdom will fill you up." —Hoda Kotb, coanchor, The Today Show
 
"There's so much noise in the world, so many distractions, responsibilities, choices. Shriver's soulful words of wisdom, guidance, and strength are both beautiful and invaluable." —Elizabeth Lesser, cofounder, Omega Institute

"Maria Shriver has always been a voice of hope, unity, equality, and love—a wise, steady voice calling us to become our best selves. Here, she gives us her hard-earned wisdom, tenderness, courage and wildly gorgeous, inclusive, accessible faith. . . . It's a book every person should keep close." —Glennon Doyle, #1 New York Times bestselling author of Love Warrior

"A gem. . .  a spiritual and emotional gift to everyone who reads it." —Joan Chittister

"This book will fill up your inspirational tank until it overflows! Essential for anyone needing to restore peace, purpose, and passion." —DeVon Franklin