Civil Rights Queen: Constance Baker Motley and the Struggle for Equality (Paperback)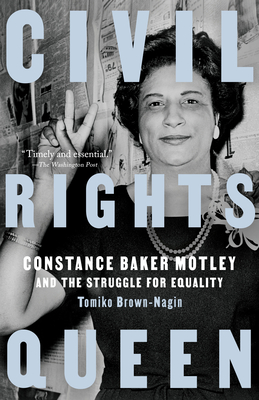 $19.00

Not In Stock - Usually Available in 1-5 Days
Description
---
A TIME BEST BOOK OF THE YEAR • The first major biography of one of our most influential judges—an activist lawyer who became the first Black woman appointed to the federal judiciary—that provides an eye-opening account of the twin struggles for gender equality and civil rights in the 20th Century. • "Timely and essential."—The Washington Post

"A must-read for anyone who dares to believe that equal justice under the law is possible and is in search of a model for how to make it a reality." —Anita Hill

With the US Supreme Court confirmation of Ketanji Brown Jackson, "it makes sense to revisit the life and work of another Black woman who profoundly shaped the law: Constance Baker Motley" (CNN). Born to an aspirational blue-collar family during the Great Depression, Constance Baker Motley was expected to find herself a good career as a hair dresser. Instead, she became the first black woman to argue a case in front of the Supreme Court, the first of ten she would eventually argue. The only black woman member in the legal team at the NAACP's Inc. Fund at the time, she defended Martin Luther King in Birmingham, helped to argue in Brown vs. The Board of Education, and played a critical role in vanquishing Jim Crow laws throughout the South. She was the first black woman elected to the state Senate in New York, the first woman elected Manhattan Borough President, and the first black woman appointed to the federal judiciary.
    
Civil Rights Queen captures the story of a remarkable American life, a figure who remade law and inspired the imaginations of African Americans across the country. Burnished with an extraordinary wealth of research, award-winning, esteemed Civil Rights and legal historian and dean of the Harvard Radcliffe Institute, Tomiko Brown-Nagin brings Motley to life in these pages. Brown-Nagin compels us to ponder some of our most timeless and urgent questions--how do the historically marginalized access the corridors of power? What is the price of the ticket? How does access to power shape individuals committed to social justice? In Civil Rights Queen, she dramatically fills out the picture of some of the most profound judicial and societal change made in twentieth-century America.
About the Author
---
TOMIKO BROWN-NAGIN is Dean of Harvard's Radcliffe Institute for Advanced Study, the Daniel P.S. Paul Professor of Constitutional Law at Harvard Law School, and Professor of History at Harvard University's Faculty of Arts and Sciences. In 2019, she was appointed chair of the Presidential Committee on Harvard and the Legacy of Slavery. She is a member of the American Academy of Arts and Sciences, of the American Philosophical Society, and of the American Law Institute, and a distinguished lecturer for the Organization of American Historians. Her previous book, Courage to Dissent won the Bancroft Prize in 2011. She frequently appears as a commentator in media. She lives in Boston with her family.
Praise For…
---
A New Yorker and TIME Best Book of the Year • PEN/Jacqueline Bogard Weld Award Finalist • Los Angeles Times Book Prize Finalist • Winner of the OAH Darlene Clark Hine Award • Winner of the 2023 Lillian Smith Book Award • Winner of the 2023 Coif Book Award • Longlisted for the Plutarch Award

"This nuanced biography of Constance Baker Motley examines the paradoxes in the remarkable life of a 'first': the first Black woman elected to the New York State Senate, the first female Manhattan borough president, the first Black woman appointed to the federal judiciary…That Motley is little known today is 'a kind of historical malpractice,' Brown-Nagin writes; this book is a convincing corrective."
—The New Yorker

"I was thrilled to read this book…it is the perfect thing to read right now."
—Jasmine Guillory, The Today Show

"This exemplary biography is timely and essential."
—The Washington Post

"Rigorously researched and elegantly written, Civil Rights Queen is a seminal biography of an extraordinary figure whose legacy has been obscured for far too long. Brown-Nagin powerfully illuminates Motley's journey into the heart of American law and politics, and the result is a magisterial work that befits its subject."
—Ibram X. Kendi, bestselling author of How to Be an Antiracist

"Illuminating…thoughtful…Civil Rights Queen is the result of diligent research…poignant… a balanced assessment of a brave and brilliant woman who helped to reconfigure the system before she became a part of it….Brown-Nagin honors her subject by being resolutely direct and unsentimental — steely, if you will."
—Jennifer Szalai, New York Times

The activist may not have been a household name but her work as "the only Black woman member in the legal team at the NAACP's Inc. Fund," helped further the fight for full race and gender equality in America. Written by a legal expert, this biography breaks down just how impactful her contributions were."
—Essence, "56 New Books We Can't Wait To Read"

"Written by legal and Civil Rights historian Tomiko Brown-Nagin…this biography about [an] iconic female leader…is the perfect nonfiction addition to your bookshelf this year."
—The Appalachian, "Most Anticipated Books"

"Civil Rights Queen includes a remarkable strand of autobiography…a scrupulously researched study in power. Brown…bridges the often unbridgeable groups of American society."
—Harvard Magazine

"Now, at last, in Civil Rights Queen, the brilliant historian and legal scholar, Tomiko Brown-Nagin has given Constance Motley's life and heroic achievements the attention they deserve. It's difficult for me to imagine a biography we've needed more. Civil Rights Queen restores a truly brave, courageous, and brilliant lawyer and jurist to her proper place in American history."
—Henry Louis Gates, Jr. the Alphonse Fletcher University Professor and Director of the Hutchins Center for African and African American Research at Harvard University

"Civil Rights Queen is a brilliant work, elegantly written and deeply researched.  Brown-Nagin does complete justice to the life of Constance Baker Motley, one of the Twentieth Century's towering figures."
—Annette Gordon-Reed

"Constance Baker Motley is one of the most important and under appreciated heroes in the history of the civil rights movement. This brilliantly written, exhaustively researched, and profoundly illuminating biography places Motley firmly atop the Mount Rushmore of the movement's legal architects. Tomiko Brown-Nagin has produced a magnificent work of historical recovery, a page turning narrative history of the civil rights movement, and a biographical tour de force that will linger in hearts and minds long after the final page is read."
—Peniel E. Joseph, author of The Sword and The Shield

"Constance Baker Motley ought to be as well-known as Thurgood Marshall and Ruth Bader Ginsburg. In a better world, Motley would be a household name. With this urgently necessary and exhaustive biography, Tomiko Brown-Nagin is building that better world."
—Jill Lepore, author of These Truths: A History of the United States
 
"Compelling . . . Civil Rights Queen is a must read for anyone who dares to believe that equal justice under the law is possible and is in search of a model for how to make it a reality."
—Anita Hill

"Compelling, candid, and highly revelatory.  By examining in striking detail the remarkable life of Constance Baker Motley—a formidable lawyer turned politician turned judge — Professor Brown-Nagin  makes a major contribution to several fields:  race relations, women's studies, the study of the legal profession, and modern American history." 
—Randall Kennedy, Michael R. Klein Professor of Law, Harvard Law School

"In Civil Rights Queen, award-winning historian Tomiko Brown-Nagin recognizes an unsung American heroine . . . Through an intimate, behind the scenes journey into what Motley did, where she came from and how she got there, we learn the keys to Black women's successes in the 20th century. Civil Rights Queen is a dazzling life story that inspires readers to discover the Constance Baker Motley in ourselves."
—Martha Jones, author of Vanguard: How Black Women Broke Barriers, Won the Vote, and Insisted on Equality for All
 
"A brilliantly researched and riveting biography. Tomiko Brown-Nagin models the care, preparation and excellence of Motley; through a decade of effort she has written an instant classic that rightfully places Motley at the center of the American struggle for racial justice."
—Sheryll Cashin, Author of White Space, Black Hood: Opportunity Hoarding and Segregation in the Age of Inequality
 
"Tomiko Brown-Nagin brings a story-teller's art, meticulous research, and astute legal and psychological insights to the life and times of a central figure of the civil rights movement. This book rectifies the exclusions experienced by Constance Baker Motley…in historical memory and provides a riveting account of how a working class daughter of West Indian immigrants imagined and created a life of doing justice as a warrior for change. Readers will . . . never forget the woman whose outspoken, proud, and ferocious sense of justice changed her fortunes while she challenged America's racial apartheid, gender barriers, and day-to-day obstacles to human thriving."
—Martha Minow, 300th Anniversary University Professor at Harvard University

"Meticulously researched…superbly elucidated…Brown-Nagin excels at packing in intriguing minute details while still making them easily understood. Civil Rights Queen is the unforgettable story of a legal pioneer who changed the course of history."
–BookPage [starred review]

"In this immersive and eye-opening biography, Bancroft Prize winner Brown-Nagin places the groundbreaking legal and political career of Constance Baker Motley in the context of the civil rights and women's rights movements…Brilliantly balancing the details of Motley's professional and personal life with lucid legal analysis, this riveting account shines a well-deserved—and long overdue—spotlight on a remarkable trailblazer."
—Publisher's Weekly, "Books of the Week"

"Brown-Nagin's well-written account places an often-overlooked figure in the context of history and argues that Motley should be remembered as one of the principal strategists of the civil rights movement…. [Civil Rights Queen] not only shines a light on a forgotten civil rights pioneer but also asks insightful questions about the relationship of power, gender, and social justice. This is an important addition."
—Library Journal

"Stirring…An excellent exploration of the life of an admirable pioneer who deserves to be far better known."
—Kirkus Reviews [starred review]

"Civil Rights Queen is an essential text… and a testament to one of the most remarkable women in history who deserves far more recognition."
—Booklist [starred review]

"[An] immersive and eye-opening biography . . . Brilliantly balancing the details of Motley's professional and personal life with lucid legal analysis, this riveting account shines a well-deserved—and long overdue—spotlight on a remarkable trailblazer."
—Publishers Weekly [starred review]