Onboarding: How to Get Your New Employees Up to Speed in Half the Time (Hardcover)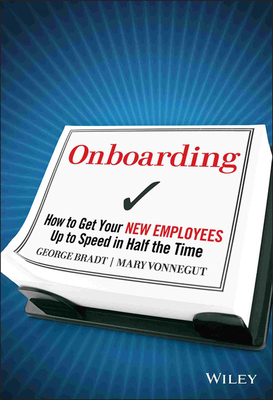 $27.95

Not In Stock - Usually Available in 1-5 Days
Description
---
A guide to getting new employees recruited, oriented, and productive--FAST
"Onboarding," a growing trend in the business community, is a focused methodology that gets people in new roles up to speed quickly and efficiently. This book guides you through a process that enables you to recruit, orient, and enable your new employees to get the job done. Learn how to inspire and encourage your new employees to deliver better results faster.
George Bradt and Mary Vonnegut's Onboarding helps ensure that your new employees are productive and efficient from day one. You'll learn how to help them assimilate into your corporate culture and accelerate their learning.
Onboarding is one of the hottest trends in business
This is the first book about onboarding
George Bradt is a leading speaker and consultant, and the author of The New Leader's 100-Day Action Plan
For business leaders and managers who want well-trained, responsive, efficient, and effective employees, Onboarding helps you get the best from your new employees.
About the Author
---
GEORGE BRADT is founder and Managing Director of PrimeGenesis, the premier executive transition consultancy. He was previously an executive at Unilever, Procter & Gamble, Disney, Coca-Cola, and J.D. Power and Associates. He is also the author of The New Leader's 100-Day Action Plan, from Wiley. MARY VONNEGUT is a Partner in PrimeGenesis. She was formerly president of a retail operation, senior vice president of marketing at Hanover Direct, and worked as a management consultant. She has launched new businesses, built marketing departments from the ground up, and crafted growth strategies.