The Kiss Quotient (Paperback)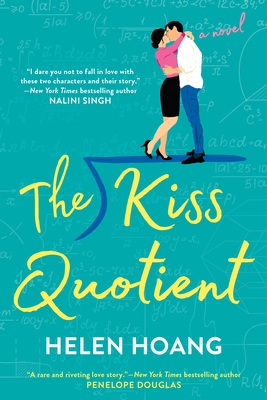 Staff Reviews
---
This book made me oddly emotional for a romance book. Stella and Michael's relationship was so real that it made me cry at the end when everything was wrapped up. I really came to care for this couple. Stella has Austism and she never learned what a relationship was, so she hires Michael to teach her how to date. Helen Hoang writes the best romance books, and is my favorite author of the genre. Her characters feel so authentic and honest and the romances are always incredibly well-done!
— Anna
Description
---
From the author of The Bride Test comes a romance novel hailed as one of The Washington Post's 50 Notable Works of Fiction in 2018 and one of Amazon's Top 100 Books of 2018!

"This is such a fun read and it's also quite original and sexy and sensitive."—Roxane Gay, New York Times bestselling author

"Hoang's writing bursts from the page."—Buzzfeed

A heartwarming and refreshing debut novel that proves one thing: there's not enough data in the world to predict what will make your heart tick.

Stella Lane thinks math is the only thing that unites the universe. She comes up with algorithms to predict customer purchases—a job that has given her more money than she knows what to do with, and way less experience in the dating department than the average thirty-year-old.

It doesn't help that Stella has Asperger's and French kissing reminds her of a shark getting its teeth cleaned by pilot fish. Her conclusion: she needs lots of practice—with a professional. Which is why she hires escort Michael Phan. The Vietnamese and Swedish stunner can't afford to turn down Stella's offer, and agrees to help her check off all the boxes on her lesson plan—from foreplay to more-than-missionary position...

Before long, Stella not only learns to appreciate his kisses, but crave all of the other things he's making her feel. Their no-nonsense partnership starts making a strange kind of sense. And the pattern that emerges will convince Stella that love is the best kind of logic...
About the Author
---
Helen Hoang is that shy person who never talks. Until she does. And the worst things fly out of her mouth. She read her first romance novel in eighth grade and has been addicted ever since. In 2016, she was diagnosed with Autism Spectrum Disorder in line with what was previously known as Asperger's Syndrome. Her journey inspired The Kiss Quotient. She currently lives in San Diego, California, with her husband, two kids, and pet fish.
Praise For…
---
Praise for The Kiss Quotient

"Hoang's witty debut proves that feelings are greater than numbers, no matter how you add things up."—People Magazine

"With a deft hand, Hoang crafts an honest and thoughtful look at the challenges Stella's neuroatypicality poses while never losing sight of who Stella is as an individual, especially as her relationship with Michael evolves into something far beyond the scientific."—Harper's Bazaar

"Helen Hoang's The Kiss Quotient is an absolute delight—charming, sexy, and centered on a protagonist you love rooting for."—Buzzfeed

"Hoang writes Stella with insight and empathy."—The New York Times Book Review

"Hoang does an amazing job of crafting a vividly romantic tale filled with depth, humor and a universal sense of humanity."—Emily Giffin, New York Times bestselling author

"In just under 24 hours I devoured The Kiss Quotient by Helen Hoang and it was AWESOME. Adorable, sexy, smart. Exactly the book I wanted to read!"—Christina Lauren, New York Times bestselling author 

"Clever, sexy and a breath of fresh air! The Kiss Quotient is intoxicatingly witty and romantic!"—Lauren Blakely, New York Times bestselling author

"I devoured The Kiss Quotient.  It's one of the best books I've read in a very long time. It has everything—it's funny, sad, poignant and impossible to put down."—Christine Feehan, New York Times bestselling author
 
"The Kiss Quotient is unexpected, unconventional and unputdownable. I loved it. Hoang's writing has a sharp, quirky, emotional edge that will resonate with anyone who has ever tried to navigate the complicated world of modern relationships.  Opening this book is like setting a match to a handful of fireworks—lots of sparkle, heat and energy."—Jayne Ann Krentz, New York Times bestselling author  

"The Kiss Quotient had me under a spell the moment I met the hero. I was excited, in love, and couldn't wait to get back to this book every time life forced me to put it down. A rare and riveting love story."—Penelope Douglas, New York Times bestselling author

"An unexpectedly sweet romance that left me with a huge smile on my face. I dare you not to fall in love with these two characters and their story. Helen Hoang's debut is quite simply delightful!"—Nalini Singh, New York Times bestselling author

"The balance of humor, kindness, and honesty in The Kiss Quotient combined with the gentleness in Hoang's style of storytelling charmed and connected with me in a way no other book has done in a long time."—Book Riot

"Hoang knocks it out of the park with this stellar debut about an autistic woman who takes a methodical approach to learning about sex and accidentally gets a lesson in love...Hoang gives [Stella] tremendous depth as a character, never reducing her to a walking diagnosis. The diverse cast and exceptional writing take this romance to the next level, and readers who see themselves in Stella will be ecstatic."—Publishers Weekly (starred)

"Equal parts crackling love scenes and emotional, unflinchingly honest conversations, Hoang's debut is as effortlessly beautiful as one of Stella's favorite elegant math equations."—Entertainment Weekly

"Compulsively readable."—Library Journal

"Hoang's writing bursts from the page."—Buzzfeed

"Hoang mixes sexy and tender with panache."—NPR.org

"This is such a fun read and it's also quite original and sexy and sensitive."—New York Times bestselling author Roxane Gay

"The Kiss Quotient is the perfect balm for any reading slump and a wonderful palate cleanser for the summer. It also might just be the best book you read all year."—Bookpage

"A riveting, compulsively readable romance that brims with feeling and warmth."—Entertainment Weekly