The Thief Lord (Hardcover)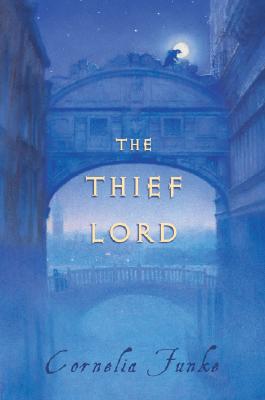 Email or call for price.
Special Order - Not Available for Web Order
Staff Reviews
---
Journey to the mystical canals of Venice, Italy in Cornelia Funke's enchanting tale of two runaway orphans and the family they find in a ragtag band of thieves in The Thief Lord. With descriptions that will transport you to the watery streets of Venice, and characters you'll fall in love with this story will warm your heart and leave you smiling long after it's over. And with the added mystery of a magical carousel, you'll want to follow our heroes till the end!
— Marielle
Description
---
An exciting, magical adventure set among the crumbling canals and ancient ruins of Venice, Italy.
Prosper and Bo are orphans on the run from their cruel aunt and uncle. The brothers decide to hide out in Venice, where they meet a mysterious character who calls himself the "Thief Lord." Brilliant and charismatic, the Thief Lord leads a ring of street children who dabble in petty crimes. Prosper and Bo relish being part of this colorful new family. But the Thief Lord has secrets of his own. And soon the boys are thrust into circumstances that will lead them, and readers, to a fantastic, spellbinding conclusion.
About the Author
---
Cornelia Funke is the internationally acclaimed, bestselling author of The Thief Lord, Dragon Rider, and the Inkheart trilogy, along with many other chapter and picture books for younger readers. She lives in Los Angeles, California, in a house filled with books.
Praise For…
---
The story opens with a solitary bachelor detective, Victor, accepting a commission to find two runaway brothers: Prosper, the older boy (who is not wanted); and Boniface, or Bo, who looks like an angel and is therefore dear to his childless (and humorless) aunt. The brothers have run away to Venice to avoid being separated and are living with a gang of thieving orphans presided over by the boyish, cocky Thief Lord. As Victor's sympathies begin to shift from the aunt to the brothers, the gang of thieves becomes entangled in a caper that involves stealing a wooden wing from a carved lion-the missing piece of a carousel that magically turns old people young again and makes children grow to adults in an instant. The problem is not the wing's owner, artist Ida Spavento-she actually helps them, provided she can follow along to discover where the wing will be taken. The real complication is the Thief Lord, whose identity turns out to be smaller-than-life and whose attraction to the magic of the carousel draws the gang into further danger. The story moves at a slow pace, lingering in explanatory dialogue and descriptions of Venice, but the idiosyncrasy and resonance of the central carousel image create a potent, continental atmosphere that laces the tale with a bit of excitement. In the course of pursuing the carousel's mystery, Victor and Ida and the brothers fob off Prosper and Bo's aunt with the kind of child she really wants and band together as a new kind of family-a sweet and comforting conclusion that will satisfy readers whose hearts have been touched by the loyalty and courage of the two brothers and the rewarded generosity of their new foster parents.--Horn Book, November/December 2002

Orphaned brothers Prosper and Bo have ditched their guardian aunt (who's only willing to adopt the charming, younger Bo) and have fled to Venice, where they come under the dubious protection of a teen who carries off daring thefts by night and herds a small band of street gamins by day. The gang of the 'Thief Lord' is more than willing to assist their leader in his midnight heists, but he seems reluctant to bring them along on any actual jobs, and readers will probably figure out long before Prosper and Bo do that the young criminal is actually a rich kid pilfering his parents' goodies. He does, however, get them involved in a plan to help reconstruct--for unimaginable wealth, of course--a magical merry-go-round stolen years ago from an orphanage. Trailed by a gumshoe looking for the siblings, and most improbably befriended by a would-be burglary victim, the children dodge their way through a hailstorm of transparent subplots to reach their respective happy endings. Readers undaunted by page count can find Funke's themes developed more thrillingly elsewhere-in Dickens' Oliver Twist and in Bradbury's Something Wicked This Way Comes. This comparatively lightweight (in content, not ounces) romp has its moments, however, and the social joys of joining what promises to be a heavily hyped Reading Event may well carry the day.--Bulletin of the Center for Children's Books, November 2002

There are shards of wonderful stories in this ambitious narrative, but they don't quite cohere into a shimmering whole. That said, this is still a pretty nifty adventure set as brilliantly in its Venetian setting as a baroque pearl. Twelve-year-old Prosper and five-year-old Boniface cling to the stories their mother told them of Venice, with its winged lions and rooftop angels. After her death, they run away from Hamburg and their pinch-faced relatives to Venice, where a motley crew of children, living in an abandoned movie theatre, takes them in. The leader is Scipio, the Thief Lord, who directs the petty thievery and acts as older brother to the group. Victor, a gentle detective, has been hired to find the brothers, and he does so quickly, but is bemused by their ragtag family and is loathe to hand them over to the aunt. Funke begu