The Football Fiasco (Zach and Zoe Mysteries, The #3) (Paperback)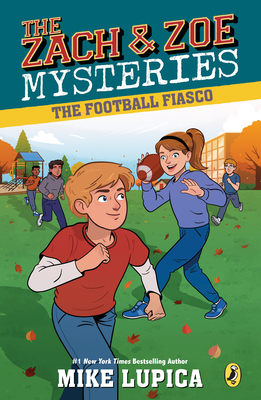 $6.99
Email or call for pricing & availability
Other Books in Series
This is book number 3 in the Zach and Zoe Mysteries, The series.
Description
---
The third installment of the Zach and Zoe Mysteries--a sports-themed chapter book mystery series by New York Times bestselling author Mike Lupica.

There's nothing eight-year-old twins Zach and Zoe Walker love more than playing sports and solving mysteries. And when those two worlds collide . . . well, it doesn't get any better than that.

In their third mystery, Zach and Zoe discover their recess football has been completely deflated, leaving them without a ball to play with. But who's behind it? By searching for clues around the school, Zach and Zoe uncover the truth behind the damaged ball, and learn the importance of friendship, inclusion, and being conscious of other people's feelings. Ending with a big Walker Family Thanksgiving Turkey Bowl game, The Football Fiasco is the perfect fall chapter book!

In the opening installments of the Zach and Zoe Mysteries, bestselling author Mike Lupica begins a series for a new and younger audience, introducing readers to a sports-loving detective duo who can swing for the fences and catch the culprit in one fell swoop. With a recipe equal parts sports and mystery, the Zach and Zoe Mysteries break fresh ground for an author who has been called the greatest sportswriter for kids.
About the Author
---
Mike Lupica is a prominent sports journalist and the New York Times-bestselling author of more than forty works of fiction and non-fiction. A longtime friend to Robert B. Parker, he was selected by the Parker estate to continue the Sunny Randall series.
Praise For…
---
Praise for The Zach & Zoe Mysteries

"Lupica kicks off a new series starring a pair of 8-year-old twins who solve sports-themed mysteries . . . Along with plenty of suspenseful sports action, the author highlights in both tales the values of fair play, teamwork, and doing the "right thing."  . . .  the supporting cast shows some racial and ethnic diversity. Wholesome, uncomplicated fare for the younger Matt Christopher crowd."--Kirkus Reviews

"Mike Lupica is bringing his sports knowledge and excellent writing ability to the chapter book world...[Zach and Zoe] have exciting playoff games, supportive parents, and act true to their ages . . . there is no evil involved in the mysteries, and the community is supportive. It is evident early on who or what is behind the mysteries, but this should be a positive for youngsters who are just getting started with guessing the outcomes of chapter books."--School Library Connection

"Zach and Zoe are likable and kind to each other, and their parents are supportive. Lupica knows how to write sports action with a heart . . . Give these to young readers who are looking for easy sports fiction or who are new to the mystery genre."--School Library Journal