Edgeland (Hardcover)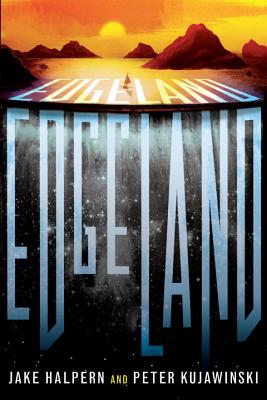 $17.99
Email or call for pricing & availability
Description
---
An upper-middle grade thriller by the New York Times bestselling Nightfall authors–perfect for fans of James Dashner's Maze Runner books.

Thousands of miles south of the island of Bliss, day and night last for 72 hours. Here is one of the natural wonders of this world: a whirlpool thirty miles wide and a hundred miles around. This is the Drain. Anything sucked into its frothing, turbulent waters is never seen again.

Wren has spent most of her life on Edgeland, a nearby island where people bring their dead to be blessed and prepared for the afterlife. There the dead are loaded into boats with treasure and sent over the cliff, and into the Drain. Orphaned and alone, Wren dreams of escaping Edgeland, and her chance finally comes when furriers from the Polar north arrive with their dead, and treasure for their dead.

With the help of her friend Alec, Wren plans to loot one of the boats before it enters the Drain. But the boat--with Alec and Wren onboard--is sucked into the whirlpool. What they discover beyond the abyss is beyond what anyone could have imagined.
About the Author
---
Jake Halpern is an acclaimed journalist, author, and radio producer who has written for several publications including The New Yorker and The New York Times Magazine.  As a contributor at NPR, Jake produced one of the most listened-to episodes of This American Life. He co-wrote the Dormia series with Peter Kujawinski and is the author of Bad Paper, a nonfiction book for adults. 

For eighteen years, Peter Kujawinski was an American diplomat, on assignment in places like Israel, Haiti, France, and at the UN in New York. Most recently, he was the US Consul General in western Canada, which included Alberta, Saskatchewan, and the Northwest Territories. While working as a diplomat, he started to write for adults and children. He is a contributor to the New York Times, and with coauthor Jake Halpern, Peter wrote Nightfall and the Dormia trilogy (Dormia, World's End, and Shadow Tree). He lives in Chicago with his family.
Praise For…
---
★ "Halpern and Kujawinksi have constructed a refreshing, original fantasy that thoughtfully probes the subjects of class, religion, and morality. . . . Compellingly written, this otherworldly adventure is a unique offering that deserves attention."—Booklist, [starred review]

"An imaginative adventure/fantasy exploring the afterlife. Edgeland is a place more for the living than for the dead. . . . Recommended for fans of James Dashner's "Maze Runner" series, this is a solid addition to collections serving upper middle grade and middle school readers."—School Library Journal 

"Give this compelling look at life-after-death to young readers looking for a mystery, a friendship that spans worlds, and those interested in a unique world with a totally different look at life beyond life."—VOYA

"In this intriguing fantasy, two friends discover the secret of life after death as they travel to the realm where people go to await their final fate . . . . Halpern and Kujawinski provide a fascinating world, and their story is fueled by a strong premise and compelling protagonists"—Publishers Weekly