Norse Mythology (Hardcover)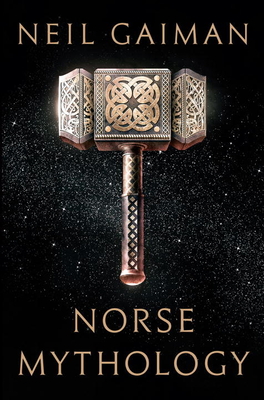 $25.95

Not In Stock - Usually Available in 1-5 Days
Description
---
Introducing an instant classic—master storyteller Neil Gaiman presents a dazzling version of the great Norse myths.
Neil Gaiman has long been inspired by ancient mythology in creating the fantastical realms of his fiction. Now he turns his attention back to the source, presenting a bravura rendition of the great northern tales.
In Norse Mythology, Gaiman stays true to the myths in envisioning the major Norse pantheon: Odin, the highest of the high, wise, daring, and cunning; Thor, Odin's son, incredibly strong yet not the wisest of gods; and Loki—son of a giant—blood brother to Odin and a trickster and unsurpassable manipulator.
Gaiman fashions these primeval stories into a novelistic arc that begins with the genesis of the legendary nine worlds and delves into the exploits of deities, dwarfs, and giants. Once, when Thor's hammer is stolen, Thor must disguise himself as a woman—difficult with his beard and huge appetite—to steal it back. More poignant is the tale in which the blood of Kvasir—the most sagacious of gods—is turned into a mead that infuses drinkers with poetry. The work culminates in Ragnarok, the twilight of the gods and rebirth of a new time and people.
Through Gaiman's deft and witty prose emerge these gods with their fiercely competitive natures, their susceptibility to being duped and to duping others, and their tendency to let passion ignite their actions, making these long-ago myths breathe pungent life again.
About the Author
---
Neil Gaiman is the author of the New York Times best-selling A View from the Cheap Seats, The Ocean at the End of the Lane, The Graveyard Book, Coraline, Neverwhere, and the Sandman series of graphic novels, among other works. His fiction has received Newbery, Carnegie, Hugo, Nebula, World Fantasy, and Will Eisner Awards. His novel American Gods aired as a TV series in 2017. Originally from England, he lives in the United States, where he is a professor at Bard College.
Praise For…
---
Taking a few modern liberties with the stories, Gaiman's Norse Mythology delights in the gods' petty machinations as much as their heroics. In these accessible, retold tales, fantasy is odd, and real, and dire.

— Ethan Gilsdorf - The Boston Globe

No contemporary fiction writer gets more of his power from the mythological tradition than Neil Gaiman. . . . As always, Gaiman's a charming raconteur . . . [and he] recognizes a ripping yarn when he sees one.
— Douglas Wolk - Los Angeles Times

A gripping, suspenseful and quite wonderful reworking of these famous tales. Once you fall into the rhythm of its glinting prose, you will happily read on and on, in thrall to Gaiman's skillful storytelling.
— Michael Dirda - Washington Post

Weaving together ancient Norse mythology with 21st-century sensibility, Gaiman's storytelling once again recreates an entire genre for the modern reader.
— Newsweek

In reinterpreting the tales so faithfully and with such abundant joy, Gaiman assumes the role of fireside bard, inviting us to sit close on a chilly winter's night and chuckle and wonder along with him.
— James Lovegrove - Financial Times

Gaiman's masterful storytelling transcends our most vivid dreams, exploring ancient territory from a fantastically fresh perspective. . . . [and inviting us] to listen to stories in the same way we would as children: engrossed and enraptured by the magic of myth. . . . [Norse Mythology] will breathe new life into these old gods, reminding us of the power that great storytelling still holds over us all.

— Dani Hedlund - F(r)iction

Mr. Gaiman milks [the Norse gods' hijinks] for all their humor and incongruity, very much in the spirit of the originals. . . . [He] has produced . . . a clear, continuous narrative, with big scenes the same as they always were but with emotional pointers added.
— Tom Shippey - The Wall Street Journal

Remarkable. . . . Gaiman has provided an enchanting contemporary interpretation of the Viking ethos.
— Lisa L. Hannett - The Atlantic