Helter Skelter: The True Story of the Manson Murders (Paperback)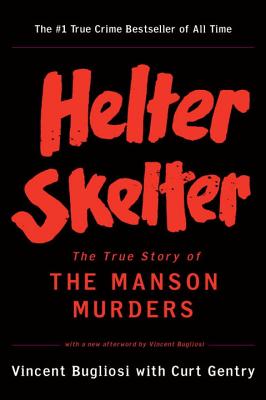 Staff Reviews
---
If you haven't read this true crime classic, you're missing out; if you haven't read it in many years, consider picking it up again. Helter Skelter is way more than a kill count. It's a work of American history that describes the crimes that marked the transition from the fancy-free (white) America of the '60s to the terror-stricken '70s: the Manson family murders. Written by the prosecutor on the case, this hefty book is surprisingly readable, and it's an excellent companion piece to the 2019 Tarantino masterpiece Once Upon a Time in...Hollywood.
— Hadley
Description
---
The #1 True Crime Bestseller of All Time—7 Million Copies Sold
In the summer of 1969, in Los Angeles, a series of brutal, seemingly random murders captured headlines across America. A famous actress (and her unborn child), an heiress to a coffee fortune, a supermarket owner and his wife were among the seven victims. A thin trail of circumstances eventually tied the Tate-LeBianca murders to Charles Manson, a would-be pop singer of small talent living in the desert with his "family" of devoted young women and men. What was his hold over them? And what was the motivation behind such savagery? In the public imagination, over time, the case assumed the proportions of myth. The murders marked the end of the sixties and became an immediate symbol of the dark underside of that era.
Vincent Bugliosi was the prosecuting attorney in the Manson trial, and this book is his enthralling account of how he built his case from what a defense attorney dismissed as only "two fingerprints and Vince Bugliosi." The meticulous detective work with which the story begins, the prosecutor's view of a complex murder trial, the reconstruction of the philosophy Manson inculcated in his fervent followers…these elements make for a true crime classic. Helter Skelter is not merely a spellbinding murder case and courtroom drama but also, in the words of The New Republic, a "social document of rare importance."
About the Author
---
Vincent Bugliosi (1934—2015), was the prosecutor of Charles Manson and author of Helter Skelter, Outrage, and other #1 bestselling books.

Curt Gentry (1931-2014), an Edgar winner, was the author of J. Edgar Hoover: The Man and the Secrets, Frame-Up: The Incredible Case of Tom Mooney and Warren Billings, and co-author of Helter Skelter with Vincent Bugliosi.
Praise For…
---
One of the best crime stories ever written.

[A] social document of rare importance.