The Hot Zone: The Terrifying True Story of the Origins of the Ebola Virus (Paperback)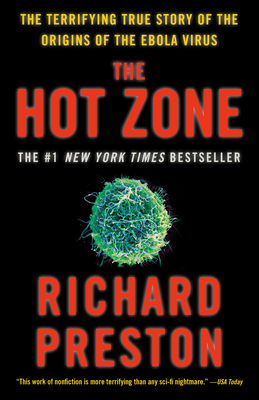 $18.00
Email or call for price.
Staff Reviews
---
I'll admit I'm kind of obsessed with viruses. And if you're like me, then you probably follow a zillion scientists on Twitter and stay up to date on Sars-Cov-2 and COVID-19. And maybe you even heard about it long before others did, and maybe you even tried to warn people about the coming pandemic and tell them to stock up on food and prepare to stay at home for a long period of time? If this is you, then you'll want this book. It's the story of the Ebola virus and how in 1989 a version of the virus was discovered in the suburbs of Washington DC in Reston VA. There was a mad rush to contain it, and the US Army was even called in. The whole thing was kept from the public until Preston wrote an article about it called "Crisis in the Hot Zone," and portions of that article became this book.
— Jennifer
Description
---
NEW YORK TIMES BESTSELLER • The bestselling landmark account of the first emergence of the Ebola virus. • "This work of nonfiction is more terrifying than any sci-fi nightmare." —USA TODAY

Also a mini-series drama starring Julianna Margulies, Topher Grace, Liam Cunningham, James D'Arcy, and Noah Emmerich on National Geographic.

A highly infectious, deadly virus from the central African rain forest suddenly appears in the suburbs of Washington, D.C. There is no cure. In a few days 90 percent of its victims are dead. A secret military SWAT team of soldiers and scientists is mobilized to stop the outbreak of this exotic "hot" virus. The Hot Zone tells this dramatic story, giving a hair-raising account of the appearance of rare and lethal viruses and their "crashes" into the human race. Shocking, frightening, and impossible to ignore, The Hot Zone proves that truth really is scarier than fiction.
About the Author
---
Richard Preston is the author of several books, most recently The Cobra Event. He is a regular contribuot to The New Yorker. He has also won the AAAS-Westinghouse Award and the McDermott Award in the Arts from MIT.
Praise For…
---
"One of the most horrifying things I've ever read. What a remarkable piece of work." --Stephen King

"Popular science writing at its best and the year's most infectious page-turner." --People

"A top-drawer horror story...the best literary roller coaster of the fall." --Newsweek