Rachel To The Rescue (Paperback)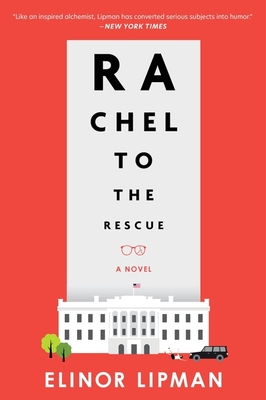 Staff Reviews
---
An absolutely delightful and witty book of a young woman who finds herself working in the White House, calls #45 an idiot, finds herself fired, and then hit by a car. All in the first few chapters. It's a very funny, darkly humorous read and I cannot wait to share it this summer at the store!
— Sarah
Description
---
Rachel Klein is sacked from her job at the White House after she sends an email criticizing Donald Trump. As she is escorted off the premises she is hit by a speeding car, driven by what the press will discreetly call "a personal friend of the President." Does that explain the flowers, the get-well wishes at a press briefing, the hush money offered by a lawyer at her hospital bedside? Rachel's recovery is soothed by comically doting parents, matchmaking room-mates, a new job as aide to a journalist whose books aim to defame the President, and unexpected love at the local wine store. But secrets leak, and Rachel's new-found happiness has to make room for more than a little chaos. Will she bring down the President? Or will he manage to do that all by himself? Rachel to the Rescue is a mischievous political satire, with a delightful cast of characters, from one of America's funniest novelists.
About the Author
---
ELINOR LIPMAN is the award-winning author of eleven novels, including The View from Penthouse B and The Inn at Lake Devine; one essay collection, I Can't Complain; and Tweet Land of Liberty: Irreverent Rhymes from the Political Circus. She lives in New York City.
Praise For…
---
"Readers who are hungry for heartwarming comedy and spicy D.C. gossip will find Lipman's new novel absolutely delicious."—The New York Times Book Review "If laughter is the best medicine . . . Rachel to the Rescue is a healing prescription following four years of the Trump presidency."—Shelf Awareness for Readers "Hilarious . . . A great novel for a long and lazy summer afternoon. It feels so good to laugh."—Minneapolis Star-Tribune "A deft and funny book. I really enjoyed the feisty heroine, her super warm boyfriend, the throwaway cookery, the satire and, as usual with Elinor Lipman's characters, I can see it all so clearly on screen. Brava, sister!"—Maureen Lipman "The Trump book that could only be published abroad."—Stacy Schiff "Utterly, deliciously funny and winning. Just what the doctor ordered."—Beth Gutcheon "The perfect anti-Trump, pro-voting book you need right now."—Caroline Leavitt "Such a terrific story – witty and original and many times I shrieked with laughter. I love the combination of razor-sharp edge and tender heart. It's a book we need on both sides of the Atlantic right now."—Patty Dann "It's got everything I expect from an Elinor Lipman novel: the witty, totally say-able dialogue that the actor in me would have killed for, the plot based on the fact that most humans have loony in them somewhere, and the classy skewering of just about everyone who deserves it. On top of that, it's giving me a much needed laugh at a time when there isn't much to laugh at."—‍Louise Shaffer "The Lipman wit is a perfect remedy for the insane situation we've been in with Trump during the past four years."—Gail Tsukiyama —