Last Woman Standing (Paperback)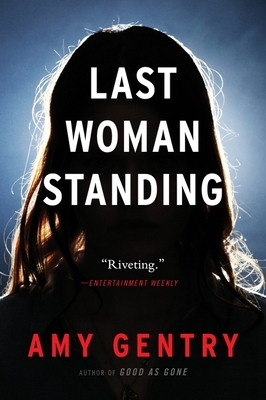 Description
---
From the author of Good as Gone ("So gripping you might want to start to question your own family's past"—Entertainment Weekly) comes a brilliant and timely thriller: Strangers on a Train by way of Thelma and Louise.

Dana Diaz is an aspiring stand-up comedian—a woman in a man's world. When she meets a tough computer programmer named Amanda Dorn, the two bond over their struggles in boys' club professions. Dana confides that she's recently been harassed and assaulted while in L.A., and Amanda comes up with a plan: they should go after each other's assailants, Strangers on a Train–style. But Dana finds that revenge, however sweet, draws her into a more complicated series of betrayals. Soon her distrust turns to paranoia, encompassing strangers, friends—and even herself. At what cost will she get her vengeance? Who will end up getting hurt? And when it's all over, will there be anyone left to trust?
About the Author
---
AMY GENTRY is the author of Good as Gone, a New York Times Notable Book, and Last Woman Standing. She is also a book reviewer and essayist whose work has appeared in numerous outlets, including the Chicago Tribune, Salon, the Paris Review, the Los Angeles Review of Books, and the Austin Chronicle. She holds a PhD in English from the University of Chicago and lives in Austin, Texas.
Praise For…
---
An iBooks Most Anticipated Titles of 2019 A LitHub Most Anticipated 2019 One of CrimeReads' "10 Crime Books You Should Read in January"   "The writing here is sharp, with contemporary social issues and moral twists that turn on a dime. 'Last Woman Standing' unfolds like a master class in improvisational tragedy." —Wall Street Journal "Riveting…few titles feel as righteously ripped from the headlines as Amy Gentry's Last Woman Standing…the novel genuinely engages with the mechanics of payback, the complexities and limitations of embarking on such a quest… you hear those [trying to find their voice] loud and clear — and empowered."  —Entertainment Weekly "In this page-turning psychological thriller, Gentry asks readers to confront the magnitude of harassment women face on a daily basis and the difficulties of working in a male-dominated industry... Gentry knows the way society treat survivors and the narratives about sexual assault matter. That includes her book." —Lauren Jones, Bustle "Timely…roils with a rage that yanks its characters through an increasingly twisted plot like a riptide. Grappling with each new discovery in the novel mirrors recent, all-too-familiar experiences of struggling to understand how so many powerful men could have committed such atrocious acts without consequence…one of the things Last Woman Standing asks of us is to accept the places where rage takes women—and one of those places is power." —Bitch "LAST WOMAN STANDING is a speedy, bloody, feminist thriller…it'll linger in the reader's mind, and be worthy of discussion…it dances through its plot…[which] keeps the book interesting, but so, too, does the book's nudge to thoughtfulness." —Bust "A perfect addition to the [feminist thriller] category…characters twist and turn under author Amy Gentry's skillful direction…it'll linger in the reader's mind." —Bustle "While this 'You scratch my back, I'll scratch yours' plotline includes moments of delicious and perhaps appropriate revenge, all is not what it seems to be. Woven into the suspenseful narrative are elements of the #MeToo movement and the gig economy, as well a few familiar old chestnuts including the vagaries of friendship and lost loves, the heartbreak of deception, and the heart-stopping chill of insidious intents."—The Seattle Review of Books "Cutting…feels a bit like They Shoot Horses, Don't They?, but for the Austin comedy scene [with] a well-thought-out nod to Strangers on a Train…we won't say anything more, lest we spoil the fun."—CrimeReads, "The Most Anticipated Crime Books of 2019" "Gentry's thoughtful craftsmanship makes Last Woman Standing stand out…[her] characters have depth and personality…and yet Last Woman Standing does concern itself with an everywoman experience. Gentry grapples directly with the aftermath of accusations both private and public, daring readers to consider what justice really means in the face of men who, historically, have every rightful expectation that they can get away with whatever they want…Fascinating and titillating." –Texas Observer &ld —