Mass Effect: Retribution (Mass Market)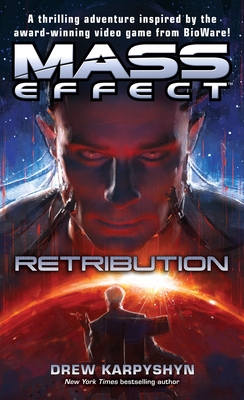 $7.99

Not In Stock - Usually Available in 1-5 Days
Other Books in Series
This is book number 3 in the Mass Effect series.
Description
---
Humanity has reached the stars, joining the vast galactic community of alien species. But beyond the fringes of explored space lurk the Reapers, a race of sentient starships bent on "harvesting" the galaxy's organic species for their own dark purpose.

The Illusive Man, leader of the pro-human black ops group Cerberus, is one of the few who know the truth about the Reapers. To ensure humanity's survival, he launches a desperate plan to uncover the enemy's strengths—and weaknesses—by studying someone implanted with modified Reaper technology. He knows the perfect subject for his horrific experiments: former Cerberus operative Paul Grayson, who wrested his daughter from the cabal's control with the help of Ascension project director Kahlee Sanders.

But when Kahlee learns that Grayson is missing, she turns to the only person she can trust: Alliance war hero Captain David Anderson. Together they set out to find the secret Cerberus facility where Grayson is being held. But they aren't the only ones after him. And time is running out.

As the experiments continue, the sinister Reaper technology twists Grayson's mind. The insidious whispers grow ever stronger in his head, threatening to take over his very identity and unleash the Reapers on an unsuspecting galaxy.
 
This novel is based on a Mature-rated video game.
About the Author
---
Drew Karpyshyn is the New York Times bestselling author of Star Wars: Darth Bane: Path of Destruction, Star Wars: Darth Bane: Rule of Two, and Star Wars: Darth Bane: Dynasty of Evil, as well as several other fantasy and science fiction novels, including Mass Effect: Revelation and Mass Effect: Ascension. He is also an award-winning writer/designer for the computer game company BioWare, where he was lead writer on Mass Effect and the popular Star Wars: Knights of the Old Republic video games. After spending most of his life in Canada, he headed south in search of a climate more conducive to year-round golf. He now lives in Texas with his wife, Jennifer, and their cat.