The World Gives Way: A Novel (Hardcover)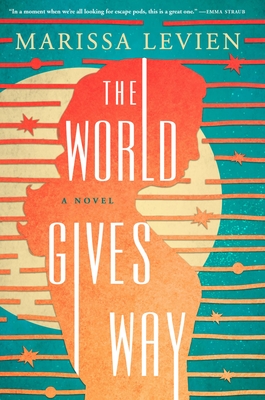 Staff Reviews
---
A different form of apocalypse story that still feels so familiar, THE WORLD GIVES WAY is both a heartbreaking tragedy and a glorious story of love in the darkest of times. The relationships between the characters feel so real, and Myrra is the type of strong female protagonist that is often lacking in books. She has no super powers or futuristic weapons, but a soft and powerful strength, which truly makes her a character your heart won't soon forget.
— Marielle
Description
---
"A staggering marvel."—The New York Times

"The World Gives Way has a sweeping world rich in lore and an electric plot, both of which make for ideal summer reading."—Brandon Taylor, Booker Prize-nominated author of Real Life

ONE OF LITHUB'S MOST ANTICIPATED TITLES OF 2021

In a near-future world on the brink of collapse, a young woman born into servitude must seize her own freedom in this glittering debut with a brilliant twist.
In fifty years, Myrra will be free.
Until then, she's a contract worker. Ever since she was five, her life and labor have belonged to the highest bidder on her contract—butchers, laundries, and now the powerful, secretive Carlyles.
But when one night finds the Carlyles dead, Myrra is suddenly free a lot sooner than she anticipated—and at a cost she never could have imagined. Burdened with the Carlyles' orphaned daughter and the terrible secret they died to escape, she runs. With time running out, Myrra must come face to face with the truth about her world—and embrace what's left before it's too late.
A sweeping novel with a darkly glimmering heart, The World Gives Way is an unforgettable portrait of a world in freefall, and the fierce drive to live even at the end of it all.
About the Author
---
Marissa Levien is a writer and artist who hails from Washington State and now lives in New York with a kindly journalist and their two cats. The World Gives Way is her first novel.
Praise For…
---
"The World Gives Way has a sweeping world rich in lore and an electric plot, both of which make for ideal summer reading."—Vulture

Marissa Levien's THE WORLD GIVES WAY is a staggering marvel, an action-packed cat-and-mouse chase on a doomed generation ship the size of Switzerland … A different novel would have concerned itself with a tense race to fix the ship and save humanity, or framed a series of impossible choices about who gets to live or die. But 'The World Gives Way' is neither Tom Godwin's 'The Cold Equations' nor an episode of 'Doctor Who,' and Levien's breathtaking tale is instead about grace, love and what matters at the end of all things.—Amal El-Mohtar, The New York Times

"A powerful story of class, privilege, and mortality."—BookRiot

"Marissa Levien's debut novel is The World Gives Way is not just an example of deft, careful storytelling, its beautiful, bleak narrative should serve as a roadmap for other authors attempting to pull off the same feat. This is the kind of ambitious story that the science fiction genre was made to tell."—Culturess

"An engaging sci-fi thriller set against the backdrop of real-world issues."—Shelf Awareness

"Combining detective work and slow-burn romance, Levien offers plenty for lovers of cross-genre sci-fi to engage with."—Publishers Weekly

'Infinite in scope yet intimately told, The World Gives Way is a meditation on justice, mortality, and the power of connection both in the face of crisis and in the everyday mundane. A stunning debut from an author to watch."
 —Hannah Whitten, New York Times bestselling author of For the Wolf

"An excellent debut, full of wonderful characterization, meticulous, empathetic worldbuilding, and a full heart, contemplating meaning, choices, unjust systems, and what we can do with the time given to us...A novel with empathy, bittersweetness, and a tremendous amount of heart, you're not going to want to miss this one."
 —Tor.com

"Readers who enjoy outer space adventures with themes of social change will enjoy."
 
 —Booklist

"The World Gives Way pulls off the seemingly impossible, giving readers a science fiction epic, a crime thriller, an existential consideration of human mortality and the meanings of life, and a profound meditation on love – all in one supernova of a debut novel." 
 —Paul Harding, Pulitzer Prize-winning author of Tinkers

"Marissa Levien's clever, humane debut asks a question that feels increasingly central in These Times: what do we do—what can we do—when we know the world is dying? If the stellar premise doesn't suck you in immediately (it will), the richly textured universe and indelible heroine will do the trick—and by the time you get to the final page, you'll be wishing that none of it had to end."
 —Emily Temple, author of The Lightness

"Marissa Levien's debut novel is a thrilling adventure, and in a moment when we're all looking for escape pods, this is a great one."
 —Emma Straub, New York Times bestselling author of All Adults Here

"A crackling post-apocalyptic novel and a literary stunner in the tradition of Station Eleven, about both the bang and the whimper at the end of the world."
 —Susan Scarf Merrell, author of Shirley

"Myrra is the heroine readers need now, brave, unstoppable and full of hope, even as the world around her breaks apart. The World Gives Way is one of the most imaginative, thrilling and meaningful novels of the year."
 —Julia Fierro, author of Cutting Teeth

"The World Gives Way features some of the most ingenious world-building I've seen in ages, from class systems to grains of sand in the desert—but that's not what makes it special. The beating heart of this book is what Marissa Levien reveals about love, humanity, and our place in the universe."
 —Rob Hart, author of The Warehouse