Soccer Hero (Paperback)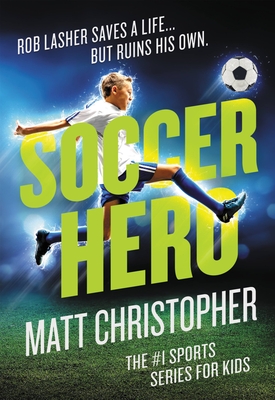 $6.99

Not In Stock - Usually Available in 1-5 Days
Description
---
With a fresh new look, this reissue of Matt Christopher's this beloved sports classic tells the story of an ordinary boy who loves his friends and teammates—and suddenly becomes a hero after a single afternoon turns his life upside down. 

​Rob Lasher is just an ordinary soccer player, good at the game, but not great. Then one afternoon, he saves his coach's life in front of all his teammates. Suddenly, he's the team's hero. As some members of his team and the rest of the town continue to laud Rob's heroic act, Rob realizes he doesn't want the attention and any unearned accolades that come with it. Kids will learn that doing what is right should be the norm, not the exception. Rob Lasher may just be an average soccer player, but there's nothing he loves more than working together with his teammates. Sure, his soccer skills aren't anything special, but that's all right with him—Rob has never minded flying under the radar. But when he saves his coach's life during one fateful afternoon practice, Rob finds himself suddenly thrust into the spotlight. Now lauded as a hero and heralded as the savior of his team, Rob wants nothing more than for things to go back to normal. Because not everyone on the team is happy about Rob's newfound fame . . .  This classic story from beloved author Matt Christopher is sure to win over any young sports fan, all while teaching them what it means to be a good teammate, and what it means to be a true hero.
About the Author
---
Matt Christopher is the best-selling name behind more than 100 sports-themed books for young readers.