Cold Barrel Zero (John Hayes Series #1) (Paperback)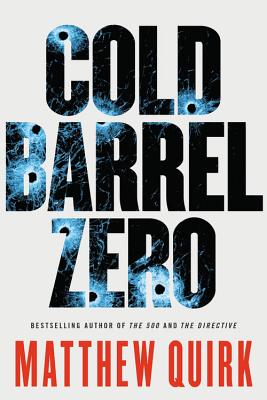 $16.99
Email or call for price.
Other Books in Series
This is book number 1 in the John Hayes Series series.
Description
---
John Hayes is a Special Operations legend who went rogue on a deep-cover mission and betrayed his own soldiers. Disgraced and on the run, he returns to the United States to get back to his wife and daughter and take revenge on his accusers with a series of devastating attacks.

Only one man can stop him: Thomas Byrne. He once fought alongside Hayes as a combat medic, but he gave up the gun. Now a surgeon, he moves from town to town, trying to forget his past, until he is called upon by a high-ranking government official to help capture the man he once called a friend. Hayes and Byrne were once as close as brothers, but with the fate of the nation hanging in the balance and nothing as it seems, both men must decide whom to trust -- and whom to betray.

In a final, explosive battle for justice, they face off along a rifle's cold barrel. Cold Barrel Zero brings together the blistering pace of Lee Child, the nonstop action of Brad Thor, and the richly drawn characters and moral stakes of Daniel Silva. An experienced reporter armed with deep behind-the-scenes research into America's Special Operations Forces, Quirk takes the military thriller to a new level of suspense.
About the Author
---
Matthew Quirk studied history and literature at Harvard College. After graduation, he spent five years at The Atlantic, reporting on a variety of subjects, including crime, private military contractors, the opium trade, terrorism prosecutions, and international gangs. He lives in San Diego.
Praise For…
---
"Brilliantly conceived and exceedingly well written, this is a military thriller that relies as much on carefully drawn characters as it does on plot points; this is a story about people, about friends who have become enemies, about the importance and fragility of trust. Intense and compelling."
—
David Pitt
,
Winnipeg Free Press
"A relentlessly paced military thriller . . . Sophisticated storytelling [and] whiplash pacing . . .
Cold Barrel Zero
delivers some clever twists and startling surprises. . . . There are layers of moral ambiguity and questions at every turn."—
Art Taylor
,
Washington Post
"Matthew Quirk has elevated to must-read thriller status faster than seems possible.
Cold Barrel Zero
is a brilliantly researched and written tour de force from an author who understands both high-stakes action and fine writing."—
Michael Koryta, bestselling author of Last Words and Those Who Wish Me Dead
"Thriller Award-winner Quirk goes flat-out explosive in this superior military adventure novel. . . . There's plenty of cool cutting-edge technology, but in the end it comes down to action, and the riveting battle scenes are among the best in the business. Readers will look forward to seeing more of the skilled and deadly John Hayes."
—
Publishers Weekly (starred boxed review)
"Deadly. High-tech. Characters are well drawn and motivated, and their exploits are hair raising. Quirk spins an adrenaline-fueled, military-based action adventure skillfully. Another hard-to-put-down adventure from Quirk .... even more chilling for its air of plausibility. A fine thriller."
—
Booklist (starred review)
"[Quirk's] best book yet . . . Quirk delves deep into the world of international terror and covert operations, and writes with such authority you half expect his prose to be riddled with redactions. The action dazzles. The characters feel authentic and fully fleshed. The threats seem all too real."
—
Los Angeles Review of Books
"Adrenaline junkies need look no further than Matthew Quirk's
Cold Barrel Zero
for their next fix. The action is relentless and exceptionally inventive. . . . This is a must-read for fans of Jason Bourne or Jack Reacher."—
BookPage
"Quirk's fast-paced plot keeps the pages turning as readers journey with Byrne on a dangerous adventure. Highly recommended for fans of rapid action with down-to-the-wire conclusions."
—
Library Journal (starred review)
"A lethal game of cat and mouse fuels Quirk's third and best novel, a military spy thriller in which one all-out conspiracy is met by another. . . . The story is expertly stripped down, the action relentless, and the characters multilayered. . . . [Quirk] takes a major step forward."
—
Kirkus Reviews
"Matthew Quirk's
Cold Barrel Zero
is an unputdownable blast! The writing is spare and masterful, you care about the characters, and the action is hair-raising, authentic, at times even mesmerizing.
Cold Barrel Zero
is one of the must-read thrillers of the year!"—
Ben Coes, bestselling author of Coup D'Etat and Independence Day
"What separates Matt Quirk from other military thriller writers is his insider chops as a journalist who has covered the real-world versions of the stories he tells.
Cold Barrel Zero
is gripping and utterly convincing. It's the tale real agents and operators would tell if they had Matt Quirk's storytelling genius."—
Steven Pressfield, bestselling author of The Afghan Campaign and The Legend of Bagger Vance
"Quirk's writings drips with the kind of eye for the telling detail that only a canny reporter, detective, or spy possesses....If you like Ludlum you are certain to like Quirk."
—
Ralph Benko
,
Forbes