Life or Death: A Novel (Paperback)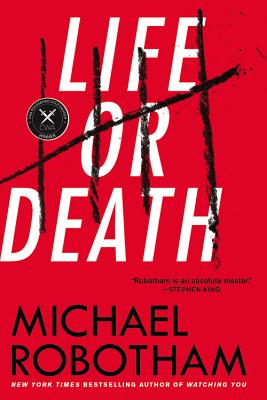 $15.99
Not In Stock - Usually Available in 1-5 Days
Description
---
Why would a man serving a long prison sentence escape the day before he's due to be released?
Audie Palmer has spent ten years in a Texas prison after pleading guilty to a robbery in which four people died and seven million dollars went missing. During that time he has suffered repeated beatings, stabbings and threats by inmates and guards, all desperate to answer the same question: where's the money?
On the day before Audie is due to be released, he suddenly vanishes. Now everybody is searching for him - the police, FBI, gangsters and other powerful figures - but Audie isn't running to save his own life. Instead, he's trying to save someone else's.

Michael Robotham has created the ultimate underdog hero, an honorable criminal shrouded in mystery and ready to lead readers on a remarkable chase.


About the Author
---
Michael Robotham is author of Watching You, Say You're Sorry, Bleed for Me, Shatter, and other novels of suspense. A former investigative journalist who has worked in Britain, Australia and the US, Robotham is one of the world's most acclaimed authors of thriller fiction. He lives in Sydney with his wife and three daughters.
Praise For…
---
"Life or Death is a nerve-shredding thriller with the heart and soul so often missing from lesser crime and suspense novels. I couldn't stop reading, yet I didn't want Audie's story to end. Robotham is an absolute master."—Stephen King

"A pitch perfect plot with a stunning twist that involves a sheep in wolf's clothing. Talk about topsy turvy --- but it works --- big time."—Steve Berry, author of The Lincoln Myth and The Jefferson Key

"Robotham has a talent for creating fascinating and complex characters, and Audie Palmer may be his best yet."—Booklist (starred review)

[A] prison-break tale with a twist . . . The writing is top-notch . . . Plenty of edge-of-the-seat excitement, forcing readers to frantically turn the pages to find out how all these different strands intersect. Robotham's skill as a writer remains undeniable: He offers memorable characters caught up in an irresistible story."—Kirkus Reviews

"Michael Robotham is the real deal."—David Baldacci

"Robotham is a first-class storyteller."—Associated Press