Good Strategy Bad Strategy: The Difference and Why It Matters (Hardcover)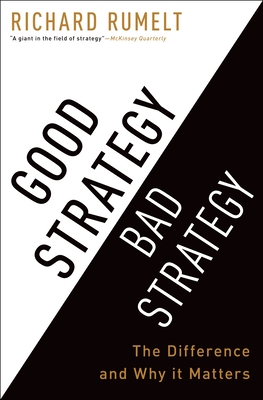 $29.95

Not In Stock - Usually Available in 1-5 Days
Description
---
Good Strategy/Bad Strategy clarifies the muddled thinking underlying too many strategies and provides a clear way to create and implement a powerful action-oriented strategy for the real world.
 
Developing and implementing a strategy is the central task of a leader. A good strategy is a specific and coherent response to—and approach for—overcoming the obstacles to progress. A good strategy works by harnessing and applying power where it will have the greatest effect. Yet, Rumelt shows that there has been a growing and unfortunate tendency to equate Mom-and-apple-pie values, fluffy packages of buzzwords, motivational slogans, and financial goals with "strategy."

In Good Strategy/Bad Strategy, he debunks these elements of "bad strategy" and awakens an understanding of the power of a "good strategy." He introduces nine sources of power—ranging from using leverage to effectively focusing on growth—that are eye-opening yet pragmatic tools that can easily be put to work on Monday morning, and uses fascinating examples from business, nonprofit, and military affairs to bring its original and pragmatic ideas to life. The detailed examples range from Apple to General Motors, from the two Iraq wars to Afghanistan, from a small local market to Wal-Mart, from Nvidia to Silicon Graphics, from the Getty Trust to the Los Angeles Unified School District, from Cisco Systems to Paccar, and from Global Crossing to the 2007–08 financial crisis.

Reflecting an astonishing grasp and integration of economics, finance, technology, history, and the brilliance and foibles of the human character, Good Strategy/Bad Strategy stems from Rumelt's decades of digging beyond the superficial to address hard questions with honesty and integrity.
About the Author
---
RICHARD P. RUMELT is one of the world's most influential thinkers on strategy and management. The Economist profiled him as one of twenty-five living persons who have had the most influence on management concepts and corporate practice. McKinsey Quarterly described him as being "strategy's strategist" and as "a giant in the field of strategy." Throughout his career he has defined the cutting edge of strategy, initiating the systematic economic study of strategy, developing the idea that companies that focus on core skills perform best, and that superior performance is not a matter of being in the right industry but comes from a firm's individual excellence. He is one of the founders of the resource-based view of strategy, a perspective that breaks with the market-power tradition, explaining performance in terms of unique specialized resources. Richard Rumelt received his doctoral degree from Harvard Business School, holds the Harry and Elsa Kunin Chair at the UCLA Anderson School of Management, and is a consultant to small firms such as the Samuel Goldwyn Company and giants such as Shell International, as well as to organizations in the educational and not-for-profit worlds.
Praise For…
---
"The most interesting business book of 2011." --Financial Times

"So much that's said and written about strategy is – from my point of view – complete junk, that I get excited when I hear someone focusing on strategy in a coherent and useful way...A very good book." --Forbes

"The year's best and most original addition to the strategy bookshelf." --Strategy+Business

"The whole middle section, about sources of power, is valuable—particularly the explication of the limitations and nuances of competitive advantage." --Inc

"Clearly written, thoughtful...This book is painful therapy but a necessary read nonetheless." --Washington Times

"Represents the latest thinking in strategy and is peppered with many current real world examples. Good Strategy/Bad Strategy has much to offer and has every chance of becoming a business classic." --Management Today

"Drawing on a wealth of examples, Rumelt identifies the critical features that distinguish powerful strategies from wimpy ones—and offers a cache of advice on how to build a strategy that is actually worthy of the name.  If you're certain your company is already poised to out-perform its rivals and out-run the future, don't buy this book.  If, on the other hand, you have a sliver of doubt, pick it up pronto!" --Gary Hamel, co-author of Competing for the Future

"..Brilliant … a milestone in both the theory and practice of strategy... Vivid examples from the contemporary business world and global history that clearly show how to recognize the good, reject the bad, and make good strategy a living force in your organization." --John Stopford, Chairman TLP International, Professor Emeritus, London Business School

"… Penetrating insights provide new and powerful ways for leaders to tackle the obstacles they face. The concepts of "the kernel" and "the proximate objective" are blockbusters. This is the new must-have book for everyone who leads an organization in business, government, or in-between." --Robert A. Eckert, chairman and CEO of Mattel

"…. Richly illustrated and persuasively argued … the playbook for anybody in a leadership position who must think and act strategically. " --Michael Useem, Professor of Management at  the Wharton School, University of Pennsylvania, and author of The Leadership Moment

 "… Rumelt writes with great verve and pulls no punches as he pinpoints such strategy "sins" as fluff, blue sky objectives, and not facing the problem." --James Roche, former Secretary of the Air Force and president of Electronic Sensors & Systems, Northrop Grumman.

"This is the first book on strategy I have read that I have found difficult to put down. --John Kay, London Business School