Empire of Blue Water: Captain Morgan's Great Pirate Army, the Epic Battle for the Americas, and the Catastrophe That Ended the Outlaws' Bloody Reign (Paperback)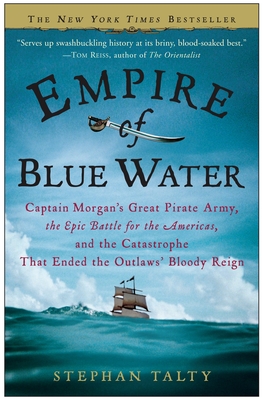 Description
---
A May 2007 Book Sense Pick

"Talty's vigorous history of seventeenth-century pirates of the Caribbean will sate even fickle Jack Sparrow fans. . . . A pleasure to read from bow to stern."
—Entertainment Weekly

The passion and violence of the age of exploration and empire come to vivid life in this story of the legendary pirate who took on the greatest military power on earth with a ragtag bunch of renegades. Awash with bloody battles, political intrigues, natural disaster, and a cast of characters more compelling, bizarre, and memorable than any found in a Hollywood swashbuckler, Empire of Blue Water brilliantly re-creates the life and times of Henry Morgan and the real pirates of the Caribbean.
About the Author
---
STEPHAN TALTY is the author of Mulatto America: At the Crossroads of Black and White Culture, and has contributed to the New York Times Magazine, GQ, Details, and Men's Journal.
Praise For…
---
"Talty's vigorous history of seventeenth-century pirates of the Caribbean will sate even fickle Jack Sparrow fans. . . . A pleasure to read from bow to stern."
—Entertainment Weekly

"A swashbuckling adventure . . . [the] characters leap to life."
—New York Times Book Review

"A ripping yarn, worthy of its gaudy subject."
—Dallas Morning News

"A sparkling and engrossing adventure narrative."
—Boston Phoenix

"Fresh insight into pirates' dens of old . . . Well-researched nonfiction that reads like a novel."
—Washington Times

"Swashbuckling history at its bloody, blood-soaked best, and a mirror to our own times."
—Tom Reiss, author of The Orientalist

"Morgan proves an irresistible hero. A thrilling and fascinating adventure."
—Caroline Alexander, author of The Endurance and The Bounty

"Rollicking . . . with style and energy Talty tells a tale of boundless wickedness."
—William M. Fowler, author of Empires at War

Reeking of authentic blood and thunder, and as richly detailed as a work of fiction, Empire of Blue Water dramatically evokes the rough-and-tumble age when pirates owned the seas. In Stephan Talty's hands, the brilliant Captain Morgan, wicked and cutthroat though he was, proves an irresistible hero. A thrilling and fascinating adventure."
—Caroline Alexander, author of The Endurance and The Bounty

"Stephan Talty's new book serves up swashbuckling history at its briny, blood-soaked best, with enough violence and passion to keep the pages flying by. But it's not only blood and swash: Empire of Blue Water is also a mirror to our own times, showing that attempting globalization against a backdrop of the clash of civilizations is nothing new,and that religious violence is often a thinly veiled cover for greed and personal ambition. Talty's portrait of the legendary privateer Henry Morgan is a marvelous study in contradictions—a man of astounding heroism, brilliance, compassion, and charm, who was also capable of the greatest betrayal."
—Tom Reiss, author of The Orientalist

"A wickedly entertaining tale of pirates and the Caribbean seas they once ruled like kings. Epic sea battles, daring adventures, rich history, great villains and heroes alike—it's a treasure."
—Neal Bascomb, author of The Perfect Mile and Higher

"In a riveting history that reads like the best novels, Stephan Talty stylishly extricates the pirates of the Caribbean from the imprecise caricature that so often consumes them. Layer by fascinating layer, Talty peels away the eye patch and theshiver-me-timbers brogue to reveal the raucous, complex and authentic buccaneers
of the "Brethren of the Coast." . . . Storytelling and history to be savored."
—Buddy Levy, author of American Legend: The Real-Life Adventures of David Crockett

"Engrossing . . . a swashbuckling tale of how the history of the Americas was shaped by a small group of daring brigands."
—Matthew Brzezinski, author of Casino Moscow

"A fascinating look inside [a] glamorous and gritty world."
—Les Standiford, author of Last Train to Paradise

"Exceptionally well-told . . . an exhilarating adventure in reading."
—Kerry A. Trask, author of Black Hawk