The Twilight Struggle: What the Cold War Teaches Us about Great-Power Rivalry Today (Paperback)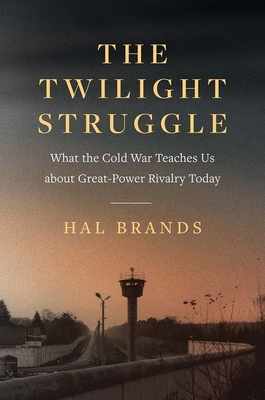 Description
---
A leading historian's guide to great-power competition, as told through America's successes and failures in the Cold War

"There is an undeniable ease and fluidity to Mr. Brands's narrative, and his use of Cold War archives is impressive."—A. Wess Mitchell, Wall Street Journal

"If you want to know how America can win today's rivalries with Russia and China, read this book about how it triumphed in another twilight struggle: the Cold War."—Stephen J. Hadley, national security adviser to President George W. Bush

America is entering an era of long-term great power competition with China and Russia. In this innovative and illuminating book, Hal Brands, a leading historian and former Pentagon adviser, argues that America should look to the history of the Cold War for lessons on how to succeed in great-power rivalry today. 
About the Author
---
Hal Brands is the Henry A. Kissinger Distinguished Professor of Global Affairs at the Johns Hopkins School of Advanced International Studies, a senior fellow at the American Enterprise Institute, and a columnist for Bloomberg Opinion.
Praise For…
---
"There is an undeniable ease and fluidity to Mr. Brands's narrative, and his use of Cold War archives is impressive."—A. Wess Mitchell, Wall Street Journal

"A reminder that strategic patience was crucial to success in the Cold War."—Gideon Rachman, Financial Times

"What distinguishes The Twilight Struggle [is] his refined mining of its lessons for our own era . . . absorbing."—Brian Stewart, Commentary

"Sometimes to truly understand the future, you must deeply examine the past.  Hal Brands brings the profound lessons of the US-Soviet cold war to the unfolding competition with China in The Twilight Struggle."—Admiral James Stavridis, US Navy (Ret.), 16th Supreme Allied Commander of NATO and author of Sea Power: The History and Geopolitics of the World's Oceans
 

"Good strategy starts with an understanding of history. And no one has thought harder about the lessons of the past than Hal Brands. If you want to know how America can win today's rivalries with Russia and China, read this book about how it triumphed in another twilight struggle: the Cold War."— Stephen J. Hadley, national security adviser to President George W. Bush
 

"A masterful account of the Cold War, the perils along the way, and the elements of the U.S.-led western strategy that won that war without ever firing a shot and a superb distillation of the lessons that the always-impressive Brands takes from that struggle as we enter a similar era of renewed great-power rivalries. This is a must-read for those seeking to illuminate the way forward with insights gleaned from the past."—General David Petraeus, US Army (Ret.), former Commander of the Surge in Iraq, US Central Command, and Coalition/US Forces in Afghanistan and former Director of the CIA

"This thoughtful, evocative, and captivating book is one of the best you can read to understand how America has won long-term strategic competitions with other great powers in the past, and the hard choices that are likely ahead in the brewing long-term competition with China."—Robert O. Work, 32nd U.S. Deputy Secretary of Defense