Independence Corrupted: How America's Judges Make Their Decisions (Hardcover)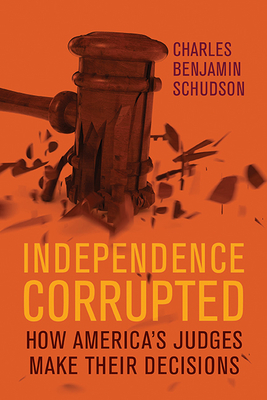 $44.95

Not In Stock - Usually Available in 1-5 Days
Description
---
With experience as both a trial and appellate judge, Charles Benjamin Schudson knows the burdens on judges. With engaging candor, he takes readers behind the bench to probe judicial minds analyzing actual trials and sentencings—of abortion protesters, murderers, sex predators, white supremacists, and others. He takes us into chambers to hear judges forging appellate decisions about life and death, multimillion-dollar damages, and priceless civil rights. And, most significantly, he exposes the financial, political, personal, and professional pressures that threaten judicial ethics and independence.

As political attacks on judges increase, Schudson calls for reforms to protect judicial independence and for vigilance to ensure justice for all. Independence Corrupted is invaluable for students and scholars, lawyers and judges, and all citizens concerned about the future of America's courts.
About the Author
---
Charles Benjamin Schudson is a former trial and appellate judge, law professor, and Fulbright scholar. As an expert on the American judicial system, he has appeared on PBS, NPR, and Oprah and before the National Association of State Judicial Educators, the United States Conference of Mayors, the Senate Judiciary Committee, and many law schools. He is the president of Keynote Seminars and the coauthor of the book On Trial: America's Courts and Their Treatment of Sexually Abused Children.
Praise For…
---
"Provides a deep understanding of the call to public service. Judges are too often seen as distant, dispassionate rulers, but Schudson shows the difficult and often wrenching decision-making process that every judge must endure. A thoroughly readable book for every citizen who chooses to become better informed about this fascinating branch of government." —Aine Donovan, Dartmouth College Ethics Institute

"Judges decide based on the law and proven facts. Or do they? Judge Schudson answers in an unselfconscious recounting of his twenty-two years judging abortion protestors, delinquent children, skinheads, sexual predators, vicious rapists, and catastrophic accidents. He paints a vivid picture of judges, usually principled but far from perfect." —Frank Sullivan, Jr., Indiana Supreme Court Justice, retired

"Honest and enlightening. The dissecting of actual court cases brings the process of judicial decision making to life. Schudson takes an inside look at how beliefs, philosophies, and even food influence the most neutral of decision makers. His memoir shows that the judge really does matter." —Lee Ann Barnhardt, director of education, North Dakota Court System

"Brings us into the heart of the judicial process so personally that we can virtually feel — as well as understand — how decisions are made, and the dangers of judicial corruption. . . . Blends history and contemporary cases, law, and memoir into a book that is as compelling for concerned citizens as it is for lawyers, judges, students, legislators, and educators."—Martha's Vineyard Times