To Moscow, Not Mecca: The Soviet Campaign Against Islam in Central Asia, 1917-1941 (Hardcover)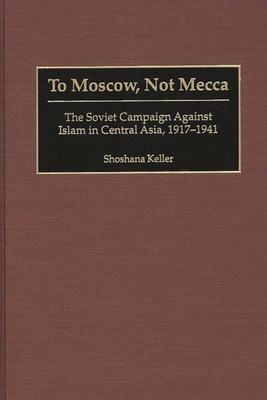 Description
---
The clash between Communism and Islam in the Soviet Union pitted two socio-political systems against one another, each proclaiming ultimate truth. This study examines the first decades of the struggle in Central Asia (1917-1941), where an ancient religious tradition faced an aggressive form of secular modernity. The Soviets attempted to break down Muslim culture and remold it on Marxist-Leninist lines. Central Asians played complex roles in this effort, both defending and attacking Islam, but mostly trying to survive. Despite Stalin's totalitarian aims, the Soviet regime in Central Asia was often weak even into the 1930s, and by 1941 the opposing systems had reached a standoff.
The Communist Party pursued the destruction of Islam in stages, which reflected the development of Soviet political strength. The party developed propaganda that both attacked Islam and extolled the new Soviet culture. However, the entire process was plagued by inefficiency, ignorance, and disobedience. By 1941, the Communists had inflicted tremendous damage, but customs such as circumcision, brideprice, and polygyny had merely gone underground. Central Asians had not exchanged the fundamental identity of Muslim for Marxist-Leninist. Keller utilizes documents from Moscow and Tashkent, including the now-closed former Communist Party Archive of Uzbekistan.
About the Author
---
SHOSHANA KELLER is an Associate Professor of Russian/Soviet History at Hamilton College. Her research and training center on the multinational character of the Soviet Union and integrating Russian history into that of the Eurasian continent as a whole./e Her other interests include religious history and nation-building in the Soviet context.