The Silk Road and Beyond: Narratives of a Muslim Historian (Hardcover)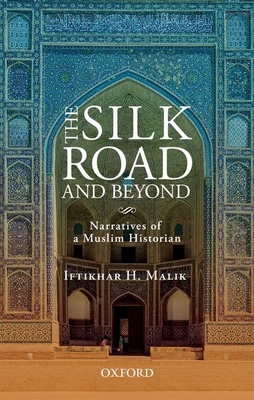 $20.00

Not In Stock - Usually Available in 1-5 Days
Description
---
The Silk Road and Beyond attempts to capture lived realities across Central Asia, Iran, Turkey, Spain, Italy, Morocco, Finland, Britain, USA, Palestine, Switzerland, Finland, and the subcontinent. It also aims at initiating readers into encountering Muslim heritage across the four continents where cultures share commonalities beyond the narrowly defined premise of conflicts. This book is an effort to capture history, literature, mobility, crafts, architectural traditions, and cultural vistas by focusing on diverse Muslim individuals, communities, cities, and their edifices. It attempts to reconstruct deeper and munificent aspects of Muslim histories and lived experience that often stay ignored by the writers and travellers. Normative accounts of cities such as Bukhara, Jerusalem, Isfahan, Fes, Samarkand, Granada, Palermo, Cordova, or Konya may lifelessly posit them as sheer tourist destinations, ignoring their cultural and historical depth. Written in an autobiographical genre,
this book benefits from a 40-year-long exposure and encounters with the vibrant lives across the four continents as experienced by a curious Muslim academic at different stages of his life. The reader can explore and relish these predominantly Muslim locales along with a frequent exposure to r socio-intellectual institutions in Europe and the United States.
About the Author
---
Iftikhar H. Malik, Professor, Bath Spa University Professor Iftikhar H. Malik, FRHisSoc, has been teaching modern history at Bath Spa University since 1995. During the 1990s, Malik held the Quaid-i-Azam Chair at St. Antonys College, Oxford, and since 2002, has been a Member of the Common Room at Wolfson College, Oxford. With doctoral and postdoctoral training at Michigan State, Columbia, and UC, Berkeley, Malik has authored 17 books, 75 scholarly papers, and 250 review articles. Some of Iftikhar H. Malik's recent volumes include: Pashtun Identity and Geopolitics in Southwest Asia: Pakistan and Afghanistan since 9/11 (Anthem, 2016); Pakistan: Democracy, Terror and the Building of a Nation (New Holland Publishers, 2010); The History of Pakistan (Greenwood Press, 2008); Crescent between Cross and Star: Muslims and the West after 9/11 (OUP, 2006); Jihad, Hindutva, and the Taliban: South Asia at the Crossroads (OUP, 2005) and Islam and Modernity: Muslims in Western Europe and the United States (Pluto, 2004).