Revenge, Politics and Blasphemy in Pakistan (Hardcover)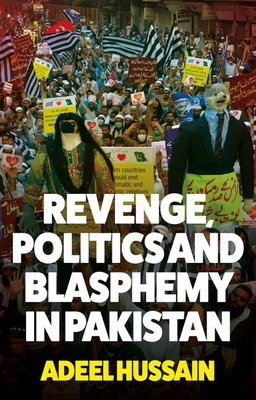 $35.00

Not In Stock - Usually Available in 1-5 Days
(This book cannot be returned.)
Description
---
This fascinating book uncovers the hidden stories behind Pakistan's fixation with blasphemy-tales of revenge, political scheming and sovereign betrayal. Hussain's account opens in nineteenth-century colonial Punjab and traces blasphemy killings to the present, linking their emergence to polemic encounters between Hindu and Muslim revivalist sects, namely the Arya Samaj and the Ahmadiyya. It offers, for the first time, the arresting backstories to the assassinations of Pandit Lekh Ram, a leading Hindu nationalist; Swami Shraddhanand, an early progenitor of Hindu nationalism and the principal advocate for converting Muslims; and Rajpal, the Hindu publisher of a sensationalist book on the Prophet Muhammad. Revenge, Politics and Blasphemy in Pakistan then maps the curious afterlives of these killings, illuminating the most critical moments in Pakistan's history: 1953, when outraged protestors smashed stores owned by religious minorities, triggering the country's first state of
emergency; 1974, when Islamist parties pressured Zulfiqar Ali Bhutto to put blasphemy on the constitutional agenda; 1984, when Zia-ul-Haq transformed Pakistan according to his Islamist vision, which included more severe punishments for blasphemy; and the twenty-first century, when digital media has dramatically increased the visibility of blasphemy killings, prompting political parties to demonstrate their commitment to the cause.

About the Author
---
Adeel Hussain is Assistant Professor of Legal and Political Theory, Leiden University. Holding a PhD in the History of Political Thought from the University of Cambridge, he has clerked at Frankfurt's Court of Appeals, worked for an international law firm, and advised the Afghan government on constitutional and administrative reforms.