Action Park: Fast Times, Wild Rides, and the Untold Story of America's Most Dangerous Amusement Park (Paperback)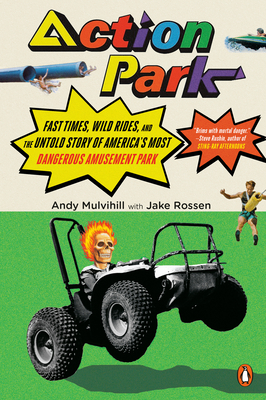 Staff Reviews
---
This book is CRAZY. This is the absolutely stranger-than-fiction story about how a New Jersey father with boundless dreams founded the Disneyworld of the Tri-state area… except the park had rides made of asbestos tubes that launched people into nearby trees. Mulvihill's witty humor and baffling first-hand experience with his father's disregard for sanity makes this book my favorite piece of nonfiction I've read in a very long time. I cannot recommend this one enough.
— Christopher
Description
---
"Citizen Kane does Adventureland." —The Washington Post

The outlandish, hilarious, terrifying, and almost impossible-to-believe story of the legendary, dangerous amusement park where millions were entertained and almost as many bruises were sustained, told through the eyes of the founder's son.

Often called "Accident Park," "Class Action Park," or "Traction Park," Action Park was an American icon. Entertaining more than a million people a year in the 1980s, the New Jersey-based amusement playland placed no limits on danger or fun, a monument to the anything-goes spirit of the era that left guests in control of their own adventures--sometimes with tragic results. Though it closed its doors in 1996 after nearly twenty years, it has remained a subject of constant fascination ever since, an establishment completely anathema to our modern culture of rules and safety. Action Park is the first-ever unvarnished look at the history of this DIY Disneyland, as seen through the eyes of Andy Mulvihill, the son of the park's idiosyncratic founder, Gene Mulvihill. From his early days testing precarious rides to working his way up to chief lifeguard of the infamous Wave Pool to later helping run the whole park, Andy's story is equal parts hilarious and moving, chronicling the life and death of a uniquely American attraction, a wet and wild 1980s adolescence, and a son's struggle to understand his father's quixotic quest to become the Walt Disney of New Jersey. Packing in all of the excitement of a day at Action Park, this is destined to be one of the most unforgettable memoirs of the year.
About the Author
---
Andy Mulvihill is the son of famed Action Park founder Gene Mulvihill. In addition to testing rides, Andy worked as a lifeguard at the park before moving into a managerial role. He is currently the CEO of Crystal Springs Resort Real Estate.

Jake Rossen is a senior staff writer at Mental Floss. His byline has appeared in The New York Times, The Village Voice, ESPN.com, and Wired, among others. He is also the author of Superman vs. Hollywood, examining the life of the Man of Steel from 1940s radio dramas to big-budget features.
Praise For…
---
"I went to Action Park exactly once in the 1990s. I saw people with open wounds. I was asked if I was an expert swimmer by a bored 16 year old before entering a pitch dark water pipe that ejected me feet over ice cold water. I bruised my ribs on the turn of one water slide and spent the next day in exquisite pain. I never wanted to go back again. Until I read this book. Now I miss it. Why do we as a species crave danger and punishment? You won't find the answer here, but you will find story after unbelievable story of a place that should have never existed." —John Hodgman, author of Vacationland and Medallion Status

"The lore of the place — the scars and stitches, the wipeout tales, and the sheer notion of a theme park so slapdash, unregulated and deserving of nicknames like "Traction Park"— has inspired oral histories, a documentary and a movie helmed by no less a connoisseur of bodily harm than Johnny Knoxville of "Jackass" fame. But the truest version may be the latest ... Beyond painting a compelling portrait of Gene Mulvihill, Action Park captures the frenetic energy of a place very much a function of its time: parental supervision and safety precautions — low; teen hormones, illusion of infallibility and recklessness — high." —The Washington Post

"Action Park's ridiculous history... is a compelling, entertaining, albeit horrifying read." —A.V. Club

"Action Park, like Jurassic Park, brims with mortal danger, except Action Park was somehow real. If you ever worked a summer job with guys named Smoke, Puff and Ring-Ding, you'll instantly recognize the time and place. Every page is so redolent of beer, fear, lust and chlorine that it's practically scratch-and-sniff." —Steve Rushin, author of Sting-Ray Afternoons and Nights in White Castle

"Every traditional amusement park exhales a whiff of the sinister, but an afternoon at Action Park was more akin to visiting the Western Front on a busy day than suffering some mild jostling in a bumper car or rattling through the Laff in the Dark. The son of Gene Mulvihill, founder of Action Park's unique—and uniquely dangerous—concoction of violent diversions reveals its almost unbelievable and frequently hilarious history with high-hearted gusto and impressive frankness. Here was an operation founded on a strange application of the old principle that the customer is always right: if you got hurt—and hundreds did—it was your own fault. After all, one had only to look at the rides to see that most of them offered the likelihood of a compound fracture or worse. Fueling Mulvihill's implausible success was his libertarian conviction that people are responsible for their own choices, however reckless. And there is a larger story here: a glimpse--at once chilling, fascinating, and oddly touching—of American entrepreneurial genius at its most audacious." —Richard Snow, author of Disney's Land

"Reading Andy Mulvihill's chronicle of fast times at his father Gene's amusement park resembles an actual visit: fun and hilarity one second, shock and horror the next…Alternately wistful and clear-eyed about the past, Andy's story will be cherished by those who remember their own Coppertone-scented teen summers." —Booklist