On Beauty: A Novel (Paperback)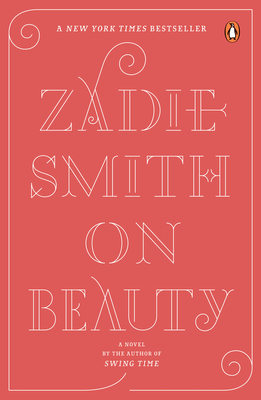 Staff Reviews
---
What do we let define us? This complex question lies at the heart of of the Belsey family's relationship with the neighboring Kipps household. Featuring an extremely unique and diverse cast of characters, Smith explores the intersection of education, wealth, race, and more in the formation of personality. This book has stunned me every time I've read it.
— Christopher
Description
---
Winner of the 2006 Orange Prize for fiction, another bestselling masterwork from the celebrated author of Swing Time and White Teeth

Having hit bestseller lists from the New York Times to the San Francisco Chronicle, this wise, hilarious novel reminds us why Zadie Smith has rocketed to literary stardom. On Beauty is the story of an interracial family living in the university town of Wellington, Massachusetts, whose misadventures in the culture wars—on both sides of the Atlantic—serve to skewer everything from family life to political correctness to the combustive collision between the personal and the political. Full of dead-on wit and relentlessly funny, this tour de force confirms Zadie Smith's reputation as a major literary talent.



About the Author
---
Zadie Smith was born in Northwest London in 1975 and still lives in the area. She is the author of White Teeth, The Autograph Man, On Beauty, Changing My Mind, NW, and most recently Swing Time.
Praise For…
---
Named one of the Ten Best Books of the Year by the 
New York Times Book Review, Entertainment Weekly, Time
, and 
Publishers Weekly, 
A 
New York Times, Wall Street Journal, USA Today, San Francisco Chronicle, Los Angeles Times, Boston Globe, Denver Post
, and 
Publishers Weekly
bestseller, A 
Los Angeles Times, Boston Globe, Chicago Tribune, San Francisco Chronicle, Atlantic Monthly, Newsday, Christian Science Monitor
, and 
Minneapolis Star Tribune
 Best Book of the Year, and Short-listed for the Man Booker Prize 
"...[A] thoroughly original tale about families and generational change, about race and multiculturalism in millennial America, about love and identity and the ways they are affected by the passage of time. Ms. Smith possesses a captivating authorial voice—at once authoritative and nonchalant, and capacious enough to accommodate high moral seriousness, laid-back humor and virtually everything in between—and in these pages, she uses that voice to enormous effect, giving us that rare thing: a novel that is as affecting as it is entertaining, as provocative as it is humane." —
Michiko Kakutani
,
The New York Times
"Oh happy day when a writer as gifted as Zadie Smith fulfills her early promise with a novel as accomplished, substantive and penetrating as On Beauty. It's a thing of beauty indeed. In tackling grown-up issues of marriage, adultery, race, class, liberalism and aesthetics, she thrillingly balances engaging ideas with equally engaging characters. As good as she is with big ideas, Smith is even stronger at capturing family dynamics, the heartbreak of broken trust as well as the lovely connections between siblings. —The Los Angeles Times Book Review
"In this sharp, engaging satire, beauty's only skin-deep, but funny cuts to the bone." —Kirkus Reviews
"Smith's specialty is her ability to render the new world, in its vibrant multiculturalism, with a kind of dancing, daring joy. . . . Her plots and people sing with life. . . . One of the best of the year, a splendid treat. " —Chicago Tribune
"On Beauty is a rollicking satire . . . a tremendously good read." —San Francisco Chronicle