Terciel & Elinor (Old Kingdom) (Hardcover)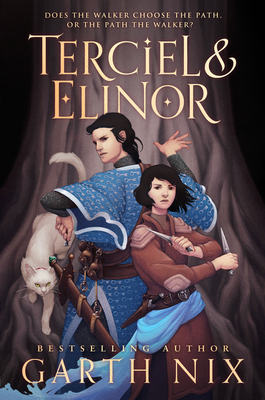 $19.99

Not In Stock - Usually Available in 1-5 Days
Description
---
Bestselling novelist Garth Nix returns to the Old Kingdom for the never-before-told love story of Sabriel's parents, Terciel and Elinor, and the charter magic that brought them together—and threatened to tear them apart. A long-awaited prequel to a classic fantasy series.
In the Old Kingdom, a land of ancient and often terrible magics, eighteen year-old orphan Terciel learns the art of necromancy from his great-aunt Tizanael. But not to raise the Dead, rather to lay them to rest. He is the Abhorsen-in-Waiting, and Tizanael is the Abhorsen, the latest in a long line of people whose task it is to make sure the Dead do not return to Life.
Across the Wall in Ancelstierre, a steam-age country where magic usually does not work, nineteen year-old Elinor lives a secluded life. Her only friends an old governess and an even older groom who was once a famous circus performer. Her mother is a tyrant, who is feared by all despite her sickness and impending death . . . but perhaps there is even more to fear from that.
Elinor does not know she is deeply connected to the Old Kingdom, nor that magic can sometimes come across the Wall, until a plot by an ancient enemy of the Abhorsens brings Terciel and Tizanael to Ancelstierre. In a single day of fire and death and loss, Elinor finds herself set on a path which will take her into the Old Kingdom, into Terciel's life, and will embroil her in the struggle of the Abhorsens against the Dead who will not stay dead.
*USA Today Bestseller*
"One of the greatest living fantasy writers. I will never get enough of the Old Kingdom." —Sarah J. Maas, #1 New York Times bestselling author
About the Author
---
Garth Nix is a New York Times bestselling novelist and has been a full-time writer since 2001 but has also worked as a literary agent, marketing consultant, book editor, book publicist, book sales representative, bookseller, and part-time soldier in the Australian Army Reserve.
Garth's many books include the Old Kingdom fantasy series, beginning with Sabriel and continuing to Goldenhand; the sci-fi novels Shade's Children and A Confusion of Princes; the Regency romance with magic Newt's Emerald; and novels for children including The Ragwitch, the Seventh Tower series, the Keys to the Kingdom series, and Frogkisser!, which is now in development as a feature film with Fox Animation/Blue Sky Studios. Garth has written numerous short stories, some of which are collected in Across the Wall and To Hold the Bridge. He has also cowritten several children's book series with Sean Williams, including TroubleTwisters and Have Sword, Will Travel.
More than six million copies of his books have been sold around the world and his work has been translated into forty-two languages.
Praise For…
---
"This sixth book in the Old Kingdom series chronicles how Sabriel's parents met. Terciel is likable and his struggles as Abhorsen-in-Waiting are sympathetic, but it's endearing, charismatic Elinor who steals the show in this character-driven story. In this book, Nix offers fans of the Old Kingdom a gift in the book's return to the feel of the original trilogy; readers will be glad he chose the path that led to this story. Enjoyable, engaging, and well written." — Kirkus Reviews
"Terciel's mix of competence and vulnerability is appealing, but Elinor's journey—buoyed by her resilient spirit—is particularly rewarding. Fans will relish this return to a beloved world." — Booklist
" . . . All the Nix hallmarks are in place, including frightening Dead entities, multifaceted methods of wielding magic, competent women, and pragmatic attitudes toward sex. Loving callbacks to Sabriel render this installment of greatest interest to longtime fans, but Elinor's introduction to the world of Charter and Free Magics, and chapters focused on Terciel's childhood provide plenty of exposition for new readers." — Bulletin of the Center for Children's Books
"Well written and well paced, Nix's original 'Old Kingdom' trilogy is considered a YA classic for a reason. VERDICT This prequel has broad appeal, but will ultimately be picked up by fans of the original series." — School Library Journal
"There is no joy like returning to the Old Kingdom." — Leigh Bardugo
"Passionate, compelling, and teeming with the fantastic, the story of Elinor and Terciel — a prequel to Nix's beloved Old Kingdom classics — will charm new readers and thrill longtime fans."  — Cassandra Clare, author of the Mortal Instruments Series
Praise for SABRIEL: "Rich, complex, involving, hard to put down, excellent high fantasy." — Publishers Weekly (starred review)
"Nix has created an ingenious, icy world. The action charges along at a gallop. A page-turner for sure." — ALA Booklist (starred review)
"Sabriel is a winner, a fantasy that reads like realism. Here is a world with the same solidity and four dimensional authority as our own, created with invention, clarity, and intelligence. I congratulate Garth Nix. And I look forward to reading his next piece of work." — Philip Pullman
Praise for LIRAEL: "Riveting." — Kirkus Reviews (starred review)
"The action charges along at a gallop--a page turner for sure." — ALA Booklist (starred review)
Praise for ABHORSEN: "Breathtaking, bittersweet, and utterly unforgettable." — Kirkus Reviews (starred review)
"At once an allegory regarding war and peace and a testament to friendship, this is a thought-provoking fantasy." — Publishers Weekly (starred review)
"Nix (The Left-Handed Booksellers of London) makes a satisfying return to his Old Kingdom series with this prequel about Sabriel's parents, Terciel and Elinor. Elinor, inexperienced with the Old Kingdom, offers a useful introduction to the world, while sympathetic characters, a unique magical system, and frightening foes guarantee broad appeal to teen and adult fantasy readers, whether established Nix fans or new to the series." — Publishers Weekly