Tunneling to the Center of the Earth: Stories (Art of the Story) (Paperback)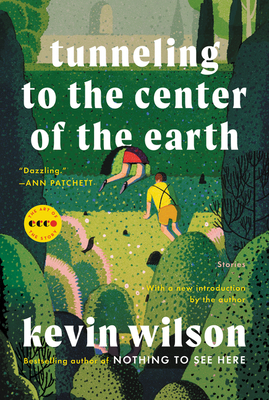 Description
---
A debut short story collection in the tradition of writers like Kelly Link, Aimee Bender, and George Saunders—strange, imaginative, and refreshingly original—now back in print as part of Ecco's "Art of the Story" Series, and with a new introduction from the author

Kevin Wilson's characters inhabit a world that moves seamlessly between the real and the imagined, the mundane and the fantastic. "Grand Stand-In" is narrated by an employee of the Nuclear Family Supplemental Provider—a company that supplies "stand-ins" for families with deceased, ill, or just plain mean grandparents. And in "Blowing Up On the Spot," a story singled out by Ann Patchett for Ploughshares, a young woman works sorting tiles at a Scrabble factory after her parents have spontaneously combusted.
Southern gothic at its best, laced with humor and pathos, these wonderfully inventive stories explore the relationship between loss and death and the many ways we try to cope with both.
About the Author
---
Kevin Wilson is the New York Times bestselling author of the novels Nothing to See Here, which was a Read with Jenna book club selection; The Family Fang, which was adapted into an acclaimed film starring Nicole Kidman and Jason Bateman; and Perfect Little World; as well as the story collections Tunneling to the Center of the Earth, winner of the Shirley Jackson Award; and Baby, You're Gonna Be Mine. His fiction has appeared in Ploughshares, Southern Review, One Story, A Public Space, and Best American Short Stories. He lives in Sewanee, Tennessee, with his wife and two sons.
Praise For…
---
"Wilson's little time-bomb fables have a surrealist zip, like miniature Magritte paintings come to life." — Washington Post
"Geniously surreal but affecting short stories about spontaneous combustion, Scrabble and angst at all ages. RIYL (Read if you love): George Saunders." — Louisville Courier Journal
"Turns the genre of Southern fiction on its head…Wilson's fully realized characters keep the stories grounded." — Bomb Magazine
"A Southern writer with a bent sense of humor offers a fine debut collection of stories, some unlike anything you've read before. Wilson displays a marvelous sense of narrative ingenuity…Weird and wonderful stories from a writer who has that most elusive of gifts: new ideas." — Kirkus Reviews (starred review)
"Acute and uniformly unsettling, these fictions explore themes of loss and loneliness with fresh young insight, and occasionally with a faint rainbow at the end." — Boston Globe
"Kevin Wilson is the unholy child of George Saunders and Carson McCullers.... Jesus Christ is this guy good." — Owen King
"Kevin Wilson's stories show us a world that is both real and full of illusion…He forces us to look at our own lives in a new and slightly off-kilter way." — Ann Patchett, bestselling author of BEL CANTO
"I'm drawn to particular authors, folks like George Saunders and Stacey Richter and Kevin Wilson…who I know are going to kick my ass." — Steve Almond, author of CANDYFREAK
"Has some of the best writing I've seen in a long, long time. Kevin Wilson's stories not only tunnel to the center of the earth—they tunnel through the intricacies of family, love and the dark places of the human soul." — Hannah Tinti, author of THE GOOD THIEF
"His work shimmers…Wilson offers fabulous twists and somersaults of the imagination… As Wilson continues to dig into the texture and mystery of the world, his fiction should grow, like his best characters, in strange and remarkable ways." — New York Times Book Review
"To write such masterful stories takes a graceful eye, and, even more, a compassionate heart. Wilson has both. His disturbing, moving tales burrow their way under our skin and stay there." — Time Out New York
"Kevin Wilson writes fiction that moves so quickly from twisted hilarity to strange, delicate beauty that you might not notice—until it's too late—that your heart is good and broken. This collection is like the spontaneous combustion one story in it describes: urgent, amazing, and on fire." — Alix Ohlin, author of THE MISSING PERSON and BABYLON AND OTHER STORIES
"Kevin Wilson's brilliant debut is full of characters you won't be able to forget and wouldn't want to even if you could." — Brock Clarke, bestselling author of AN ARSONIST'S GUIDE TO WRITERS' HOMES IN NEW ENGLAND
These superb, often audacious stories rework the ordinary into surreal yet hauntingly plausible worlds, and we emerge seeing ourselves with fresh, if somewhat nervous, clarity." — Ben Fountain, PEN/Hemingway award-winning author of Brief Encounters with Che Guevara
"There are 11 troubling, strange, offbeat tales in this collection… It's those sharp insights that keep you reading Wilson's unusual stories." — The Advocate (Baton Rouge)
"These short stories by Kevin Wilson…are weird in the best way. They are bizarre notions that are fleshed out in sustained narrative by a deft maestro...beautifully rendered." — Memphis Commercial Appeal
"Lush with imagination, humanity, and wit. — TheRumpus.net