Loveboat, Taipei (Hardcover)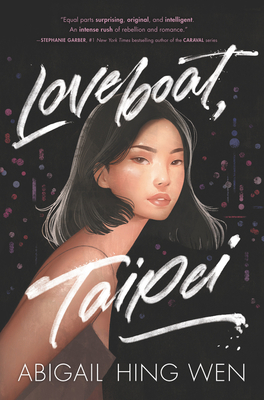 Staff Reviews
---
This book has been so much fun to read! It follows Ever as she is forced to go to a school in Taipei to learn Mandarin and other things to help her learn more about her culture. This is Ever's first time away from her extremely overbearing parents, and she is going to do anything and everything that she was not allowed to do at home. She does everything from sneaking out to go clubbing, to talking to boys, to skipping her classes. This is a fun novel for anyone who understands what it was like to have little freedom as a teenager, and what it feels like to have a taste of it for the first time. There are many life lessons that are brought up throughout the story, which I also loved. A truly good read!!
— Anna
Description
---
A New York Times bestseller!
Optioned for film by the producers of Jenny Han's TO ALL THE BOYS I'VE LOVED BEFORE.
Most anticipated novel of 2020: Boston Globe, Book Riot, Bustle, Nerd Daily, Seventeen, She Reads.
Praised as "an intense rush of rebellion and romance" by #1 New York Times bestselling author Stephanie Garber, this romantic and layered Own Voices debut from Abigail Hing Wen is "a roller-coaster ride of romance and self-discovery." (Kirkus)
"Our cousins have done this program," Sophie whispers. "Best kept secret. Zero supervision."
And just like that, Ever Wong's summer takes an unexpected turn. Gone is Chien Tan, the strict educational program in Taiwan that Ever was expecting. In its place, she finds Loveboat: a summer-long free-for-all where hookups abound, adults turn a blind eye, snake-blood sake flows abundantly, and the nightlife runs nonstop.
But not every student is quite what they seem:
Ever is working toward becoming a doctor but nurses a secret passion for dance.
Rick Woo is the Yale-bound child prodigy bane of Ever's existence whose perfection hides a secret.
Boy-crazy, fashion-obsessed Sophie Ha turns out to have more to her than meets the eye.
And under sexy Xavier Yeh's shell is buried a shameful truth he'll never admit.
When these students' lives collide, it's guaranteed to be a summer Ever will never forget.
"A unique story from an exciting and authentic new voice." —Sabaa Tahir, #1 New York Times bestselling author of An Ember in the Ashes
"Equal parts surprising, original, and intelligent. An intense rush of rebellion and romance." —Stephanie Garber, #1 New York Times bestselling author of Caraval
"Fresh as a first kiss." —Stacey Lee, award-winning author of Outrun the Moon
"Fresh, fun, heartfelt, and totally addictive, a story about finding your place—and your people—where you least expected." —Kelly Loy Gilbert, author of the William C. Morris Award finalist Conviction
About the Author
---
Abigail Hing Wen holds a BA from Harvard, a JD from Columbia Law School, and an MFA from the Vermont School of Fine Arts. When she's not writing stories or listening to her favorite scores, she is busy working as an attorney in venture capital and artificial intelligence in Silicon Valley, where she lives with her husband and two sons. Loveboat, Taipei is her first novel. www.abigailhingwen.com
Praise For…
---
"Abigail Hing Wen's LOVEBOAT, TAIPEI is a poignant and honest examination of first love, family obligations and that strange place between high school and college, where we don't quite know who we are and as such, anything could happen. A unique story from an exciting and authentic new voice."
— Sabaa Tahir, #1 New York Times bestselling author of AN EMBER IN THE ASHES

"Equal parts surprising, original, and intelligent, Loveboat, Taipei is an intense rush of rebellion, romance, and complex family dynamics. If you've ever wanted to feel as if you're breaking all the rules without actually breaking any rules then this is the book you need to read."
— Stephanie Garber, #1 New York Times bestselling author of CARAVAL

"Not a ship, but a cultural phenomenon, get ready to board the Love Boat, where millions of Chinese Americans get their first taste of love and freedom. Abigail Hing Wen's debut is fresh as a first kiss."
— Stacey Lee, award winning author of OUTRUN THE MOON

"Loveboat is a Crazy Rich Asians meets a Jane Austen comedy of manners—fresh, fun, heartfelt and totally addictive, a story about finding your place--and your people--where you least expected."
— Kelly Loy Gilbert, Morris Award Finalist author of Conviction

"[Loveboat, Taipei] is a wonderful read and I find the book has just stayed with me. It has so much to say about being the child of immigrants, about gender and sexuality, about identity and what makes a home. Ever's search to define herself, with all her intersecting identities, in a world that wants to define her is really beautifully wrought and lovely."
— Anne Ursu, author of the National Book Award long listed novel The Lost Boy

"An entertaining and heartfelt debut that takes readers on a roller-coaster ride of romance and self-discovery." 
— Kirkus Reviews

"Ever's summer [turns] into one of love, mischief, and self-awakening that she will soon not forget… [but] It's Ever's resulting growth in the face of parental expectations and heartache that will resonate most with readers far and wide."
— Booklist

"Refreshing and exciting…YA readers will love the mix of romance, defiance, adventure, culture, and friendship."
— School Library Journal

"From tea eggs to snake blood sake, the energy of Taipei in the summer provides a winning backdrop to this joyful debut about a young American dancer who finds love and freedom by exploring her Taiwanese roots."
— Publishers Weekly

"There's a sweetness to Ever's rumspringa, and the hothouse atmosphere of Chien Tan, with its intense relationships and clever balance between respectability for parents and opportunistic freedom for their offspring, is deftly conveyed." 
— Bulletin of the Center for Children's Books