Tiny Barbarian (Hardcover)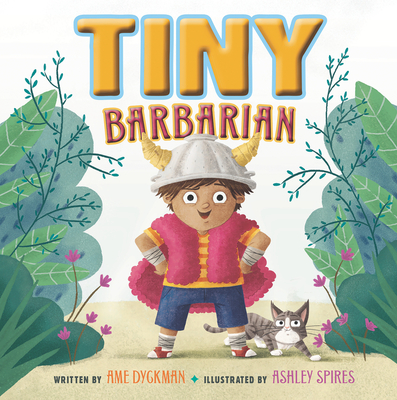 Description
---
Meet Tiny Barbarian! Tiny may be tiny, but he's MIGHTY! (His imagination is, too!)
When Tiny and his family walk by a retro movie theater poster, Tiny realizes he wants to be:
"A BARBARIAN!" Just like '80s fantasy movie character BOB THE BARBARIAN!
Tiny doesn't have Bob's shining helmet, sturdy club, fuzzy cape, etc.
But Tiny does have: A colander. A paper towel tube. That little rug that goes around the toilet. And a MIGHTY imagination!
Tiny puts them all together, looks in the mirror, and… He is TINY BARBARIAN!
With his Battle Kitty by his side, Tiny Barbarian defends his realm, protects his family, and defeats "A DRAGON!" "A TROLL!" And even, "GIANT BROCCOLI!"
But at bedtime, our brave Tiny Barbarian meets his most challenging foe of all: "THE DARK!"
Can Tiny conquer THIS?!
Ame Dyckman (You Don't Want A Unicorn!, etc.) and Ashley Spires (The Most Magnificent Thing, etc.) share the hilarious origin story of a relatable little hero and the importance of embracing imagination, facing fears, and discovering one's own inner conqueror.
About the Author
---
Ame Dyckman is a New York Times bestselling author whose work includes Wolfie the Bunny, You Don't Want a Unicorn!, You Don't Want a Dragon!, That's Life!, and more. Ame didn't have to quest far for the inspiration for Tiny Barbarian's characters, especially Tiny and his super-supportive family. (Ame's own "barbarian horde" patiently puts up with Ame as she tries to "CONQUER EVERYTHING!" and when she wears the colander—I mean, shining helmet!—on her head.) Visit her online at www.amedyckman.com.
Ashley Spires is the author and illustrator of several children's books, including the bestselling The Most Magnificent Thing and the Binky the Space Cat series of graphic novels, which is now an animated television series. Ashley lives in British Columbia, Canada, with her dog and her many, many cats. You can visit her online at www.ashleyspires.com.
Praise For…
---
"In this hilarious and inspiring romp, a little boy, armed only with a colander for a helmet, a cardboard roll for a club, and a toilet-seat carpet for a cape, defeats his fears...A witty tale about building courage through imaginative play." — Booklist
"A rollicking read-aloud. Spires imbues Tiny with as much, if not more, personality and vibe as any of the fantastical creatures that dot these pages. Other visual elements, like the dad cooking and taking on bedtime duty, eschew the usual stereotypes. [Tiny's] cry to "CONQUER EVERYTHING!" will ring true for small warriors-to-be."
— Kirkus Reviews
"Lively digital art and comic rhythms from Spires (Turtle and Tortoise Are Not Friends) are reminiscent of a satisfying cartoon episode. Tiny, an indomitable, highly expressive protagonist, carries the tale, and his all-caps cry of "CONQUER EVERYTHING!" may very well start resounding through readers' own pretend play." — Publishers Weekly
"The pithy and playful text will make for an energetic readaloud, even a high-voltage early entry in a bedtime sequence that ramps down to something more soothing. This could also be used at home with appropriate weapons to hand for kids determined to go to boppage town."  — Bulletin of the Center for Children's Books