Learning to Pray: A Guide for Everyone (Hardcover)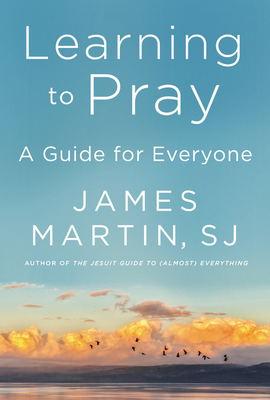 $27.99

Not In Stock - Usually Available in 1-5 Days
Description
---
NEW YORK TIMES BESTSELLER
"A smart, wise, often side-splittingly funny master class in seeking God. Any spiritual seeker—from atheist to professional religious—will cherish this bravura tome from one of our great spiritual guides, in the lineage of C. S. Lewis, Henri Nouwen, Thomas Merton, Gandhi, and Mother Teresa. Hallelujah & amen!"—Mary Karr, author of Lit and The Liar's Club
One of America's most beloved spiritual leaders and the New York Times bestselling author of The Jesuit Guide to (Almost) Everything and Jesus: A Pilgrimage teaches anyone to converse with God in this comprehensive guide to prayer.
In The Jesuit Guide to (Almost) Everything, Father James Martin included a chapter on communicating with God. Now, he expands those thoughts in this profound and practical handbook. Learning to Pray explains what prayer is, what to expect from praying, how to do it, and how it can transform us when we make it a regular practice in our lives. 
A trusted guide walking beside us as we navigate our unique spiritual paths, Martin lays out the different styles and traditions of prayer throughout Christian history and invites us to experiment and discover which works best to feed our soul and build intimacy with our Creator. Father Martin makes clear there is not one secret formula for praying. But like any relationship, each person can discover the best style for building an intimate relationship with God, regardless of religion or denomination. Prayer, he teaches us, is open and accessible to anyone willing to open their heart.
About the Author
---
Rev. James Martin, SJ, is a Jesuit priest, editor at large of America magazine, consultor to the Vatican's Dicastery for Communication, and author of numerous books, including the New York Times bestsellers Jesus: A Pilgrimage, The Jesuit Guide to (Almost) Everything and My Life with the Saints, which Publishers Weekly named one of the best books of 2006. Father Martin is a frequent commentator in the national and international media, having appeared on all the major networks, and in such diverse outlets as The Colbert Report, NPR's Fresh Air, the New York Times and The Wall Street Journal.  Before entering the Jesuits in 1988 he graduated from the Wharton School of Business.
Praise For…
---
"A smart, wise, often side-splittingly funny master class in seeking God. Any spiritual seeker—from atheist to professional religious—will cherish this bravura tome from one of our great spiritual guides, in the lineage of C. S. Lewis, Henri Nouwen, Thomas Merton, Gandhi, and Mother Teresa. Hallelujah & amen!" — Mary Karr, author of Lit and Liar's Club 
"The life of prayer is essential for the believer.  And yet so many people feel frightened by prayer.  Fear not!  James Martin has written a brilliant introduction to prayer, which will help you encounter the Living God, who wants to encounter you!"  —  Richard Rohr, author of Everything Belongs
"A trusted teacher, Martin teaches that there is no wrong way to pray, even as he lays out many wonderful ways to pray. This book is for anyone who has avoided prayer for any reason--a strong invitation, a gentle encouragement, a wise masterful guide, and a needed book."  — Ronald Rolheiser, author of The Holy Longing
"This practical and delightful book is truly for everyone. It's reassuring to hear that our moments of pausing, listening, and being grateful are all versions of prayer. This book shows us how to stay with such moments and allow them to change us for the better." — Kathleen Norris, author of The Cloister Walk
"Learning to Pray validates your practice and invites you to deepen it. It beckons us to this new and spacious place where we can all rest in the stillness of love and love in the stillness of God. You could not ask for more in a book on prayer."  — Gregory J. Boyle, SJ, author of Tattoos on the Heart
"The genius of this book—evident in both its content and its style—is that it speaks, simultaneously, to beginners in prayer and to those experienced in the way of the Spirit. Fr. Martin is a winsome guide to all those who want to deepen their friendship with the Lord."   — Bishop Robert Barron, author of Catholicism: A Journey to the Heart of the Faith
"Who else but Father Martin can combine the illuminating insights from spiritual giants like St. John Damascene with the likes of Monty Python? A humble, humorous step-by-step guide on the lofty subject of talking to and listening for the Living God. "  — Helen Prejean, CSJ, author of Dead Man Walking.
"What do we need to learn? That prayer changes us--and so changes the world we live in; that God is always there before us; that it's God's action that makes the difference. Practical, comprehensive, and above all God-centered, this book is a deeply valuable companion for growing in faith." — Rowan Williams, former Archbishop of Canterbury
"Drawing on many resources and his own experience, Father Martin invites and engages readers so that they can recognize possibilities for prayer in their lives. Everyone will find reliable spiritual riches in this wise, personal, and practical book, as they journey to God." — Cardinal Blase Cupich, archbishop of Chicago
"Witty, conversational, intimate, and inspiring, James Martin's handbook is the finest, most practical, and comprehensive look at prayer that I have ever read."  — Ron Hansen, author of Mariette in Ecstasy and Atticus
"A wonderful, attractive, interesting, and very informative book on prayer that only Jim Martin could have written. Because he has discovered the joys of a regular prayer life for himself, he wants everyone to experience the same joy. You will be delighted and enlightened."  — William A. Barry, S.J., author of The Practice of Spiritual Direction
"Personal, insightful, honest, practical, expansive, enriching, freeing, hopeful—these words only begin to describe this excellent book about prayer. Learning to Pray deserves to be in the hands and heart of anyone intent on engaging with the unfolding path of prayer." — Joyce Rupp, author of Anchors for the Soul
"Drawing on his broad experience as a leader of prayer as well as one who is committed to deepening his own ongoing conversation with God, Fr. Martin offers a variety of methods and approaches to prayer that are accessible and user-friendly—it was a help to me on my own journey of prayer." — John Stowe, OFM Conv., Bishop of Lexington
"Never before has a book confronted me with the possibility of learning and re-learning the practice of prayer like Learning to Pray. This book had me praying while reading and reading while praying. Martin offers solutions coupled with beauty and opportunity mixed with a wellspring of grace." — The Rev. Robert W. Lee, author of A Sin by Any Other Name: Reckoning with Racism and the Heritage of the South.
"James Martin has done it again.  He has found a way to make the sublime accessible to everyone.  Martin teaches you how to experience God, who has been near you all along."
— Mark E. Thibodeaux, SJ, author of Armchair Mystic.
"A welcome and accessible guide for prayer at a time when we are all in need of opportunities for reaching out to Jesus and one another. Learning to Pray will be helpful for your journey of faith." — Cardinal Seán O'Malley, Archbishop of Boston
"Prayer, Martin says, is building a relationship with God in the way other relationships are built: through conversing, listening, and spending time with one another. . . . With Martin's guidance, interested readers may see prayer as both the most natural yet transcendent thing in the world." — Booklist
"Arguing prayer is for people of all religious traditions and denominations, Martin does not privilege any single form of prayer over another and frames his suggestions as 'practices and preferences.' Those wanting to deepen their prayer practice should take a look." — Publisher's Weekly
"With simplicity, clarity, humor, and humility, Father Martin returns those more experienced in prayer back to their roots and provides a sure base for those beginning to explore a regular practice of prayer—a helpful guide for us to become truly ourselves."  — The Jesuit Post
"A superb one-volume introduction to a topic that is vital to any serious spiritual seeker. Plenty of treasures await the reader." — Patheos
"Don't let the size of the volume intimidate you. Each and every page is worth reading." — Catholic News Service
"This book deserves to be widely read by believers, skeptics and even unbelievers, if for no other reason than to broaden one's horizon. Just prepare to be changed, full-on believer or not, as you read." — National Catholic Reporter
"[Martin] not only gives us the what and the how, but also the why. We learn the do's and don'ts of prayer and how to avoid common pitfalls, but most of all we find encouragement to deepen our relationship with the God who sustains us." — Catholic Outlook
"This is a book to treasure and ponder, to read slowly, by yourself, listening for God. Its wisdom demands to be shared, and whose insights grow in the sharing – whether in a prayer group or with your family, whose invitation to pick it up is directed precisely at this homecoming" — TABLET Magazine
"One of America's best-known and best-loved priests, famous for his kindly and witty demeanor, Martin remains an amicable and humble interpreter of lofty spiritual truths. Learning to Pray strips prayer of its austerity, finding honesty in the mystery and warmth in its ubiquity." — Relevant  
"In this accessible volume, Martin feels like a personal spiritual advisor, gently leading listeners to a more enriching prayer practice. Rich in detail, explanation, and examples."  — Booklist
"Practical advice for people of all traditions who desire to connect with God...Learning to Pray is one of [Martin's] best books." — Spirituality and Practice
"The book renewed my sense of the possibilities of prayer." — Orange County Catholic