The Spy House: A Will Cochrane Novel (Mass Market)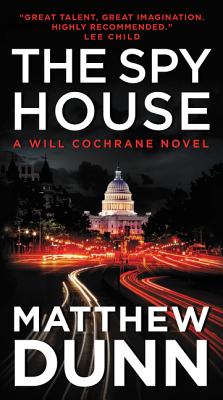 $9.99
Email or call for price.
Description
---
In the fifth electrifying thriller featuring Will Cochrane, the Intelligence agent must solve the unsolvable: How did four international agents working on a super-secret mission die in a safe house bunker that was locked from the inside?
Critics have called Will Cochrane a "ruthless yet noble" (Ft. Worth Star-Telegram), "one-man weapon of mass destruction" (Daily Telegraph)—a brilliant agent from whom "Bond and Bourne could learn a thing or two" (Madison County Herald). His latest assignment will plunge him into the thorny politics of the Middle East. The stakes: averting a war that could engulf the world in flames.
When the Israeli ambassador to France is shot dead in Paris by an unknown sniper, the Israeli government blames Hamas and begins planning a massive invasion to obliterate the terrorist organization once and for all. To avoid an all-out war, three members of the UN Security Council—the United States, France, and the United Kingdom—assemble a team of intelligence agents to uncover the truth behind the assassination.
But when the team stops responding and all four agents are found dead in a bunker locked from the inside, they turn to freelance intelligence operative Will Cochrane for answers. To find out what really happened in the Paris shooting and in the bunker and prevent an unwinnable war, Cochrane will use his years of knowledge and experience to unravel the truth . . . and maybe just keep himself alive. 
About the Author
---
As an MI6 field officer, Matthew Dunn recruited and ran agents, coordinated and participated in special operations, and acted in deep-cover roles throughout the world. He operated in environments where, if captured, he would have been executed. Dunn was trained in all aspects of intelligence collection, deep- cover deployments, small arms, explosives, military unarmed combat, surveillance, and infiltration.
Medals are never awarded to modern MI6 officers, but Dunn was the recipient of a rare personal commendation from the secretary of state for work he did on one mission, which was deemed so significant that it directly influenced the success of a major international incident.
During his time in MI6, Matthew conducted approximately seventy missions. All of them were successful. He currently lives in England, where he is at work on his next novel.
Praise For…
---
"Another page-turner… A locked-room twist on the espionage novel… Dunn maintains his up-tempo pace without sacrificing character development and while allowing the tension to build incrementally. The ending makes clear that another entry in the series is on the way, and it can't arrive fast enough." — Booklist
"For those who love a good twist, there's not one but three at the very end (even to the last sentence of the story). Nobody is who they seem, except perhaps Will Cochrane." — ReviewingTheEvidence.com
"A timely story of espionage and intrigue… Chilling." — Iron Mountain Daily News