The Geneva Option: A Yael Azoulay Novel (Yael Azoulay Series #1) (Paperback)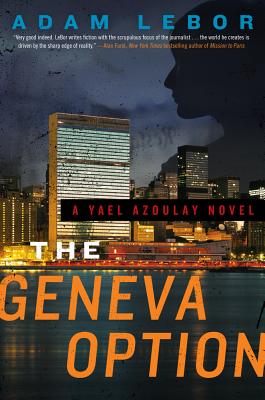 $15.99

Not In Stock - Usually Available in 1-5 Days
Other Books in Series
This is book number 1 in the Yael Azoulay Series series.
Description
---
A gripping thriller of international espionage, The Geneva Option by Adam LeBor pits a sexy, young UN staffer against a brutal conspiracy to control Africa's natural resources.
 
Yael Azoulay does the United Nations' dirty work. Sent by the UN's Secretary General to eastern Congo to negotiate with Jean-Pierre Hakizimani, a Hutu warlord wanted for genocide, she offers a deal: surrender to the UN tribunal, in exchange for a short sentence and a return to politics.
 
The plan is to bring stability to the region so the West can exploit the region's mineral wealth. But Yael soon realizes that the UN is prepared to turn a blind eye to mass murder.
 
Yael finds herself on the run, hunted by the world's intelligence and law enforcement agencies—and haunted by her past—ultimately learning that salvation means not just saving other's lives but confronting her own inner demons.

Written by Adam LeBor, a high-profile foreign correspondent and critically acclaimed investigative journalist, The Geneva Option takes readers on a nonstop journey through the secret corridors of international power.
About the Author
---
Adam LeBor writes for The Economist, the New York Times, The Times (London), Monocle, Newsweek, and numerous other publications. He is the author of The Geneva Option and The Washington Stratagem, also featuring Yael Azoulay, and The Budapest Protocol. In addition he has written a number of nonfiction books, including Tower of Basel, the first investigative history of the Bank for International Settlements; Hitler's Secret Bankers, short-listed for the Orwell Prize; City of Oranges, short-listed for the Jewish Quarterly Prize; and Complicity with Evil. He lives in Budapest, Hungary.
Praise For…
---
"British journalist Lebor…introduces brilliant and beautiful Yael Azoulay, a behindthe-scenes negotiator for the United Nations, in his gripping debut thriller, the first in a trilogy… [T]hose looking for a strong heroine in the mold of Lisbeth Salander will be satisfied." — Publishers Weekly
"This thriller's prologue is a small masterpiece in showing how the seemingly banal–a worker taking a cigarette break on a balcony–can be upended into terror. The rest of the book fulfills the prologue's promise…. [with] scene after scene of heart-clutching suspense…Must reading." — Booklist(starred review)
"A gripping and atmospheric thriller from a great writer. Yael Azoulay is a character I'm looking forward to reading about again and again." — Charles Cumming, New York Times bestselling author of The Trinity Six
"A seditiously good read." — Mark Malloch-Brown, former Deputy Secretary-General of the United Nations
"Adam LeBor masterfully weaves an international espionage thriller… Five Stars out of Five." — Examiner