Death of Kings: A Novel (Saxon Tales #6) (Large Print / Paperback)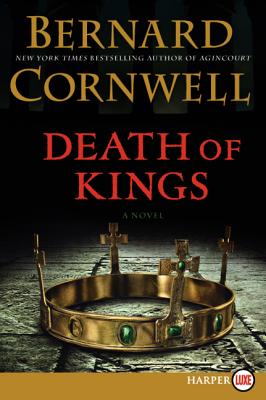 $29.99
Email or call for pricing & availability
Other Books in Series
This is book number 6 in the Saxon Tales series.
Description
---
The sixth installment of Bernard Cornwell's bestselling series chronicling the epic saga of the making of England, "like Game of Thrones, but real" (The Observer, London)—the basis for The Last Kingdom, the hit BBC America television series.
As the ninth century wanes, England is perched once more on the brink of chaos. King Alfred is dying; with his passing, the island of Britain seems doomed to renewed warfare. Alfred wants his son Edward to succeed him, but there are other Saxon claimants to the throne—as well as ambitious pagan Vikings to the north.
With the promise of battle looming again, Uhtred, the Viking-raised but Saxon-born warrior, whose life seems to shadow the making of England itself, is torn between competing loyalties. Uhtred's loyalty, and his vows, are to Alfred—not to his son—and despite long years of service to the old king, Uhtred is still reluctant to commit to Alfred's cause. His own desire is to reclaim his long lost ancestral lands and castle to the north. As the king's warrior he is duty-bound, but the king's reign is nearing its end, and his death will leave a vacuum of power. Uhtred is forced to make a momentous choice: either take up arms—and Alfred's mantle—to realize his dream of a united and Christian England, or be responsible for condemning it to oblivion.
Death of Kings is a harrowing story of the power of tribal commitment and the dilemma of divided loyalties. This is the making of England magnificently brought to life by "the best historical novelist writing today" (Vince Flynn).
About the Author
---
BERNARD CORNWELL is the author of over fifty novels, including the acclaimed New York Times bestselling Saxon Tales, which serve as the basis for the hit Netflix series The Last Kingdom. He lives with his wife on Cape Cod and in Charleston, South Carolina.
Praise For…
---
"Gripping. . . . Mr. Cornwell's 'Saxon Stories' subvert myths of national origin as few would dare. They are 'unofficial histories'—and all the more realistic for that." — Tom Shippey, Wall Street Journal
"[Cornwell] writes morally complicated and intricate stories, and he's won a following not just among readers but also among fellow writers." — Gregory Cowles, New York Times Book Review
"Likely to appeal to anyone who has enjoyed George R. R. Martin's Game of Thrones series....Cornwell is a master of historical fiction." — Christian DuChateau, CNN
"A master of historical fiction has produced another great read." — Robert Conroy, Library Journal
"Bernard Cornwell does the best battle scenes of any writer I've ever read, past or present." — George R. R. Martin
"Compelling." — Publishers Weekly
"Cornwell tells Alfred's story with wit, intelligence and absolute narrative authority.... Cornwell remains in full control of this colorful, violent material, and his steadily deepening portrait of Alfred's nascent England continues to enthrall." — Washington Post Book World for Sword Song
"Bernard Cornwell ranks as the current alpha male of testosterone-enriched historical fiction." — Dierdre Donahue, USA Today
"Robustly drawn characters and a keen appetite for bloodshed whip the reader along in a froth of excitement." — James Urquhart, Financial Times
"Cornwell is adept at enveloping his fictional characters in British history. His use of geography, instruments of battle, strategy and ancient vocabulary is faultless….No knowledge of early British history or of his earlier Saxon volumes is necessary for a reader to enjoy his dexterous approach to historical fiction." — Dennis Lythgoe, BookPage
"[Cornwell] has been described as a master of historical fiction, but that may be an understatement. Cornwell makes his subject material come alive. Better, his major protagonist is totally believable and human." — Robert Conroy, Library Journal
"[Cornwell] possesses a gift for narrative flow and an eye of the telling detail that are the main reasons for his primacy in bringing turbulent times to vivid life." — Philadelphia Inquirer
"History comes alive." — Boston Globe
"As expected, the warfare is ferociously bloody, the sacrilege pointedly barbed, and the story expertly paced. Heck, we'd even extol Uhtred's budding spells of sober reflection about life and love—if we weren't certain he'd slice an ear off for saying so." — Entertainment Weekly for Sword Song
"[M]asterful. . . . The surprise is that Cornwell's love scenes are as deft as his action scenes, though far fewer, of course—all driven by a hard-shelled, sporadically soft-hearted, always charismatic protagonist." — Kirkus Reviews (starred review)