Murder on the Orient Express: A Hercule Poirot Mystery (Hercule Poirot Mysteries #10) (Paperback)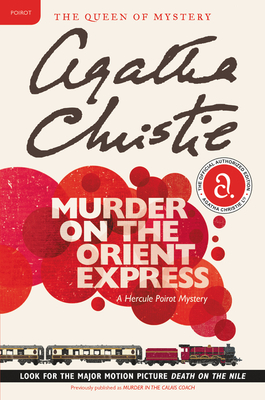 Other Books in Series
This is book number 10 in the Hercule Poirot Mysteries series.
Staff Reviews
---
A classic  mystery with an ending that will shock you no matter how many times you read it, this is Agatha Christie at her best.
When the world's greatest detective, Hercule Poirot, boards the Orient Express he's expecting a quiet few days before returning to his most recent case. Little does he know a murderer right is lurking in his train's coach.  And when Mr. Ratchet is found brutally murdered in his cabin it is up to Poirot to find his killer. But as new details about the dead man are uncovered he must decide between justice and doing what's right.
If you're looking for a twisty whodunit this book is for you!
— Marielle
Description
---
THE MOST WIDELY READ MYSTERY OF ALL TIME—NOW A MAJOR MOTION PICTURE DIRECTED BY KENNETH BRANAGH AND PRODUCED BY RIDLEY SCOTT!
"The murderer is with us—on the train now . . ."
Just after midnight, the famous Orient Express is stopped in its tracks by a snowdrift. By morning, the millionaire Samuel Edward Ratchett lies dead in his compartment, stabbed a dozen times, his door locked from the inside. Without a shred of doubt, one of his fellow passengers is the murderer.
Isolated by the storm, detective Hercule Poirot must find the killer among a dozen of the dead man's enemies, before the murderer decides to strike again.
"What more . . . can a mystery addict desire?" — New York Times
About the Author
---
Agatha Christie is the most widely published author of all time, outsold only by the Bible and Shakespeare. Her books have sold more than a billion copies in English and another billion in a hundred foreign languages. She died in 1976.
Praise For…
---
"A brilliantly ingenious story."
— Dorothy L. Sayers, Daily Herald (UK)

"It's tempting to say that Agatha Christie is a genius and let it go at that, but the world's had plenty of geniuses. Agatha Christie is something special."
— Lawrence Block, New York Times bestselling author

"[Moves] smoothly and entertainingly to its surprise conclusion."
— Chicago Daily Tribune

"Nothing short of swell. [Christie] is probably the best suspicion scatterer and diverter in the business."
— New York Herald Tribune

"Need it be said—the little grey cells solve once more the seemingly insoluble. Mrs Christie makes an improbable tale very real, and keeps her readers enthralled and guessing to the end."
— Times Literary Supplement (London)

"What more…can a mystery addict desire?"
— New York Times

"Agatha Christie's books are both wonderful crime novels and studies in contrast and duality, and I adore them still. Underestimate them at your peril."
— Louise Penny, #1 New York Times-bestselling author of the Inspector Gamache novels

"Reading a perfectly plotted Agatha Christie is like crunching into a perfect apple: that pure, crisp, absolute satisfaction."
— Tana French, New York Times-bestselling author of the Dublin Murder Squad novels

"Agatha Christie taught me many important lessons about the inner workings of the mystery novel before it ever occurred to me that I might one day be writing mysteries myself."
— Sue Grafton, #1 New York Times-bestselling author of the Kinsey Millhone novels

"Any mystery writer who wants to learn how to plot should spend a few days reading Agatha Christie. She'll show you everything you want to know."
— Donna Leon, New York Times-bestselling author of the Commissario Brunetti novels

"I always wanted to be Agatha Christie when I grew up. I still do."
— J. A. Jance, New York Times-bestselling author of the Joanna Brady and J. P. Beaumont novels

"Agatha Christie's indelibly etched characters have entertained millions across the years and a love of her work has brough together generations of readers—a singular achievement for any author and an inspiration to writers across the literary landscape."
— Jacqueline Winspear, New York Times-bestselling author of the Maisie Dobbs novels