Baby, Let's Play House: Elvis Presley and the Women Who Loved Him (Paperback)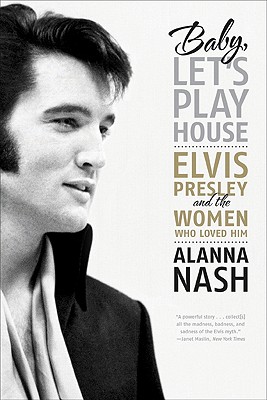 $21.99

Not In Stock - Usually Available in 1-5 Days
Description
---
Thirty-three years after his death, Elvis Presley's extraordinary physical appeal, timeless music, and sexual charisma continue to captivate, titillate, and excite. Though hundreds of books have been written about the King, no book has solely explored his relationships with women and how they influenced his music and life . . . until now.
Based largely on exclusive interviews with the many women who knew him in various roles—lover, sweetheart, friend, costar, and family member—Baby, Let's Play House presents Elvis in a new light: as a charming but wounded Lothario who bedded scores of women but seemed unable to maintain a lasting romantic relationship. While fully exploring the most famous romantic idol of the twentieth century, award-winning veteran music journalist Alanna Nash pulls back the covers on what Elvis really wanted in a woman and was tragically never able to find.
About the Author
---
Alanna Nash is a recipient of the Country Music Association Media Achievement Award and the Charlie Lamb Award for Excellence in Country Music Journalism, and the author of seven books, including The Colonel: The Extraordinary Story of Colonel Tom Parker and Elvis Presley (winner of the Belmont Award); Dolly: The Biography; and Elvis and the Memphis Mafia. Nash lives in Louisville, Kentucky, where she covered Elvis's funeral for the Courier-Journal.
Praise For…
---
"Alanna Nash's long look at Elvis' bizarre history with women...collect[s] all the madness, badness and sadness of the Elvis myth in one exhaustive and embarrassingly tempting volume." — New York Times
"In this astounding look at the King's unstoppable pursuit of women from his elementary school days until his untimely death at 42, hundreds of girls and women pass through the revolving doors of Elvis' love life." — Atlanta Journal-Constitution
"An exhaustive and penetrating work that functions as an intimate personal profile, a family study and a psychosexual investigation of one of the 20th century's true cultural icons." — Memphis Commercial Appeal
"A major new contribution to Presley lore...[Alanna Nash's] focus on Presley's relationships with women takes us on a long and often fascinating journey...It's a welcome and well-crafted addition to our understanding of his strange, triumphant and tragic life." — The Globe and Mail
"The most comprehensive work ever on how the women in Presley's life…influenced him and his music." — New York Newsday
"Un-put-downabble." — Jezebel.com
"Alanna Nash…turns her eye toward The King's other women in a psychological history ...Among those who loved him tender - Ann-Margret and Cybill Shepherd. Those who turned him down include Cher and Karen Carpenter. And of course, there's plenty on the No. 1 woman in his life - Mom Gladys Presley." — New York Post
"A frank and fascinating portrait of an essentially lonely man...[told] with grace and intelligence...The work of a master." — Louisville Courier Journal
"New girls slip between [Elvis'] satin sheets on nearly every page...Combine that with an absorbing snapshot section, and [Baby, Let's Play House] will leave you all shook up." — BettyConfidential.com
"If anything, Baby, Let's Play House heightens the heartbreaking aspects of Presley's life." — Los Angeles Times
"By far the best study of Elvis Presley I have read. 'The King' emerges more clearly from this mosaic of his troubled love life than from any linear biography to date.Impressively researched, written--and felt." — Philip Norman, New York Times bestselling author of John Lennon and Shout!
"Alanna Nash meticulously documents and explores all the relationships Elvis had with women that were 'extremely special,' as Ann-Margret so delightfully (and euphemistically) phrases it. I was delighted to see my stepmother, June Carter, make an appearance, as she always became uncharacteristically silent when Elvis' name came up in conversation. Nash belongs in the pantheon of great music writers, and this book is a fascinating study — Rosanne Cash
"What's left to say about Elvis? Plenty, if Alanna Nash is on the case. She rips the satin sheets right off the King, resulting in the most entertaining Elvis book ever. Ann-Margret! Raquel Welch! Barbara Eden! Tura Satana! This is very funny book." — Jimmy McDonough, New York Times bestselling author of Shakey: Neil Young's Biography
"Deliciously gossipy but never mean, revealingly intimate but never leering, Baby, Let's Play House is a masterwork of psycho-sexual history neatly disguised as celebrity journalism." — David Hajdu, author of Positively 4th Street, music critic for The New Republic, and professor at Columbia University Graduate School of Journalism David Hajdu, author of Positively 4th Street, music critic for The New Republic, and professor at Columbia University Graduate School of Journalism David Hajdu, author of Positively 4th Street and professor at Columbia University Graduate School of Journalism