Clariel: The Lost Abhorsen (Old Kingdom #4) (Paperback)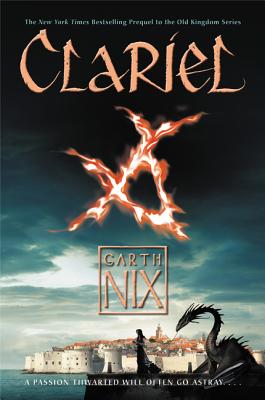 $12.99

Not In Stock - Usually Available in 1-5 Days
Other Books in Series
This is book number 4 in the Old Kingdom series.
Description
---
Award-winning author Garth Nix returns to the Old Kingdom with a thrilling prequel complete with dark magic, royalty, dangerous action, a strong heroine, and flawless world building.
This epic fantasy adventure is destined to be a classic and is perfect for fans of Rae Carson, Kristin Cashore, Scott Westerfeld, and Cassandra Clare.
Clariel is the daughter of one of the most notable families in the Old Kingdom, with blood relations to the Abhorsen and, most important, to the King. She dreams of living a simple life but discovers this is hard to achieve when a dangerous Free Magic creature is loose in the city, her parents want to marry her off to a killer, and there is a plot brewing against the old and withdrawn King Orrikan.
When Clariel is drawn into the efforts to find and capture the creature, she finds hidden sorcery within herself, yet it is magic that carries great dangers. Can she rise above the temptation of power, escape the unwanted marriage, and save the King?
About the Author
---
Garth Nix is a New York Times bestselling novelist and has been a full-time writer since 2001 but has also worked as a literary agent, marketing consultant, book editor, book publicist, book sales representative, bookseller, and part-time soldier in the Australian Army Reserve.
Garth's many books include the Old Kingdom fantasy series, beginning with Sabriel and continuing to Goldenhand; the sci-fi novels Shade's Children and A Confusion of Princes; the Regency romance with magic Newt's Emerald; and novels for children including The Ragwitch, the Seventh Tower series, the Keys to the Kingdom series, and Frogkisser!, which is now in development as a feature film with Fox Animation/Blue Sky Studios. Garth has written numerous short stories, some of which are collected in Across the Wall and To Hold the Bridge. He has also cowritten several children's book series with Sean Williams, including TroubleTwisters and Have Sword, Will Travel.
More than six million copies of his books have been sold around the world and his work has been translated into forty-two languages.
Praise For…
---
"Between striking characters-from the heroic if not entirely competent young Abhorsen-in-Waiting, Belatiel, to the enigmatic, catlike Mogget-and Nix's brilliantly complex magic system, this superb tale is exactly the book fans of the series have been awaiting." — Publishers Weekly (starred review)
"Clariel is a deeply sympathetic character faced with complicated choices, the consequences of which are frighteningly uncertain as she is pulled between the wild Free Magic and the disciplined Charter. A bittersweet story." — Booklist (starred review)
"Nix pens a compelling character in Clariel while his skill in rendering both politics and magic is strong. This excellent work can be enjoyed independently of the other Old Kingdom novels, but will certainly draw readers to those works." — School Library Journal (starred review)
"Nix's tale provides a complete experience unto itself. But his focus on this strong character whose overriding passion is to go her own way provides a hugely satisfying background to the other Abhorsen books. A suspenseful prequel to the much-loved Abhorsen books, showcasing the independent Clariel." — Shelf Awareness (starred review)
"Beautifully written, magnificently imagined, and wholly original, Clariel is Garth Nix's finest work yet." — Holly Black, New York Times bestselling author of The Coldest Girl in Coldtown
"The old magic returns in this sterling prequel to one of YA's classic series." — Scott Westerfeld, New York Times bestselling author of the Uglies series and Afterworlds
"A brilliant return to the Old Kingdom--one of the most exciting and original magical worlds ever devised." — Alison Goodman, New York Times bestselling author of Eon and Eona
"A thunderstorm of a tale, bitter and brutal but dazzling in its ferocity." — Kirkus Reviews
"Fans will treasure this long-awaited opportunity to return to a much-loved world, built with as much originality and richness as ever." — Horn Book Magazine
"Nix fans will surely rejoice at this sharp, gripping prequel to his beloved fantasy trilogy of Sabriel, Lirael and Abhorsen. The beauty of a prequel is that it will not only present unknown scenarios even to the most intense devotees but also pave a path for new fans to dive into the existing trilogy. " — Bulletin of the Center for Children's Books
Praise for SABRIEL: "Sabriel is a winner, a fantasy that reads like realism. Here is a world with the same solidity and four dimensional authority as our own, created with invention, clarity, and intelligence. I congratulate Garth Nix. And I look forward to reading his next piece of work." — Philip Pullman
Praise for LIRAEL: "What makes Lirael a delight is the magic that Nix brings to his story and to his characters." — Publishers Weekly (starred review)
"Riveting." — Kirkus Reviews (starred review)
Praise for ABHORSEN: "Breathtaking, bittersweet, and utterly unforgettable." — Kirkus Reviews (starred review)