Money to Burn (Mass Market)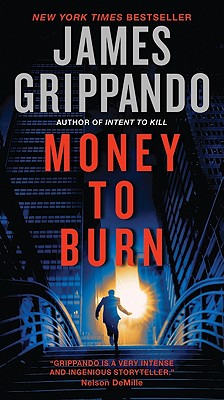 $9.99
Email or call for price.
Description
---
"Money to Burn takes off like a rocket from page one and never slows down. Highly recommended." — Christopher Reich, author of Rules of Vengeance
In this timely stand-alone thriller ripped from the headlines, bestselling author James Grippando (Lying with Strangers, Intent to Kill, Born to Run) explores a world in which the destruction of financial institutions and the people who run them can occur in a matter of hours—even minutes. Fans of John Grisham's The Firm and the thrillers of Lisa Scottoline and Phillip Margolin are sure to love Money to Burn: a "perfectly mixed cocktail of dry wit, sophisticated voice, believable characters, [and] non-stop suspense" (Joseph Finder, author of Vanished and Paranoia).
About the Author
---
James Grippando is a New York Times bestselling author with more than twenty books to his credit, including those in his acclaimed series featuring Miami criminal defense attorney Jack Swyteck. Grippando was a trial lawyer for twelve years before the publication of his first novel in 1994. He lives in South Florida with his wife, three children, two cats, and a golden retriever named Max, who has no idea he's a dog.
Praise For…
---
"Grippando's latest thriller couldn't be more timely. . . . All the elements you expect from a Grippando novel are here, including interesting characters, a plot filled with nonstop action and suspense, and continual surprises. A splendid read." — Romantic Times
"Reader Warning Alert: if you plan to read James Grippando's white-hot thriller Money to Burn, push all your scheduled activities back for a few days. It's impossible to put down. . . . His best yet. . . . Money to Burn is a real-time, heart-racing gamble." — Madison County Herald
"[A] gripping thriller." — National Examiner
"Scandals involving subprime lending, short selling, and Ponzi schemes provide a timely backdrop. . . . Grippando keeps the reader guessing. . . . The dramatic tension remains high with a sadistic hired killer, high-stakes wheeler-dealers, and plenty of cinematic escapes." — Publishers Weekly
"Ranking among his best, Grippando's latest thriller will not disappoint his loyal readers. . . . The twists and turns are surprising and plentiful . . . and there will be plenty of readers staying up late to finish this in one sitting." — Library Journal
"Grippando is a skilled writer, and he works enough variations on the familiar theme to keep us guessing. . . . Recommend this one to fans of Joseph Finder's PARANOIA, COMPANY MAN, or POWER PLAY." — Booklist
"A sleek, sophisticated thrill machine. . . . I thoroughly enjoyed this blood-soaked tale of murder and intrigue set among Wall Street's most powerful and unscrupulous players. Highly recommended." — Christopher Reich, author of RULES OF VENGEANCE and NUMBERED ACCOUNT
"MONEY TO BURN will get you so excited and worked up, you just may go out and steal a few million." — Brad Meltzer, author of THE BOOK OF FATE and THE TENTH JUSTICE
"MONEY TO BURN is one of those all-too-rare novels you won't be able to stop reading once you start. It's a perfectly mixed cocktail of dry wit, sophisticated voice, believable characters, non-stop suspense, and plenty of vicarious pleasure." — Joseph Finder, author of Vanished and Paranoia
"James Grippando skillfully uses the financial meltdown, along with Ponzi schemes and identity theft, in an exciting and timely thriller. . . . This is a thriller through and through." — South Florida Sun Sentinel