Sword Song: The Battle for London (Saxon Tales #4) (Paperback)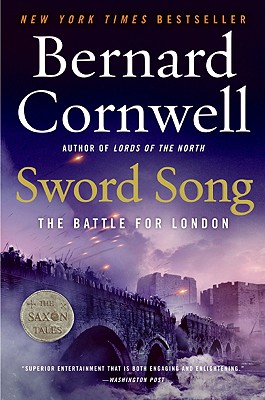 $17.99

Not In Stock - Usually Available in 1-5 Days
Other Books in Series
This is book number 4 in the Saxon Tales series.
Description
---
The fourth installment of Bernard Cornwell's New York Times bestselling series chronicling the epic saga of the making of England, "like Game of Thrones, but real" (The Observer, London)—the basis for The Last Kingdom, the hit television series.
The year is 885, and England is at peace, divided between the Danish kingdom to the north and the Saxon kingdom of Wessex in the south. Warrior by instinct and Viking by nature, Uhtred, the dispossessed son of a Northumbrian lord, has land, a wife and children—and a duty to King Alfred to hold the frontier on the Thames. But a dead man has risen, and new Vikings have invaded the decayed Roman city of London with dreams of conquering Wessex... with Uhtred's help. Suddenly forced to weigh his oath to the king against the dangerous turning tide of shifting allegiances and deadly power struggles, Uhtred—Alfred's sharpest sword—must now make the choice that will determine England's future.
About the Author
---
BERNARD CORNWELL is the author of over fifty novels, including the acclaimed New York Times bestselling Saxon Tales, which serve as the basis for the hit Netflix series The Last Kingdom. He lives with his wife on Cape Cod and in Charleston, South Carolina.
Praise For…
---
"Bernard Cornwell ranks as the current alpha male of testosterone-enriched historical fiction…. As usual, Cornwell offers dramatic battle scenes with big swinging swords. There is also treachery, male bonding, plenty of historical nuggets and a skillful examination of the powerful role played by religion in the Dark Ages. Sword Song also has something new: a really terrific and moving love story…. All in all, this satisfying tale leaves you hungry for more of Uhtred's adventures." — USA Today
"As expected, the warfare is ferociously bloody, the sacrilege pointedly barbed, and the story expertly paced. Heck, we'd even extol Uhtred's budding spells of sober reflection about life and love -- if we weren't certain he'd slice an ear off for saying so." — Entertainment Weekly
"Cornwell tells Alfred's story with wit, intelligence and absolute narrative authority.... Like its predecessors, Sword Song offers a generous display of Cornwell's characteristic virtues: larger-than-life characters, direct, uncluttered prose and a precise evocation of the harsh realities of the distant past. As always, the battle scenes are particularly vivid, opening a window on the utter chaos of hand-to-hand combat among heavily armed bands of men. Cornwell remains in full control of this colorful, violent material, and his steadily deepening portrait of Alfred's nascent England continues to enthrall." — Washington Post Book World
"Cornwell tells Alfred's story with wit, intelligence and absolute narrative authority.... Like its predecessors, Sword Song offers a generous display of Cornwell's characteristic virtues: larger-than-life characters, direct, uncluttered prose and a precise evocation of the harsh realities of the distant past. As always, the battle scenes are particularly vivid, opening a window on the utter chaos of hand-to-hand combat among heavily armed bands of men. Cornwell remains in full control of this colorful, violent material, and his steadily deepening portrait of Alfred's nascent England continues to enthrall." — Kirkus, starred
"The fourth installment of the acclaimed Saxon Tales series resonates with the same masculine vigor as the first three volumes. Cornwell's stylistic verve extends to main character Uhtred, a marvelously complex figure…. In typical Conwellian fashion, the battle scenes are magnificent, but the author also deserves points for incorporating a healthy dose of romance and intrigue into the rousing plot. Even readers unfamiliar with the series will be able to catch on, but devoted fans will devour this volume while eagerly anticipating the next one." — Publishers Weekly
"The direct heir to Patrick O'Brian." — The Economist