My Grandfather's Son: A Memoir (Paperback)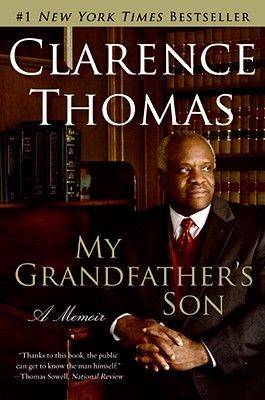 $18.99

Not In Stock - Usually Available in 1-5 Days
Description
---
Provocative, inspiring, and unflinchingly honest, My Grandfather's Son is the story of one of America's most remarkable and controversial leaders, Supreme Court Justice Clarence Thomas, told in his own words.
Thomas speaks out, revealing the pieces of his life he holds dear, detailing the suffering and injustices he has overcome, including the polarizing Senate hearing involving a former aide, Anita Hill, and the depression and despair it created in his own life and the lives of those closest to him. In this candid and deeply moving memoir, a quintessential American tale of hardship and grit, Clarence Thomas recounts his astonishing journey for the first time.
About the Author
---
Clarence Thomas is Associate Justice of the Supreme Court of the United States. Born in Pinpoint, Georgia, he is a graduate of the College of the Holy Cross and Yale Law School. He lives with his wife and great nephew in northern Virginia.
Praise For…
---
"Justice Thomas describes his intellectual journey, and his struggle to keep body and soul together on meager government pay, in some of the book's most absorbing and self-critical chapters." — William Grimes, The New York Times
"Thanks to this book, the public can get to know the man himself." — Thomas Sowell, National Review
"Gripping. . . . Thomas offers an education in practical wisdom and moral courage. Particularly instructive, and moving, is the portrait of his grandfather. . . . A delightful book—you really can't put it down—but it's also a source of moral education for young Americans." — William Kristol, The Weekly Standard
"A tale of pride, dertermination and independence. . . . A great American story, written by an extraordinary man." — Rich Lowry, National Review
"Candid. . . . A fascinating glimpse into a tortured, complex, and often perplexing personality." — The Washington Post Book World
"An original addition to those great black autobiographies of the past. . . . A lesson on how to live in freedom—a lesson that begins with a description of poverty on a par with Richard Wright's portrait of poverty in Black Boy. . . . Thomas is now an archetype that will inspire others. I can think of no greater achievement." — Shelby Steele, National Review (cover story)
"Very rewarding reading. . . . While there is anger in the book—justifiable anger, one might argue—there is also tenderness, vulnerability, brutal honesty and overflowing gratitude. . . . There is also unswerving intellectual integrity." — Mona Charen
"As his memoir shows, Justice Thomas's views were forged in the crucible of a truly authentic American story." — John Yoo, The Wall Street Journal
"The book of the year for Americans tired of politics as usual." — The Denver Post
"Thomas speaks candidly about the mistakes he made that fueled his determination to overcome all odds to be appointed to the nation's highest court." — The Oklahoman
"A tale so profoundly moving, and so profoundly true to this nation's ideals, that every American father ought to read the first two chapters—and then read them aloud to his children." — The Dallas Morning News
"Thomas is refreshingly candid about the depths of his suffering, and one comes away with a deep sadness about our broken politics and the ferocious disincentives for anyone to seek high government appointment." — Newsday
"Absorbing." — The Economist
"The Georgia native writes a telling memoir about his life prior to joining the U.S. Supreme Court. . . . My Grandfather's Son lays bare the darkest, most painful moments of his life, with candor almost unheard of in public figures, let alone Supreme Court justices." — The Atlanta Journal-Constitution
"A fascinating and irresistible read." — The New York Sun
"A transcendent work. . . . My Grandfather's Son is a coming of age in the fullest sense. . . . A meditation of time and perspective and the shifts in outlook both can bring. . . . A memoir of raw honesty." — The Oregonian
"Engrossing." — Jack & Suzy Welch, Business Week